Being a gardener, I just loved this tomato! Another one of God's gifts to us. This was sent to me in an email. I know there are many readers who would just love this! So I decided to submit the "Angel Tomato"
It also goes to show that you can't always tell from the outside who is truly an angel inside.
Jennifer, CA
This was at the stand of Brenneman's Produce, Vicky Brenneman had sliced open a Tomato and this is what she found ... She put it on display for all to see ... I thought this was awesome, to see something simple to uplift our lives and make us smile. Photo by Dennis Ober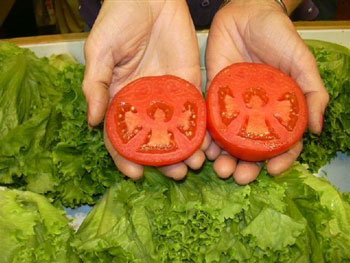 Ad
---
By suzanne 278 750 09/22/20060 people found this helpful
THANK YOU FOR SHARING THIS IS TRULY AMAZING
REMINDS US THAT GOD IS EVERY WHERE
By Shonda 6 11 09/22/20060 people found this helpful
I know we have Angels around us. Also I collect Angels, but to see in a tomato, tells us God is everyhere.
By Ariela 33 265 09/22/20060 people found this helpful
I see angels.. in the clouds.. forms .. shapes... in photos..
they are there.. just look. Saw 2 in my house..... is so comforting..
once I was driving, a car was about to hit me. I hit the brakes.. I felt my car being lifted slightly.. sort of floating.. my break was floored..
the world looked as though it was in slow motion around me.. the
car missed me.. I let off the brake and my car was moving normal speed and I didnt even veer off the road.. I wasnt dazed or scared and I didnt imagine this.
I believe angels are all around us.. protecting us.