I am always seeing in the " free " section of the local paper.. "Come get it free satellite dish" there must be some sort of "good" practical use for those antennas besides letting them go to the dump? I am going insane trying to figure out some sort of use for them? Thanks for you help!
~OOO~
three_zeros (at) webtv (dot) net
By Bill
Ad
---
Recent Answers
Here are the recent answer to this question.

By Howard Weliver03/16/2010
Donate your satellite dishes to the Not-for-profit, sustainable art experiment -- Texas Sunflower Project. 18" Satellite dishes are used to form the "face" of the sunflower. For more information, please see www.texassunflower.org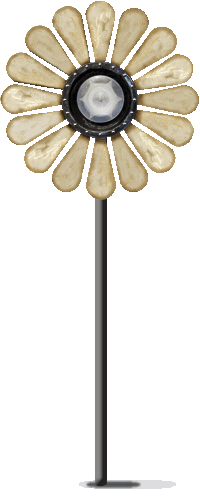 By Aman04/06/2009
Send all these used satellites to me! email me recyclesatellite@hotmail.com or call me 989-545-5978
I need as many as possible 100s even 1000s

we recycle them properly!!

call or email for shipping arrangments!!


By salenmom AT yahoo.com (Guest Post)11/06/2008
Can they be used as a fire pit?

By Booth (Guest Post)10/03/2008
Is there anyone out there who knows how we can get rid of a very large dish in Sun City, Arizona? Thank you.

By Sharon (Guest Post)08/30/2006
I saw online where they are making gazebos out of the big 10 ft ones!!! Its awesome!!! Very creative and looks great.

Sharon

By Pepper (Guest Post)03/01/2006
Go here: http://www.satelliteguys.us/ and read the FTA forum. You will learn that these things are NOT necessarily obsolete, there are a lot of people who still use them for their original purpose.

By Mark Richardson11/19/2004
I seem to recall seeing an article in a gardening-related magaizine that suggested using one for a shallow pond-like structure. On the other hand, neighbors of mine are researching the idea of using one for the roof of a dome shed to be built very soon.

By owenmohrbucks (Guest Post)09/08/2004
Backyard living magazine showed a couple who had one of the old ones which is huge and they turned it upside down and attached it to some tall poles and made a little spot where they could sit under it.

By badwater [264]09/07/2004
I've seen where people have spray painted the black mesh satellite dishes a pretty pastel color. Then turned them upside down & put them on top a 5'-6' post. Then hung "S" hooks on the round edges, to hang flower pots off the "S" hooks. Attractive. Nice recycling idea!! Anything to keep them out of the landfills. Also, could use the idea on one of the previous ideas about the fountain, but instead, turn it into an attractive flower bed holder!

By Elizabeth Collinge09/01/2004
We used one as a roof for an old glider (contraption with 2 swings that face each other and swing back and forth).

By Suzanne Spencer [8]09/01/2004
What about making it into a sundial for your garden? IT would be beautiful, well when you're done decorating it, and practical. That way when you're outside tending your garden you wouldn't have to wear a watch and you still be able to keep an eye on the time.

By Jayne [3]09/01/2004
I wonder if you could use one for a birdbath.

By Vicki (Guest Post)09/01/2004
How about a mosaic for objet d'art, sink (with hole drilled in bottom), indoor or outdoor fountain base. Put two mosaics together with hole in top for a closed fountain *
<*>


By Tawnda (Guest Post)08/31/2004
My uncle had a tenant leave one in the backyard of one of his rentals. My uncle took it home and dug a hole in his backyard to fit the dish into and lined it with visqueen (I think that is what he lined it with) and wrapped the edges underneath the dish and filled it with water and added a fountain pump to it and put goldfish in it and stacked pretty rocks all around the edges. It looked very nice!

I am not sure if those are made of metal or not, but maybe you could use one as a barbecue pit in your backyard like the new styles people pay big bucks for to have a barbecue pit in the city. ???

By bmcd (Guest Post)08/31/2004
try looking up info on making a solar cooker. You could line one with foil as a base.

By Susan Sanders-Kinzel [9]08/31/2004
Good idea! It is something there are a lot of out there. The big ones are probably most useful for building but the small ones might make good costume pieces, etc. Here are some links I found but I haven't found much. I remembered the first one from seeing it in the magazine.

Reusing a big dish for a gazebo roof:

http://www.motherearthnews.com/index.php?page=arc&id=6802

Using them as a canvas for artwork:

http://www.artworkscincinnati.org/programs/proj_satellite.shtml

-Susan
Answer This Question
Add your voice to the conversation. Click here to answer this question.