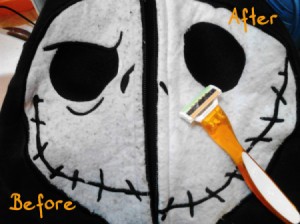 Unfortunately some types of fabrics are susceptible to pilling, ruining the appearance of your clothing or linens. This is a guide about removing pills from fabric.
Ad
---
Solutions: Removing Pills From Fabric
Read and rate the best solutions below by giving them a "thumbs up".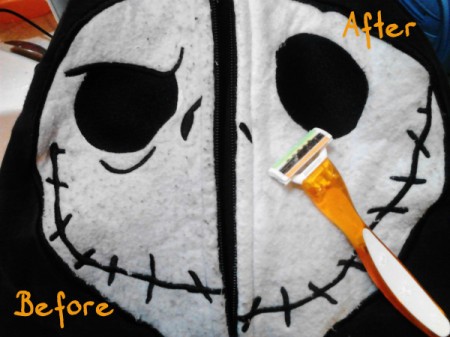 It seems like it's always your old favorites that get those awful little fabric pills. Here's a tip that will help your favorite sweater go from worn out to like new again! Take a new disposable razor and lightly go across the garment. Use short strokes while pulling the fabric tight. Don't press too hard and be careful when going near the seams. Stop frequently to blow the pills out of the razor. Your clothes will be looking like new again in no time!
Instead of using a lint shaver, try using a block of pumice stone. Those nasty tiny pills, and small specs will disappear onto the stone. It's easy to clean the stone that once helped the rough spots on your feet.

While getting ready for the fall and cold months ahead, my electric blanket was matted with small knots and pills all over. I folded the blanket into 4 quarters and used my pumice stone in these small amounts. It didn't take long before the entire blanket was pill free and looked almost new again.

By Sandra from Montvale, NJ
I use a sweater comb to remove pills from lots of different fabrics and it works great. One drawback is that it has only a small surface for removing the pills, so I think next I will try a suede shoe brush. The shoe brush has metal bristles and I think it will work just as well if not better than the sweater comb. I found the sweater comb in a fabric store.
By Ginnee [2]
Give a "thumbs up" to the solution that worked the best! Do you have a better solution? Click here to share it!
Questions
Here are questions related to Removing Pills From Fabric.
Remove fuzz balls from sweaters with a shaver. Go over the surface slowly and carefully with a disposable razor.
By duckie-do from Cortez, CO
AnswerWas this interesting? Yes No
Ad
---
---
Most Recent Answer
By Mistie 21 40 10/22/20110 people found this helpful
Great idea! Thanks, I have several sweaters I thought I was going to have to get rid of!
---
How do I avoid pilling on clothes/sheets. I have cotton sheets that have this and this is rough to sleep on. Also my nylon nightgown is the same way. Does anyone know what causes this and how to prevent it, and how to get rid of it.

Sheila from Ontario, Canada
AnswerWas this interesting? Yes No
Ad
---
---
Most Recent Answer
By Rose Anne Hutchence 6 211 01/22/20150 people found this helpful
Hi, Sheila. I've found that if I wash my sweaters and other knitted items separately, they don't pill as badly. Towels, for instance, seem to be the worst for forming pills on sweaters. Too, after fluff / air drying sweaters for only a few minutes, I lay them flat on either my bed or the living room floor: pilling isn't so much of a problem these days.

Hope these small tips help,
Rose Anne from Calgary
---
For some reason, I seem to have an incredible ability to develop pills on my clothing. What causes this and what can be done to eliminate it or at least decrease it? Sometimes I get pills within just a few wearings!!

I thought that perhaps it was our water, as it is somewhat hard, but then I noticed that some of my clothes had pills down the front and back, but not on the sleeves! I've also noticed that some types of clothing/fabric pills faster than others. Is it the brand or the type of fabric used?

Any advice or suggestions would be greatly appreciated! Thanks!

Jill
AnswerWas this interesting? Yes No
---
Most Recent Answer
By Dayne 1 01/13/20110 people found this helpful
An answer for the question about pilling on sheets. I bet the sheets that you have pilling problems with is a "satin" weave sheet. If they have any synthetic fiber in them it will be even more pronounced. Manufacturers have been pushing "satin" weave for the last few years, because they can advertise a higher thread count because of the type of weave. "Satin" weave sheets pill. I doesn't mater how much you pay for them, they always look and feel terrible after a few washings. More of each thread fiber is exposed to friction in the wash machine. I always buy 100% combed cotton sheets in plain weave in the highest thread count as I can afford. These plain weave sheets are getting harder and harder to find. My sheets last for many years and are always very smooth.

If your sheets are flannel, that is another huge problem with pilling. I really don't know why some flannel sheets pill and some don't. It must have something to do with the quality of the cotton fiber.
---
I am searching for fired lava rock, in sheet form, approx 3/4 to 1in. thick to remove pilling from clothing. If you have information on where this can be purchased please let me know. Thanks.

Fran from Canada
AnswerWas this interesting? Yes No
---
Most Recent Answer
09/10/20080 people found this helpful
A pumice stone from the drug store in the nail/foot care department will most likely work just as well and can be used for callouses, too, and most likely much less expensive ;-)
---
I have two questions really. How do you keep socks and other clothes from pilling? And how do you get rid of the pills after they form?
If there are just a few pills, I can snip them off, but especially the socks form more pills than I can deal with. I am tired of throwing away perfectly good clothes because of unsightly pills.
By Janus
AnswerWas this interesting? Yes No
---
Most Recent Answer
By M in NM 3 2 09/15/20130 people found this helpful
Wash them inside out. For pills that have already formed, if they are only a few, pull 'em off (good project for when you are watching TV). If heavily pilled or white looking pills on dark clothing, I wouldn't bother. There used to be little shavers that you could use to remove pills but I never had any luck with them and don't know if they even still exist. I think this is one of those benefits of shopping thrift stores! An item's quality and durability is proven if it's already slightly used and still looks good!
How do you remove the little fur balls or pills from your coat?
By annie
Archives
Thrifty Fun has been around so long that many of our pages have been reset several times. Archives are older versions of the page and the comments that were provided then.
What is the best rated product to remove fuzz or pills from sweaters?
By Judith from Hollis, NH
---
RE: Removing Pills From Sweaters
I use a sponge and vinegar to remove fuzz from clothing, good luck. (04/08/2010)
By kffrmw88
RE: Removing Pills From Sweaters
I use duck tape, make take some work though, good luck. (04/09/2010)
By sally54
RE: Removing Pills From Sweaters
If the sweater is a tight weave, I use a disposable razor. Put the sweater on an ironing board so that the board is "wearing" the sweater (front on the top of the board, back on the underside. Make sure that the sweater is perfectly smooth on the board and carefully "shave" the sweater, removing the fibres from the razor with pass. Works like a charm and I've never damaged a sweater doing this.
Unfortunately, you can't use this method if the sweater has a loose weave. Also, you can buy inexpensively, battery-operated sweater shavers that work well too. I had one many years ago and wore it out. I haven't replaced it because I just use the razor now. (04/10/2010)
By Lori45P
RE: Removing Pills From Sweaters
You can use a razor, it works wonders! Good luck! (07/31/2010)
By Hotdomo