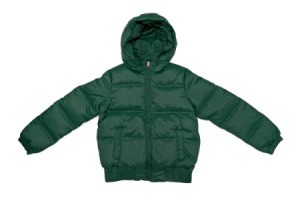 I just purchased a down-filled jacket, on sale, for the price of $9.00! It's obviously not top quality, but for $9.00, why not, right? Well, I wore it to church last night, and when I took it off, my black shirt was COVERED in down feathers! (I see why it was so cheap!) Which leads to my question, Any ideas what I can do to stop the feathers from coming through the lining? For $9.00 I'll keep it, but it would be nice to find a solution.
Carol from Ontario, Canada
Answers

February 6, 2014
0

found this helpful
Best Answer
What I have learned is to never pull the feathers out. Instead, pull the feathers back in. Pulling feathers out causes bigger openings in the fabric and resulting in more feathers to follow through.
Fluffing the coat in a dryer without heat for about 15 minutes seems to help. Most escaping feathers working their way out as a result from wearing and use.
December 26, 2015
1

found this helpful
Best Answer
I have a Rab Microlight Alpine which cost £180 (uk). I've had it a few weeks and have also found some external feather loss. I did my research before buying and weighed up my options against a synthetic equivalent.
The thing is this... it's just a fact that all down jackets with thinner pertex or ribbed stitches will lose some down. It may seem like a huge problem visually, but the down you see is actually a tiny proportion of the overall fill.
Make sure protruding feathers are 'pinched' back into the garment and not pulled outwards. This will prevent smaller holes being enlarged. Secondly, on cold heat, give your beloved jacket a 'fluff' up in the dryer for around 10 minutes. This will fluff the feathers, making it more difficult for them to pass theough the seams.
If you chose down, you have to accept that some birds will try and leave the nest quite often.

Marjorie
Silver Feedback Medal for All Time! 290 Feedbacks
January 9, 2008
0

found this helpful
Is there a chance that you can return the jacket for a refund? If you don't have the receipt, you might be able to get a store credit.
A down-filled jacket is not supposed to lose feathers no matter what it cost.

January 9, 2008
2

found this helpful
I am sorry I don't have a solution for you. I just wanted to say that I have previously owned 2 down jackets and both of them lost their feathers on my clothes. The first one that I had only cost about $40. The new one that I purchased this year cost $150. So I don't think the price of the jacket has anything to do with it.
The one thing that I do if I am going somewhere special is to put on an extra long sleeve layer that I remove with my coat. This way the feathers should be attached to the shirt that you remove.
Read More

Answers