We just took our cat to the vet's a couple weeks ago and had her claws trimmed. How long does it take for them to grow long again and need to be trimmed?
By Linda from Brighton, MI
Ad
---
By Robyn Fed 394 1,240 07/06/20100 people found this helpful
It depends on whether they are outdoor cats or not. I don't really trim the outdoor cats claws too much if they stay out a lot. For indoor cats, when you pick them up to love them and it hurts when they knead you, it is time to clip their claws. It depends on whether the cat is relaxed or not.

I like to take their little paws and massage them a lot and push gently on them to make the claws come out a little. Then when you let go they retract back in. They might eventually come to love this they might not. I have a Chihuahua that cant be clipped at all on her nails because she has to wear a muzzle or the person clipping her would get seriously hurt.

I use a toenail clipper on the cat I have and she lets me, but she is bottle fed and always wants to be held.
Each animal is different. I would give it a belly rub and then try to clip a claw here and there. It might take a few days on and off doing this game but eventually it may work out and if it doesn't then there is always the vet.

Mine get clipped at least every two weeks depending on how much she sharpens her claws on things.

An upside down rug or fire wood is excellent for them to scratch on and there is cat nip spray to spray on things you want them to scratch on. It is nice that they have catnip spray at most pet stores. If you will notice right behind the toes are pads, and when these are gently massaged and squeezed softly, the the claws will come out a little where you can see them to clip them.
Blessings,
Robyn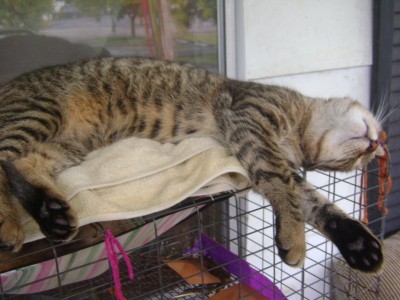 By Grandma J 54 1,041 07/06/20100 people found this helpful
You can learn to trim and file your cat's nails as a daily grooming pattern. Then it won't be such a struggle when you actually clip off if you file daily.
By Ginny 26 52 07/07/20100 people found this helpful
I use soft claws on my cat (those are the glue on claw covers) and he seems to shed them every 4 to 6 weeks, then I have to replace the claw cover. I highly recommend them if you are trying to save furniture, clothing, and your own skin!
By Julia 147 1,074 07/08/20100 people found this helpful
This might sound a bit strange, but it works. My hair grows the slowest if I trim it about 3 days after the full of the moon, and I trim it then if I want it to grow slower. The same with my my Sir Catty-Kit's claws. I definitely want them to grow as slowly as possible so trim them 3 days after the full of the moon.

By the same rule, if I wanted my hair to grow long as quickly as possible, I'd trim it about a week before the full moon, or when the moon was growing. My nails always grow more at that time too, so I figured my cat's claws would follow the same natural rule. It's always worked just fine for me. He never gives me a bit of trouble about clipping his nails either. You just cannot ever clip them too short, or they'll never forget it. It hurts and they have feelings the same as we do.

Pookarina
By Beth 25 1,120 07/08/20100 people found this helpful
I have four cats and each one's nails grow at a different rate. Some grow blunt and others are like needles! I generally clip off just the tips every two weeks. If you start this when your cats are kittens, they don't mind so long as you never cut too far and hurt them. Always give treats after. When I do one cat the others come for their turn because they know the treat comes next.