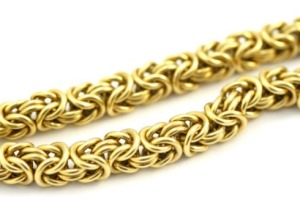 When your hair gets tangled up in your necklace or earrings, it can be difficult to remove. This is a guide about removing tangled hair from jewelry.
Ad
---
Solutions: Removing Tangled Hair from Jewelry
Read and rate the best solutions below by giving them a "thumbs up".
I had a mangled mess of hair ALL around my necklace. I tried burning it but that stained my necklace. I didn't want to try the hair removal cream. I finally tried a pumice stone and lightly rubbed it over the hair, and it took it off quick! No damage

I keep a small bottle of the cream hair remover, like Nair around to place my necklaces in when they have tangled hair balled up around them. Take the cap off filled with the cream. Soak the necklace for about five minuets and the hair just falls off. I mention this to my jeweler and he thought it was a wonderful idea. Does not hurt the jewelry and leaves them nice and shiny.

By Carol
Give a "thumbs up" to the solution that worked the best! Do you have a better solution? Click here to share it!
Questions
Here are questions related to Removing Tangled Hair from Jewelry.
I wear a gold chain around my neck all the time and it often gets a lot of hair in it. Anyone know an easier way to get the hair out than trying to pick/pull it out with my fingers? Thanks in advance.
By Deb from Alberta, Canada
Ad
---
---
Most Recent Answer

By tahlula [4]02/08/2010
Use the flame of a lighter or candle for one or two seconds and then wipe it down with a soft cloth. If it's sooty, a little toothpaste rubbed on and then rinsed with water will shine it up. Good luck.
My hair keeps getting tangled in my necklace on the back of my neck. Any tips on how to keep this from happening?
By Tallblondenurse from Troy, MT
Ad
---
---
Most Recent Answer

By Amy Crowley [1]07/22/2009
You can even try putting on a bit of tape-it won't hurt real gold!
Archives
Thrifty Fun has been around so long that many of our pages have been reset several times. Archives are older versions of the page and the feedback that was provided then.
How do you clean a gold necklace that has hair tangled in it. Gold chains get hair wrapped and twisted around them when you have long hair. Sitting there pulling it out is tedious. Is there a better way, perhaps soaking it in something?
KATHY from Philadelphia, PA
---
RE: Removing Hair From a Gold Chain
Take a lighter or match and burn the hair off. It really stinks, but the hair will be off in no time and if it is 14karat gold, the fire will not affect it. (01/27/2007)
By Kathy
RE: Removing Hair From a Gold Chain
One idea that I have not tried myself is to get some cornstarch, keep it dry and gently twist the necklace in the cornstarch, I may be wrong but I think I have heard about this idea, to get kinks out of chains and jewelry. Another idea, is to use regular toothpaste and a soft brush or cloth, it will clean the jewelry and should take the hair away as well.
I am not sure how to prevent the problem, but if you think the necklace is rough in any way and catching your hair, you could take clear nail polish, tack it on a hook as you apply the clear polish and it should smooth out rough spots.The clear polish is also one way a person can wear earrings that are not expensive, just put the clear polish on the posts. I have seen a similar product at a jewelry counter at a store. (01/29/2007)
By Kersti
RE: Removing Hair From a Gold Chain
Take a single edge razor blade and scrape it against the chain. It will cut the hair into tiny pieces that you will be able to pull off easily (03/09/2007)
RE: Removing Hair From a Gold Chain
Wow. The cornstarch idea works. It takes a small amount of elbow grease to rub the hair out after the necklace is covered, but it is nothing compared to the time I have spent trying to pull it out with safety pins, etc. Thank you.
As for the match idea, be very careful with this. I have a Tiffany silver necklace that I tried this on (on the recommendation of a Tiffany staff person) and I ended up burning the chain (it actually caught on fire). I was finally able to clean it with silver polish. Go with the cornstarch. (03/23/2007)
By Kate
RE: Removing Hair From a Gold Chain
Thank you. I got out the lighter, and in just a few minutes all that twisted hair was gone from my favorite chain. You are brilliant. I had tried everything. (04/04/2007)
By Gi-Gi
RE: Removing Hair From a Gold Chain
I have always used a lighter to remove hair from my gold chains. Today though, the necklace briefly caught fire and is now blackened in some spots. It is 18k gold and I can not seem to get it clean. Be very careful with this approach. (09/21/2007)
By Kristine
RE: Removing Hair From a Gold Chain
Try using a hair removal product i.e. Nair. Just soak the chain for about 5 minutes and the hair will dissolve. (03/23/2008)
By Francesca