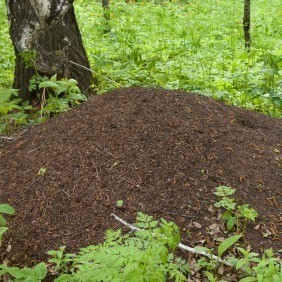 There are a variety of ways both natural and chemical for getting rid of ant hills. This is a guide about getting rid of ant hills.
Ad
---
Solutions: Getting Rid of Ant Hills
Read and rate the best solutions below by giving them a "thumbs up".
When you find those dreaded ant hills there's a cheap and sure way to get to them all, even the queen. Boil a large pot boiling water and pour it directly on the hill. Pay more attention to the ones closest to you house first, then work your way out. Use plenty of boiling water to make sure you get the queen too.

By Ardis Ilene B
Give a "thumbs up" to the solution that worked the best! Do you have a better solution? Click here to share it!
Questions
Here are questions related to Getting Rid of Ant Hills.
How can I get rid of ant hills naturally?

Mary from Michigan
AnswerWas this interesting? Yes No
Ad
---
---
Most Recent Answer
By Doug (Guest Post) 02/14/20090 people found this helpful
Thare are many organic fire ant conrol products. You can find them here with instructional videos and info:

http://fireant.tv
---
Any ideas on how to get rid of ant hills in the lawn? This year my Mom and I both have really bumpy lawns, and we both seem to have been overrun with ants. I would like to be as natural as possible. I have tried hot water but they just seemed to come back.

hellybelly17 from Leicestershire, England
AnswerWas this interesting? Yes No
Ad
---
---
Most Recent Answer
By Lynda (Guest Post) 08/30/20070 people found this helpful
A product called Amdro, sprinkled according to directions on label around each mound. Another product from Gardens Alive garden supplies online, called pic liquid ant killer. You drop these products in line of active ants, work perfectly and in the same manner. Each one is eaten or carried back to the queen(s) by the worker ants. Within a few days, (be very patient),the queen dies and the whole colony is destroyed, never to return. Unless you miss a mound, or stir the ants up first with a board or stick and scatter a few that may start another colony in a new location. If not, you can rest assured that these two products from two different mfgs. Do indeed work exactly as described, except on carpenter ants. That's an ant of a different color/story, and requires professional treatment every three months for two years. This is what the exterminator said where I used to work. God bless and help you. : )
---
How should I tackle removing the nest? It is approx. 18inches in diameter and approx. 15 inches high.
By Anne from Bristol
AnswerWas this interesting? Yes No
---
Most Recent Answer
By Louise B. [6] 06/02/20140 people found this helpful
I would call the office of the cemetery, and see if someone will take care of this for you. However, if you have to do it yourself, the best product I have found is a product we get here in Canada which is an expanding spray foam that you shoot into the ant hill. That does a good job of killing them most of the time. If it is a very large hill, you may have to do it more than once. I have tried diatomaeteous (sp?) earth, and that works, but takes many applications. I use it in my yard where I think my pets might tramp through a poisonous product.
---
Question:
How to get rid of ants and ant hills on a paver walkway?
Hardiness Zone: 5a
Buttercup from Michigan
Answer:
Buttercup, There are several effective ways to control ants, but control methods vary depending on the type of ant you're dealing with. Here is a link to information on this site that addresses control measures for several different types of ants:
http://www.thriftyfun.com/tf63572362.tip.html
Once you figure out how to get your ant problem under control, consider ways to prevent problems from reoccurring in the future. There are several good brands of sealers and joint sand stabilizers on the market. These are designed specifically to keep weeds and ants from taking up residence in between the cracks of landscaping pavers. Although I have not thoroughly researched individual brands, several claim to be environmentally friendly and seem like a good, long-lasting alternative to using chemicals. My friends who are landscapers tell me that using them when installing pavers has become standard industry practice among many professionals. The stabilizers form an almost impenetrable barrier between the paver cracks by adhering the sand grains to each other and locking them into the joints. This prevents sand loss due to settling, while keeping out weeds and ants.
Good luck!
Ellen
By Ellen Brown
AnswerWas this interesting? Yes No
---
Most Recent Answer
By Shelby24019 [1] 08/21/20100 people found this helpful
I have found a great product for ants. I fight the little tiny black ones every year. They would show up in our kitchen and both bathrooms. I found a product called "Andro". I bought mine at Lowe's. I just sprinkles a few of the grandules around the outside of my house and we have seen no ants since. I'm not sure what is in it, but the workers take it back to the nest to feed the Queen and it kills her. Once she is dead the nest is gone. It is recommended for all types of ants. Works like a charm!!
---
How can I get rid of ant hills in my garden?
By Terry
AnswerWas this interesting? Yes No
---
Most Recent Answer
By vicki hood [4] 05/29/20120 people found this helpful
9 parts karo syrup, 1 part 20 mule team Borax in a squirt bottle (about). Warm just a little to dissolve. Put in areas your pets won't be able to eat it. Cracks, in the ant hole or around crevices. Be patient. They eat it for maybe up to a week and carry it back to the nest. Kills queen and all. Queens can produce other queens for up to 20 years. Kill the colony.
---
We have ant hills on our brick patio deck. A friend suggested pouring boiling hot water over them so the ants surface to the top. Do you know any other easy remedies? Anything that doesn't involve poison.
By menopause from Suffield, CT
AnswerWas this interesting? Yes No
---
Most Recent Answer
06/17/20090 people found this helpful
Spraying vinegar or applying crushed mint leaves or cloves on the patio and around their hills should deter them :-) They might make new hills nearby but just do the same thing with the new hills and they'll eventually move far away from the area and you won't have to worry about having used poisons or being called critter cruel ;-)
We have an ant hill about 3 feet high on our property. It is getting bigger. What do you recommend? Thanks.
By R Timmins
Archives
Thrifty Fun has been around so long that many of our pages have been reset several times. Archives are older versions of the page and the comments that were provided then.
Q: We are starting to have an ant problem again this year. I am looking for something that will get rid for them, maybe something that can be made from items in the kitchen. There seems to be thousands of tiny ones in each hill. We do have animals and don't want anything that will be harmful to them.
Hardiness Zone: 8a
Jodi from Gary, Texas
A: Jodi,
Most ants are important to the garden. They help aerate the soil, scatter seeds and prey on harmful insects. When they become a nuisance, the best approach to controlling ants is to figure out what types of ants you have and what factors are contributing to the problem.
Ants will naturally set up colonies where access to food and water is readily available. For example, certain types of ants herd and prey on sap-sucking insects like aphids. If you get rid of the aphids, you will soon have fewer ants.
If ants are getting into your house, take note of how they are getting in and where they are headed. Remove any crumbs or other sources of food and water that they seem to be taking advantage of (inside and outside). Seal off cracks in doors or windows with a bit of Elmer's© glue or clear silicon sealant to prevent them from entering. Add a little boric acid to the glue or sealant to keep them from eating the glue.
For immediate relief indoors, try combining 8 oz. of lavender-scented ivory dish soap with 1 oz. of an essential oil like Cinnamon, Citronella, Rose or Tea Tree oil. Add 5 tablespoons of this to a quart of water and apply it using a spray bottle. This isn't a solution for long-term control but it will help temporarily. You can also spray this on garbage containers outdoors.
If ants are after your fruit trees, try placing duct tape (sticky-side out) around the trunk to keep them from climbing up the trunk.
By Ellen Brown
More Answers:
RE: Dealing With Ant Hills
Several years ago, we had the same problem. I tried pouring bleach, ammonia, hot water, etc. Finally, I poured full strength white vinegar on the ant hills. They are gone ever since I did that. (02/01/2006)
By Frances
RE: Dealing With Ant Hills
Boiling vinegar immediately poured on the ant hill is supose to work. If you have delicate plants near try boiling water instead of vinegar. (02/01/2006)
By lindaljh1
RE: Dealing With Ant Hills
Take used coffee grounds and put in and around ant hills. (02/01/2006)
By Trish
RE: Dealing With Ant Hills
We use plain boiling water. It may kill a small circle of grass, but not a lot and it comes back well. The dead ants will be right there to see immediately and NO residue left to harm pets, kiddos, or the environment. (02/01/2006)
By aardvark
RE: Dealing With Ant Hills
I have tried the used coffee grounds on the ant hill and it did work... but it took awhile! I work in a bank and we saved the grounds from all the coffee we made here. Every few days, I would put the grounds on the ant hill. One day I notice that the little ants were using my used ground to build their hill even higher! I kept doing it and even bought a pound of cheap coffee for $1.29 and made a loose paste out of it and put it all on the hill. Eventually after a 3-4 months, the ants and the hill were gone. In fact the hill collapsed and now I have a dent in my yard where the ant hill was! Good Luck! (02/02/2006)
By Sandy from the Iron Range,MN
RE: Dealing With Ant Hills
I know this sounds stupid, and I don't know if it's harmful to pets or not though it probably is but, thinking it was my fire ant powder, I poured bath cleaner powder on an ant hill in my yard and that worked really well. (02/06/2006)
By Jeggie
I have a couple of ant hills in my backyard and I was wondering if anyone had a natural way to get rid of them?

Thanks for your help,
Jenn from Canada
---
RE: Dealing With Ant Hills
Sprikle liberal amounts of cinnamon. (06/12/2007)
By GRANMA
RE: Dealing With Ant Hills
If you can find grits (made in the south from corn), sprinkle them on the hill and the workers will take it to the queen. They then will expand in the ant and kill them. (06/12/2007)
By Pat437
RE: Dealing With Ant Hills
Use boiling water the first thing in the morning before they are out. Pour 1 gallon on each hill. (06/14/2007)
By Darrel McCain
RE: Dealing With Ant Hills
Apparently, aspartame (NutraSweet) is toxic to ants. Sprinkle around the ant hills. (06/15/2007)
By Catherine B
RE: Dealing With Ant Hills
I have heard of two ways to deal with ant hills:
1- put a scoop of each ant hill on the other, my mom says they will fight each other to the end
2- some folks put corn meal- let the ants eat a bit of it then water, it will swell and they perish (06/15/2007)
By Dena
RE: Dealing With Ant Hills
Boric acid. Might not sound too "friendly," but remember it is still used (diluted) as an eye wash, and is not toxic to humans or other animals unless ingested in very large amounts. Sprinkle a very little on the anthills and they will disappear. If ants are coming in the house, dust a little (with a small paintbrush) around the door and window openings. Works every time! Boric acid is available at drug stores and at farm supply stores. (06/27/2007)
By wizolwitch