Creative Ways to Give Money as a Gift
Money can sometimes seem like an impersonal gift. This is a guide about creative ways to give money as a gift.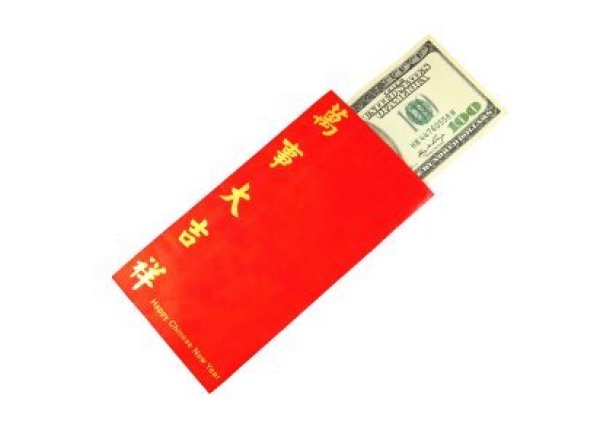 Filter

: All Articles
Sort

: Relevance
When my grandson was 10 years old he loved fireworks every Memorial Day, Fourth of July, etc. So for his September Labor Day birthday I did the following. I took 10 toilet paper rolls and put a five dollar bill in each one. I taped a long piece of ribbon to each bill and stuffed it into the roll allowing the ribbon to hang out of the hole in the tube. I then wrapped each roll in bright red foil paper. Then I took a long piece of ribbon and tied the rolls together horizontially with a small space between each roll so it looked like a 10 piece Chinese firecracker roll. I cut each ribbon down to make it look like a fuse. He had to pull each fuse to get his money and just loved the wrapping. His little sister was so enamored with it that she wanted one for her birthday. My only regret is I could't find a way to make a popping sound when the ribbon was pulled. Since this was 10 years ago I have no idea where the photo might be.
Turn an old book into a box to hold a gift card or cash gift.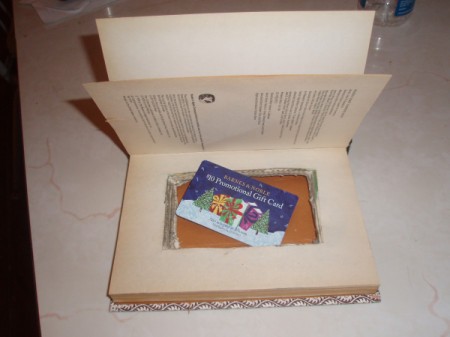 Approximate Time: 1 hour plus time for glue to set
Yield: 1 gift box book
Supplies:
1 old book with an interesting or decorative cover ($.25)
1 fl oz white paper glue ($.10)
1 X-acto knife ($1.00)
plastic wrap or plastic bag
Steps:
Wrap the cover and the first few pages of the book in plastic wrap as close to the books spine as possible. This is to prevent glue from sticking them together and to keep them clean. Wrap the back cover in plastic wrap to the spine as well.
Mix a teaspoon of glue with a drop or two of water, mix.
I used my finger to run the glue mixture along the entire 3 sides of the pages, then closed the book and placed it in a warm place (with weights on the book, literally!) to dry. This is to glue all the pages together.
After drying, I sketched a rectangle shape on the third page of the book and used my X-acto knife to cut straight down into the pages. Be careful with your knife!

It will take multiple cuts to get through the entire book and my first book doesn't have neat straight edges down, so be patient with yourself.
Once you cut down to the back cover of the book, you will run the glue mixture on the cut edges of the inside of the book and close it up again, with weights to dry.
Remove the plastic and insert your gift card, small item or cash for a nice way to display your gift! I happened to be giving a "book" gift card so this seemed really appropriate!

They can also use the book to hold things or even to hide a spare key or other valuables in their house, so it is a good gift by itself!
Happy Holidays everyone!
I send holiday money gifts to my nephews who live a couple states away.  I am always trying to find fun stuff. The first year was the best!  
I sent $100 in ones.  I got a large box (watch out for shipping cost, or get a smaller box) and a ton of old magazines or news paper.  Tear out and crumble up each page of a magazine and throw in box. I used about 7 magazines to get the desired fullness.  Then I crumbled each $1 bill up and threw it in the box.  Then stir it all up so they have to SEARCH for all of them and then uncrincle each one! haha. It's also funny because they have to work together.  
Wanna drive them crazy? I thought about putting an odd number of dollar bills in like $43 or $98 haha.  They will keep looking for the last couple dollars!
I am looking for unique ways to give money to a teen boy.
By Betty
April 18, 2011
0

found this helpful
Origami is a great idea. My boys got a sailboat & a crane one year & loved it, though they were alot younger lol! My family loves to do gag gifts. A great one is to get a real girly gift bag and place a "money sandwich" inside it. You just use 2 slices of bread and place the $ between them. Place in a ziploc and cover in tissue paper! Or if you have some old jewelry boxes lying around you can place the cash in there. Another idea is to buy him a study manual of some sort (we used an SAT study manual for our then 17 year old niece) and have the money hidden between the pages!
Have fun!
April 18, 2011
0

found this helpful
I like putting $1 and $5 bills in balloons. They always look at me funny when I'm at the store asking them to put the money in before filling them with air but they guys seem to have fun bursting the balloons to get their money out!
Read More Answers...
Since old encyclopedia sets are hard to sell and no one has the space for them anymore, individual volumes make great "birthday" or event cards. Give the volume that is the initial of the person ...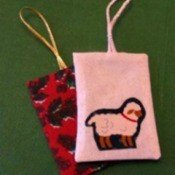 Small fabric bag to hold cash or a gift card that the recipient can then hang on the tree as an ornament.
Approximate Time: Less than half an hour
Supplies:
3 scraps of fabric, one 3 1/2 inches by 4 1/2 inches (A), one piece 3 1/2 inches by 7 inches (B) and one piece 3 1/2 inches by 4 inches (C)
7 inches of narrow ribbon or cord
decorating items such as felt appliques, sequins, beads, hobby symbols, etc. if desired
sewing machine
Instructions:
If desired, decorate the (A) piece of fabric, which will be the front of the bag. Then fold the ribbon in half, position and baste it to the center top edge of (A), then loop down facing down.
Fold (B) fabric in half, wrong sides together, and position on top of (A), aligning the bottom edges and sides. (Note that B does not reach to the top.)
Place (C) on top of these layers, wrong side up, aligning the top side and edges. (Note that C does not reach to the bottom)
Stitch all the way around the edges using a 1/4 inch seam allowance. Trim the corners.
Turn (C) to the back. Then turn the folded B to the back and the little bag is done.
I am looking for a creative way to give money.

Sharon from Asheboro, NC
April 23, 2012
0

found this helpful
Look up "dollar bill origami" online and fold bills into animals or shapes. Also, you can create a "money tree" by folding dollar bills in half and pinning them to a styrofoam cone. Insert finished cone into a flower pot and add a star to the top.
June 17, 2012
0

found this helpful
I did a rubber band ball for my sister-in-law for Christmas. I took a fifty dollar bill folded it up and just started putting rubber band after rubber band around it - around a hundred or so- turned out awesome- she got a big kick out it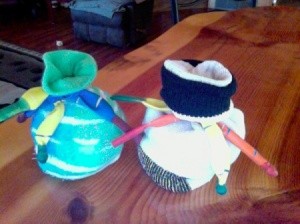 Buy socks that match the grad's school colors. Roll one inside and fill with $1s, $5s, $10s or whatever you'd like. It will be 2 gifts in one. Tie colorful ribbons or balloons, etc. for a festive look.
Approximate Time: 15 minutes
Supplies:
new socks
money in bills
ribbons or animal balloons
Instructions:
Roll one sock into the other with the right sides facing you. Stuff with money and embellish.
By Louella from Billings, MT
My hubby and I usually give $50.00 to our nieces and nephews when they graduate from high school. I usually take 50 $1.00 bills and make a chain like we used to make with gum wrappers. I don't tell them how to take the chain apart, they have to figure that out for themselves.
You will need a large box, balloons and money: $1 or $5 bills. Roll your bills up and put them into the balloon. Blow a little air in and knot it.
If you are going to give a gift of money, see if the bank can get you new bills.

For a gift, I got 2 bundles ($100.00 each) bundles of new sequential numbered dollar bills. My plan is to fluff it out in a gift box and wrap it. I call that spreading your money around! A little different than just putting two large bills in a gift card.

Crisp new money would also be good to use for a MONEY TREE.
I am looking for a creative way to give money.
My sister-in-law wants money for her birthday to have highlights put in her hair. Friends and family are giving money to her towards this. I want my gift stand out, any ideas on how to do this. How to give money and still make it stand out? Thanks for the help,

Kristen
Answers:
Creative Ways to Give Money as a Gift
My mother-in-law was going to Vegas for her birthday so we decided to give her money. I saved a toilet paper roll, got different denominations of bills---ones (mostly), fives, tens and taped them together end-to-end. Taped one end to toilet paper roll and rolled them around the tube. Inserted tube (with money rolled around) into a wristwatch size box. Cut slit in top of box and fed first bill out the top. My Mother-in-law loved this Money Box for her trip and it was more interesting to open than just a card with money or check in it. (04/26/2005)

By buzy mom
Creative Ways to Give Money as a Gift
A friend of mine gave money for a Graduation gift in a small gift bag with the card and money inside. Maybe you could include a hair care product or two as well. (04/26/2005)

By MamawKC
Creative Ways to Give Money as a Gift
I used a branch from the yard and made a money tree for a graduation gift. (04/27/2005)

By mjandjj
Creative Ways to Give Money as a Gift
Maybe you could get a picture of her, scan it, make it larger, print it & roll up dollar bills lengthwise, flatten and tape around her head sort of where the highlights will go. (04/27/2005)

By nancyec
Creative Ways to Give Money as a Gift
For my brothers 50th anniversary, I gave them 50 silver dollars, each one wrapped individually in gold foil, in a gold bag filled with gold 'easter' grass, They had to go through the bag to find all the coins. You could try something similar. (04/27/2005)

By Linda
Creative Ways to Give Money as a Gift
We had a wedding shower for our friend. She already owned a house. So we decided to give her money. We put the money in balloons, stuffed them in and then blew them up. We then decorated with the balloons. She had only one gift box to open. In this box was a big safety pin. It was so much fun to see her confused and bewildered expression and then to see her excited when she figured it out. We had to drop her hints which made it more fun. (04/27/2005)

By mkymlp
Creative Ways to Give Money as a Gift
How about some money origami. My son and I do this for tips also - search the web for directions (05/04/2005)

By Lori
Creative Ways to Give Money as a Gift
Every year at the end of school, I collect a few dollars from everyone in my children's classes and I make a corsage out of the money. You fold the dollar bills into the shape of flowers, add some real or silk flowers to it and present it in a box. Then the teacher wears it the whole day. Believe me, that teacher gets some jealous looks from the other teachers throughout the day! (05/04/2005)

By HHobby
Expansion on Tracey's 19 for 19 Idea
Tracey gave me an idea for a different way of giving money that I have used. Tracey's involved wrapping money for her daughters 19th birthday. When my kids each turned 21, I gave them 21 pennies, 21 nickels, 21 dimes, and 21 quarters, 21 half dollars, etc. I took a gift box and taped each one individually to the top, bottom and sides. They had to undo each one to get them. Also for my brothers 50th wedding anniversary, I had a gold gift bag, gold "Easter grass" in the bag, and mixed in 50 silver dollars, each one wrapped in gold foil scattered in the grass. You could do the same with a silver bag, grass, and foil for a 25th anniversary.

Editor's Note: You can find the post that Linda is referring to here:
http://www.thriftyfun.com/tf825849.tip.html (08/24/2005)

By Linda
Creative Way To Give the Gift of Money
When you want to give a gift of money for a special occasion, try this:
Let's say you want to give $50.00 cash, buy 5 helium balloons with long strings, at the end of strings tie a $10.00 bill. Pack in a LARGE box and tape loosely. Wrap as usual.

On the card please make sure you write "Please open this gift indoors" (You don't want your gift to end up halfway across the country!) When they open their gift, everyone will ooh and aah over the balloons bursting out of the box!

Keep in mind that you will also have to factor in the cost of wrapping paper, bows, balloons, card etc. Total gift cost about $60.00, and they will love the unique way of receiving your gift of money, and will tell the story for years to come and maybe use the idea themselves! (08/24/2005)

By sbolstad
Creative Ways to Give Money as a Gift
My Mother turns 80 today. My brother brought her gift this past weekend. I'll try to describe what he did (I only saw the opened version). He took 80, $1 bills and taped the long side to the next bill leaving about 1/2 inch between. He then took a saltine cracker box and somehow affixed a toilet paper roller in the middle (this is where you'd have to get creative, apparently it was a "working" toilet paper roll & he took it back w/ him so I didn't see how it was rigged). He wound all the dollar bills around the roll and the last bill was taped to the face-only side of a pretty card. The bill roll was inside the cracker box & the card was sticking out the side of the wrapped box w/ "pull here" on it. Mother pulled the card away from the box & pulled & pulled & pulled for all of her 80 $1 bills. She loved it! (08/24/2005)

By nancyec
All my nieces and nephews are requesting money as gifts. This saves me a lot of shopping but I would like some creative ways of giving it to them. Any and all ideas will be greatly appreciated.

Ronda from Decatur, AL
Answers:
Creative Ways to Give Money as a Gift
I think a fun way would be to do some money origami. You can find sites if you search the web. I made some gifts that way this past year for fathers day....folded the money to look like a button-up shirt, and there are others too. It was fun for me and the receivers! (11/20/2005)

By Della
Creative Ways to Give Money as a Gift
Someone else posted this on ThriftyFun a few days ago, and I thought it was a wonderful idea. Go to the bank and get crisp brand-new bills (for example, get 20 $1 bills if you want to give the person $20). Then take them to a print shop like Kinkos, and have them put rubber edging along one side to make a notepad-like thing. The kids will get a kick out of "tearing off" sheets of money to pay for things at the store. (11/20/2005)

By sunhat
Creative Ways to Give Money as a Gift
Here are some cool ideas:
Buy a toy piggy bank or combination lock bank and fill it with cash as a smart way to teach kids to start saving money.

MONEY TREE

Cut a small tree branch with lots of smaller branches coming off the main one. Mix plaster of Paris with water for a stiff consistency and add it to a flower pot or other container. If you are using a terra-cotta pot make sure you cover the bottom drainage hole with plastic wrap or tape before filling it with the plaster. Next, insert the tree branch and let it harden overnight. Using hot glue add Spanish moss to cover the top of the plaster. You can also hot glue silk plant leaves to the branches for a realistic effect. Last, tie money bills to the tree branches for a unusual gift. (11/20/2005)

By wdyjsu
Creative Ways to Give Money as a Gift
I took an idea from the "Harriet Carter" type gift books. They had a box with special tape and you tape together 10-20 one dollar bills end to end and then roll them up and put them in the box and they pull it out in one big line. We took a small birthday (you could use Christmas) gift bag, used regular tape to tape our bills together end to end and then put a "Pull Here" tab attached to the last dollar. We rolled it up and put it in the bag and stuck the "pull here" out of the top and put a small piece of tape on either side so the bag wouldn't come open. The recipient loved it! (11/20/2005)

By Kathy
Creative Ways to Give Money as a Gift
One year I gave my nephews money for Christmas. I carefully took labels on off canned carrots (they hate them), put the money around the can and then glued the label back on (be careful so you don't get any glue on the money. I then wrapped the cans. It was a lot of fun to see them open the package. They knew something "was up". It took a long time before they figured it out. (11/20/2005)

By Becca
Creative Ways to Give Money as a Gift
For our young niece, on one gift giving event, we took all $1 bills and just placed them in her card. My sister said you should have seen the look on our niece's face when she quickly jerked the card, from the envelope and all the single bills fell to the floor!! Sis said it was a great moment & our niece felt like she'd won the jackpot! The same could be done for teenagers, I'm sure. (11/21/2005)

By badwater
Creative Ways to Give Money as a Gift
I called the bank and order two dollar bills. Sometimes I put them in a nice wood box or cookie jar. You will be remembered when they use the two dollar bills! (11/22/2005)

By Tedebear
Creative Ways to Give Money as a Gift
We did this one time for a b-day gift we got 50 ones taped them together and stuffed them in a kleenex box and wrapped it up really pretty! OMG you should have seem the face on that child when he opened it up just to see a BOX LOL (11/27/2005)
Creative Ways to Give Money as a Gift
Insert $1 bills into a balloon and fill it with helium. The kids have a blast popping them and scooping up the cash. (12/01/2005)

By Debra Gagnon
Creative Ways to Give Money as a Gift
I have been giving money in creative way for some time now. My cousins son was into farming so I took some ones, fives and rolled them up and inserted them partially into clear straws (really you only need about 1/2 inch straw pieces just enough to keep them rolled). I then made a little farm inside a box with a toy tractor, barn, and toy animals. I made a field using foam and covered it with dirt then I inserted the money. On the card enclosed was the statement "Money doesn't grow on trees, It grows on the farm". The next year another child was into dirt bikes so I did the same thing but made a dirt bike track instead of the farm, using the money for jumps and toy motorcycles. Each year the children look forward to find I drew their name for Christmas. (12/11/2005)

By Stacy
Creative Ways to Give Money as a Gift
When I was 5, my great uncle gave me 25 Snickers bars wrapped with $1 bills. I don't remember what else I got that year, but I remember that gift and always smile. Every kid loves money and candy!!! (05/02/2006)

By Jen Pen
Creative Ways to Give Money as a Gift
i had a friend give this to my daughter....she took the money (however much you are giving) and put it into a ziplock bag the froze it into a block of ice.. she called it COLD HARD CASH! when you get to the party insist you have to put something in the freezer to help the money stay in its frozen block of ice. (07/18/2006)

By courtney
Creative Ways to Give Money as a Gift
We used a 10 pack set of play-doh(small containers). I emptied the play-doh out and we filled them each with $1.00 bills for a younger child. They absolutely loved it and had fun opening all the cans. I put in the card, "It's not doh you play with, it's not dough you eat, it's dough you spend!" Everyone thought it was such a cute idea. (09/28/2006)

By Stacy.