Abby (Golden Retriever)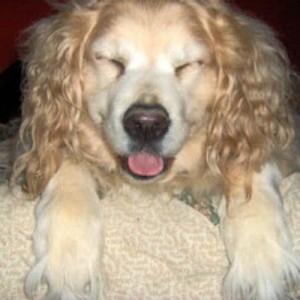 Abby (aka Big Mama) is a 9 year old Golden Retriever. We got her 9 years ago
She's getting old now but she loves to swim and snuggle...and she's kind of a house marm so she likes to take care of the other pets by snuggling with them and grooming them! She is the sweetest thing and wouldn't hurt a flea (literally!) but is absolutely TERRIFIED of thunderstorms! She climbs up onto the couch and sticks her head in the cushions!
By Michelle from Corinth, TX
By ghostgirl
Feedback
Read feedback for this post below. Click here to post feedback.

By Ashley (Guest Post)
10/19/2008
We have a 4 year old lab/retriever mix and he has a very similar smile. I've never had a dog that smiles like this. It's awesome! Thanks for sharing your picture.

By
10/18/2008
Oh, I fell in love with your Abby! What a sweet face, love that expression. You can tell she is happy and smiling, and what an adorable doggie with cute ears too! Kiss and hug her for me.

By Nance (Guest Post)
10/18/2008
Oh, what a pretty girl! Looks like she is smiling with her eyes closed, hamming it up for the camera!

By
10/18/2008
What a sweetie! I love the pic. Sending a big hug to Abby!
Grandma Jan and Kato the Wonder Dog

PS. Kato is a 97# 11 yr old GSD and he's also terrified of thunderstorms. We give him a benadryl tab per instructions from our vet and it eases his anxiety during a storm.

By dyan818 (Guest Post)
10/17/2008
Abby is absolutely adorable. Love the krimping of her ears. Hope you enjoy her for at least another 9 years. All the best!

By Paula. (Guest Post)
10/17/2008
Oh my! What an adorable dog and picture. Love those permed ears! My Goldilocks is horrified of thunderstorms too. She gets behind the recliner and won't come out even when the storm has long past!
Post Feedback
Add your voice to the conversation.
Related Guides
Related Posts