Creating a Child's Dress Up Box
Solutions
Share on ThriftyFunThis guide contains the following solutions. Have something to add? Please share your solution!
For kids who like to dress up you can fill up a box of dress up items from a thrift shop. Also add some accessories from the dollar store. You can also find Halloween reduced costumes in stores. For a boy, a plastic tool box with a handle would be great for his items. Use your imagination for decorating the boxes.
By coville123
October 29, 2011
0

found this helpful
Boy, this brings back memories of my Nana. She always had a dress up box.
It was filled with old frilly dresses, heels, hats, gloves, etc. This was back in the early 50's and I still remember her patience's watching our endless Fashion Shows.
Thanks for sharing.
Keeper
February 13, 2006
1

found this helpful
A dress-up box makes a great gift for your nieces and nephews. Instead of spending a fortune on mass-produced toys, you can stock the box with some of your discarded clothes. Collect neat clothes, uniforms and other "dress-up" items at the local thrift store, which will not only help you fill out the collection, it will help support the needy.

By Shannon from Decatur, GA
By guest (Guest Post)
February 14, 2006
0

found this helpful
After Halloween sales for pirate hats, princess accessories, boas, devil ears, etc
Read More Comments
Claire Bush
0

found this helpful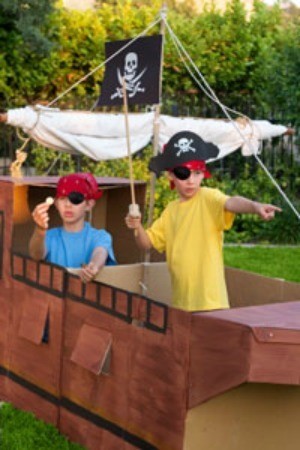 Kids love imaginative play, and one of the best ways to encourage creativity and self expression is through dress-up. Allowing kids to be their favorite action hero, cartoon character, or even an imaginary friend with the help of a few costume props helps to keep kids away from TV and video games, too. Here's how to create a child's dress up box that you can pull out on the next time kids say, "I'm bored!"
Use a wardrobe-size moving box (available at storage rental facilities or U-Haul), or purchase a cardboard underbed-size box from the dollar store. You can also try using a plastic blanket storage chest (Rubbermaid and the like) available at department stores for about $10. The clear boxes are good because you can see the contents.
Go through your family's closets and set aside old evening dresses, tuxedos, prom dresses, bridesmaid dresses, dyed-to-match shoes, and even bathrobes in silky fabrics and pretty colors. These are great for dress-up as kings and queens. Go to the dollar store and add plastic tiaras, gloves, high heeled plastic slippers, and feather boas. Add eye patches and plastic swords for pirate dress-up costumes.
If your town has one, make a visit to the Army/Navy surplus store and forage for cool vintage uniforms for your box. (Check online or in the phone book under "surplus stores.") Little boys love these stores, and they're also a great source for knapsacks, GI-Joe style combat boots, helmets, and more.
Take the kids to the thrift store and set a dollar limit. Tell them to look for lab coats, chef coats, hats and artist smocks. They also may find old fur stoles, capes and evening bags. Seek out colorful scarves that can be twisted into turbans, and multi-colored knee socks and oversized shoes for clown outfits, too.
Add a clear plastic bag filled with dimestore makeup such as rouge, lipstick and wax crayons for drawing on eyebrows and beauty marks.
When your box is assembled, store it under your bed or in a closet. Go through your box periodically to spot clean and launder items.
Of course, you won't add sharp objects such as knives or real weapons to the box. Be sure to supervise dress-up play for children under eight.
August 14, 2008
0

found this helpful
A couple of years ago, when all the halloween coustumes went on sale for 90% off, I bought a huge bagfull of costumes, partial costumes, props and wigs for about $20 (less than one cost before Halloween!) and put them all in a large clear plastic tote for a dress up box and gave it to my then boyfriend's 7 year old daughter for Christmas. She was thrilled and got hours and hours of play time out of them.
I originally got the idea because she was highly upset that she had outgrown all of her expensive "princess" outfits (bought long before thrifty me came along! lol).
Can't wait til my little granddaughter is big enough to do the same for her!
Read More Comments
Related Content