Need a purse? You can make one out of cardboard and duct tape. They are easy and cool!
Materials:
Duct tape (there are an array of colors available)
Ruler
Box cutter
Cardboard or tagboard
Writing utensil
Instructions
First you need to cut five pieces of cardboard/tagboard into the dimensions you want your purse. I cut the large sides 7x5 inches, the small sides 6x3 inches and the bottom 7x3 inches. The strap should be 2-3 inches wide and as long as you want it.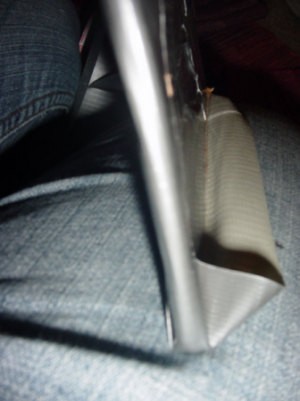 After each piece is cut out, you can cover them with duct tape. Try and keep the tape as flat as possible to avoid creases and air bubbles. On the edges, place the cardboard in the middle of the tape and fold the tape over on each side.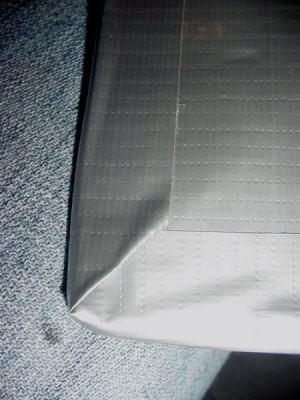 When you get to the corner, don't fold it until you go around the corner with the tape, then fold the sides down so the tape sticks to itself making a triangle. Then you can fold the other sides down.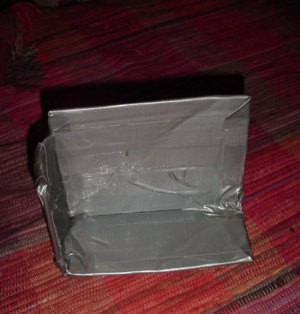 Once each piece is covered, you can start taping the sides together to form the purse.
Now you will have a box which is the main part of the purse.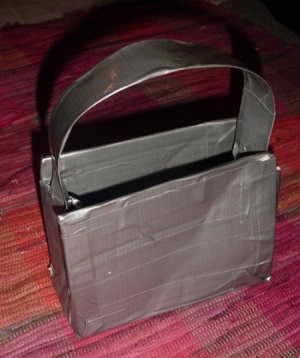 Strap
To make the strap, cut two pieces of tape as long as you want your strap, if you cut it too long you can always cut it down. Place the two pieces together with about 1/4 inch of sticky side offset on either side so you can fold those edges down. (This keeps the sticky edges from being exposed on the edge of the strap.) Now tape the strap to the your bag, make sure it is strong. You can attach a piece of tape to the strap and wrap it around the bottom of the bag and attach the end to the other side of the strap. Also tape the strap to the inside of the bag so it is extra strong.
Ways to make this purse even more stylish:
Use different colors of duck tape.
Add a fake flower.
Make a bow with the tape.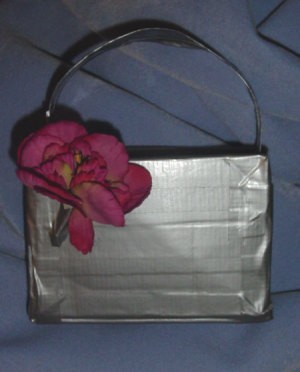 About The Author: Stella is currently a college student who works with children. She contributes craft ideas to ThriftyFun.com. If you have any craft ideas that you would like to share with Stella and ThriftyFun community, please submit them here: Click Here
Ad
---
Feedback Forum
Feedback about this article is posted here. Want to contribute? Click above to post feedback.

By Chris S. (Guest Post)01/30/2009
http://www.kcg-installations.com ductwork installations

By marcus (Guest Post)01/18/2009
It was so cool. I made it for our school bazaar, along with a bunch of duct tape wallets. Thank-you!

By Tori (Guest Post)11/01/2008
Nice purse, but I have made one and didn't use cardboard at all for any of it you can try it makes a very nice looking purse also! But yours is cute just needs to be in color! Good job.

By Abigail (Guest Post)08/08/2008
Thank you for this idea! My purse turned out beautiful! I love it and I put my initials on the front of it. Thank you again!

By jon (Guest Post)12/21/2007
chech this one out

http://www.youtube.com/watch?v=yO72seZKgu0

By Alarid (Guest Post)11/26/2007
Just pointing out that they don't have to be tacky-looking . . .
http://knitasaur.blogspot.com/2007/11/woven-duct-tape-purse.html

~Alarid

By LaShana (Guest Post)09/27/2007
I watched DIY and saw how to make duct tape purses and now I have created my own styles and started a business making duct tape purses, wallets, back packs. I also have purses made with yarn and incorporated duct tape and yarn. My web will be up soon until then I have e-mail heavenlycreations00 AT yahoo.com

By Samantha (Guest Post)04/09/2007
Cool for young kids, though very tacky looking.

By Ronda (Guest Post)03/11/2007
diynetwork.com has a complete tutorial on making a woven duct tape tote. A cool show called stylelious showed how it is made. Just go to the web site and put "duct tape tote "in the search box. this site also has duct tape purse info.
have fun

By Paula [14]12/08/2006
Zac, there used to be directions on the site www.ductapegirls.com but, I haven't checked out the site in a while so I don't know for sure....

By zac (Guest Post)12/08/2006
Does anyone know how to make a woven duck tape purse? I want to make one for my cousin for christmas..... does anyone know any websites with pic's showing how???


By Monique (Guest Post)11/27/2006
my class in grade 8 has been making duct tape purses . my group chose to make a aure because it was styish. the other options where a teacher bag and a baby bag. i came on your website to get some ideas and i took down some notes now i know how to make my purse better thank you

8M2 rules ill send a pic to show how ours turned out

By leels (Guest Post)08/02/2006
Try laying the tape onto wax paper as a back. I currently have been making purses of duct tape with the cartoon page of the paper for the pattern.

By (Guest Post)07/19/2006
It might've been a little better if you had used a flat surface and not your leg >.< Sorry. I've learned this from experience. (btw, I sell wallets and purses to my friends at school and messenger bags are pretty hot on the request list ~.o)

By (Guest Post)06/25/2006
that duct tape purse is really cool! my friend & i are gonna make one l8ter!! :)

By (Guest Post)04/05/2006
That purse is so hot but it might look better in a different color

By micky (Guest Post)03/21/2006
thats so koolie o0o! i love making duct tape things... i even have my own corporation. thank u for the instructions

By k again (Guest Post)03/18/2006
Hi again! I think sharpies look nice of you don't go too crazy with them. I'll add some of my new purse pics soon! This pic is a side of a purse. It took me a few hours. (It's just duct tape.)

By university of texas luver (Guest Post)03/13/2006
As for Coleslaw, I have tried and sharpie markers rub off very easily!!!!! i think the purse is very cute and you should try the same design with colored tape! it would complete it totally!!!!! love me!

By Me (Guest Post)03/13/2006
Ya this is easy but is there a way w/o cardboard?

By Coleslaw (Guest Post)02/23/2006
I like the pattern, but it's a little messy on the duct tape part. Try to smooth out the tape as you lay it on, and also as someone said earlier, use only duct tape. And try new colors. I made a white duct tape purse, and embellished it with colored sharpie. But it looks good.

By K (Guest Post)01/28/2006
Try only duct tape next time. The pic is of a purse I designed and made.

By Sally (Guest Post)01/02/2006
Hi,

I found your directions for making duct tape creations and added the link to my new site http://www.ductapegirls.com
I'm just checking to make sure that's okay with you.

Editor's note: We always appreciate links and hopefully you will get some visitor's also.



By (Guest Post)11/12/2005
how do you make the woven purses?


By Taylor (Guest Post)11/12/2005
Thanks for making this Web Site . I love my Duct Tape purse

By Helen Sue Yurecko (Guest Post)11/10/2005
You all have WAY too much time on your hands.

By megan (Guest Post)10/12/2005
i made a duct tape purse, using a pattern from michaels. it turned out really good and you only had to use foam core for the bottom,

By Amber Joy Imhoff (Guest Post)09/30/2005
Thank you THANK YOU! I can't wait to try this! Every year I do a themed purse auction as a benefit for our church's youth programs so my hope is to make a couple unique purses to add in on this.!

By claire (Guest Post)09/27/2005
Wow, when I make a duck tape purse, I don't put card board in the midle.

By Kim Reynolds07/31/2005
I have a link on my site for the person that started the whole duct tape purse trend several years ago. You might want to look at their site to get ideas for making your own. My website is:

www.jammerspurses.com

Go to the links page and you will see the link for the duct tape purse. Looks very cute....

By maria [8]07/14/2005
thank you for this creative purse...it gave me a idea for girls pajama parties.it's great!

By Cindy [2]07/08/2005
Actually there is 13 colors of DUCT tape availabe reason I know this is because I had to do research on DUCT tape and a presentation for class and I made a RED purse out of duct tape for my class it was simple to do, but I did not use cardboard everyone loved it. It had a handle and a front flap with a button made out of the duct tape as well.

By Beth (Guest Post)07/03/2005
thank u 4 showing pictures plus explaining how to make this craft. Other places I have seen are either charging for an already made one or one without pictures. I wanted to try this project myself after I saw a friend do it and I loved it! thank u soooo much u r a kind person

By debbie (Guest Post)07/01/2005
thank you for showing how to make this purse. our girls wanted to and i was going to have to pay for a pattern when i found your site. thank you again
for doing something for others that don't cost a thing. u r great God bless you
Post Feedback
Add your voice to the conversation. Click here to share feedback.