When dyeing hair at home, it's important to take some precautions to avoid getting the color on your skin. This guide is about keeping hair dye off skin.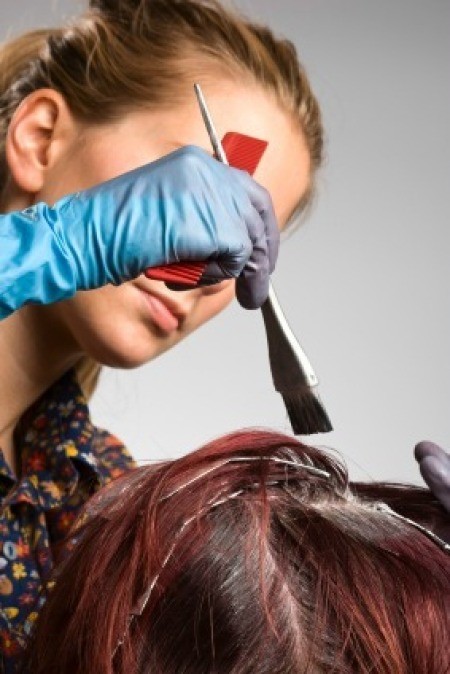 To prevent my ears/neck/hairline from getting covered in tell-tale dye spots when I dye my hair, I smear vaseline on them.

Even if I do get dye on these areas, the vaseline acts as a barrier from keeping the dye off of my skin and wipes off easily when I'm done.

By Ashley
By happy ending 6 9
I color my hair at home, and always end up with dye on my forehead and ears, which can stain your skin. I have tried to put petroleum jelly on my hairline, but it would get in my hair and stop the dye from taking. Anyway, I had the idea of using masking tape (the paper, low stick kind) on the skin around my hair line and it works really well, giving me a much more professional look. I have suggested it to friends and it works well for them too. It is a time and skin saver. It is a bit fiddly to get the hang of, but gives awesome results.
By happy ending from Geraldton, Western Australia
By Susan Sanders-Kinzel 10 2,498
I see how to get hair dye off the skin as a question a lot in the feedback. How do you keep it off in the first place so you don't have to work to take it off.

Susan from Port Orchard, WA

---
Most Recent Answer
By guest (Guest Post) Flag
May 25, 2008
Do not do what onix893 said. I tried it and and it irritated my skin and I still have the today it kept it on!
---
I love colors from purple, to pink, to green, or blue hair. I used to bleach and dye it in high school, but got tired of the constant staining of the back of my neck and ears when I let my hair down after being dry. Any tips from those who regularly do this and don't seem to have that trouble?
By VA
---
Most Recent Answer
By cettina 78 392 Flag
June 14, 2013
My hairdresser always puts a layer of Vaseline petroleum jelly around my hairline, ears and back of my neck and I have never had stains on my skin. She just wipes it all off when she shampoos the color out. Hope this helps.
---