Plastic food storage containers are convenient to use, but sometimes it is very difficult to remove the residual odors left by their contents. This is a guide about removing odors from plastic containers.
I've really gotten into washing out and reusing jars and containers instead of buying brand plastic products. Sometimes the best jars have really tough odors, like pickle and olive jars. I've used this tip that was taught to me from a lovely lady when I was just a child. Wad up a page of newspaper, put it in the jar, seal it, and let it sit for a few days. When you take the paper out, you won't smell any trace of the previous item!
Also, along the same lines, if your refrigerator needs an air freshener, put a few charcoal briquets in a bowl in the back. Works like a charm!
By Maile from Onalaska, WA
By Irishwitch 390 18
You will never guess what finally removed the leftover aroma from my plastic bowl. I put it outside in a flower pot (to keep the squirrels from playing with it) in full sunlight for 2 days.
Darn! My Mother was right - you can do a lot with the simplest things and absolutely no energy expended on my part. Absolutely no odor left either. I could hardly believe it and kept sniffing away, but there was no, absolutely no odor. Now I am putting the salsa in a glass jar, which is great because it keeps the salsa ice cold.
By JodiT from Aurora Colorado
By nancy nunez 12 7
Use new coffee filters to get rid of odors in enclosed containers. Like re-using plastic coffee cans or in stored Tupperware with lids on, equals no plastic odor!
By nancyintx
Cyclists' water bottles often come with a pungent plastic taste/odor. To eliminate this; fill bottle 2/3 with vinegar (clear) and 1/3 water; cover/close and let set for 24 hours. Rinse with clean water. No plastic taste, no vinegar smell, as odor free as using glass.

By Cajun62234 from Collinsville, IL
Here's something I just learned, if you have plastic that has like an onion smell or something. wad up newspaper and put it into the container. Then close it up for a day and the smell will be gone. Also newspaper is the best way to clean windows and mirrors, streak free. Happy days!

By RoseMary B.
By Marilyn K. 1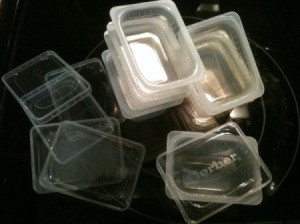 How do you get the smell out of the Gerber baby food plastic food containers (even though you wash them) before doing a project?
By Marilyn
---
Most Recent Answer
By PENNY K 14 564 Flag
January 29, 2015
Just let them air out a while, couple of days or weeks.
Do your plastic coffee mugs have a soapy smell to them? Just soak them in vinegar overnight. If there is a leftover smell of vinegar re-soak in a sink full of hot water and baking soda.

By Kat

Editor's Note: Probably a good way to remove the stale coffee smell that seems to accumulate in coffee mugs too.
To take nasty odors out of a plastic container just stuff a crumpled piece of newspaper into the container after you have washed it and put the lid on. The next day all you have to do is wash the container again and the nasty odor will be gone!

By Robin
How do you get the smell out of plastic containers - ie: onions?
By Beverly from Kelowna, BC
Feedback:
RE: Removing Odors from Plastic Containers
I was just reading this afternoon that if you leave them sit overnight with a mixture of baking soda and water the smell will be gone the next morning. I haven't tried it yet but hopefully it will work. (09/01/2010)

By zoodad
RE: Removing Odors from Plastic Containers
I wash them in warm soapy water and soak overnight in a mixture of half white vinegar and half water. (09/04/2010)

By Sheltiemom
RE: Removing Odors from Plastic Containers
I run them all through the dishwasher, and don't seem to have odor problems, no matter what I store in them. (09/05/2010)

By louel53