I need 2 replacement cords for a dual king. My puppies chewed through them I need them ASAP. Can someone help with a source for these?
Thanks.
By Tracey
Ad
---
By Cindy 3 287 01/14/20110 people found this helpful
Just a "been there done that, thank goodness no one was harmed" recollection, but don't mix and match replacement cords and electric blankets. This error could lead to unforeseen electrical fires and burning beds. Either secure replacement cords from the manufacturer of the particular blanket or purchase a new blanket with the appropriate cords. Substitutes are not an option if safety, as it should be, is the priority. There is nothing frugal or thrifty or responsible about playing with these combustible entities. Please, be careful and cautious and non reluctant to spend money as safety is at risk. You will be glad you did and so will those you save from senseless pain and suffering.
Questions
Here are questions related to Replacement Cord for an Electric Blanket.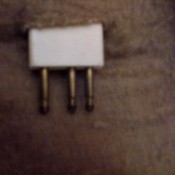 I am looking for a 3 pronged cord with controller for an electric blanket (full size, 170 watts).
By Donna
AnswerWas this interesting? Yes No
---
Most Recent Answer
By HAPPYINHARNED 14 193 02/19/20120 people found this helpful
When my controllers stop working, I have had luck finding a replacement at Salvation Army Store or the like. I take the blanket itself or the controller so I can get the exact same replacement and try it out and make sure it works. They usually only cost a couple dollars.
---
Where do I locate a lost cord for a C11512 I believe C284WA3 4553 850H3 Sunbeam 19473 P.N. 116776-009?
By Charles from Battle creek, MI
Archives
Thrifty Fun has been around so long that many of our pages have been reset several times. Archives are older versions of the page and the comments that were provided then.
We are dogsitting and the dog chewed through my daughter's electric blanket where the controller plugs into the electric blanket. Can you buy a replacement cord? If so where?
By Jerry from NC
---
RE: Replacement Cord for Electric Blanket
I would look to see what brand it is then either look up the toll free number or the official online website and find their "contact us" page and see if they have replacements. (10/24/2009)
By Kaelle
RE: Replacement Cord for an Electric Blanket
You might consider an electric mattress pad cover. You benefit from 100% of the heat instead of losing 50% of the heat from a blanket. Think about it, (under the blanket, the blanket is also "heating the room"). 100% more effective and also more economical, because you're not turning up the heat to receive 50% of the heating.
http://www.google.com/search?sourceid=navclientandaq=0andoq=electric+mattressandie=UTF-8andrlz=1T4GGLL_enUS350US350andq=electric+mattress+pad (10/31/2009)
By Cajun62234
RE: Replacement Cord for an Electric Blanket
Same thing just happened to us with a new puppy. Check eBay I just saw quite a few of all brands. (03/06/2010)
By FLGAL
I am looking for a replacement power cord for a St. Mary's electric blanket. It's two prong. Can anyone help?
Thanks!
By Deb from Wilkes-Barre, PA
---
RE: Replacement Cord for an Electric Blanket
If you purchased the electric blanket for yourself, can you remember where you bought it. Do you have any information that came with the blanket?
There are places that fix appliances. Look in your phone book under appliance repair, give them a call and ask if they sell replacement electric cords. You might have to take a drive and bring along the electric blanket and the broken cord. (10/10/2010)
By MCW
RE: Replacement Cord for an Electric Blanket
I find mine at GoodWill or stores like that. Take your blanket in with you and they will let you plug it in to make sure the cord works on the blanket. They usually only cost 2-3 dollars. Good luck. (10/10/2010)