Temporary Screen Door
I moved into a small apartment last summer. The problem is they do not have any screen doors. I only have 2 small windows in the apartment which provide no ventilation. The flies come in when I leave the doors open for ventilation and light (the apartment is dark and dreary and I have to have lights on during daylight hours).
I need help with making a temporary screen door or something to keep the flies out and not damage the doorway. The idiots that built this place put door bells on the back doors where there are no apartment numbers. I think they built this on a friday.
Thank you in advance,
kathleen48 from So. Portland, ME
By kathleen48
Best Answers: Temporary Screen Door
These are the best answers for this question.
I use a lace panel that I string across the opened door from a nail on the left inside doorjamb to a peg holder (originally for cups?) on the inside of the door where we hang hats. (you can unhook it to go through the door. But I saw a WWII movie where they tacked up mosquito netting over doors in the tropics - & next time I find an abandoned bed net (now usually decorative) I will buy it & try to cut it down & use that. We like to keep the door open, as there is an updraft in our apartment hall - & the lacy covering also indicates that we want privacy.
Check out the catalogs put out by Lillian Vernon or Walter Drake (wdrake.com). In their "search" blank type in "door screen". They both have some and they're not terribly expensive....around $10.00 I think. They are for temporary use. I've seen some held in place with magnets and others use self-stick tabs. Good Luck!
I would go to the hardware store and buy a piece of fiberglass screening big enough to cover the doorway, plus about 6 inches in length. Then I would go to the fabric store and buy enough extra-wide, double-fold bias tape to go around the perimeter, and fabric glue (if you cannot sew).

Depending on how you want to attach it to the doorway, you will also need either: some sew-on and some sticky back velcro; OR some strong thread (or string), a few finishing nails (they're thin and not long) AND some curtain weights.

Sew (or glue) the bias tape around the perimeter of the screen. Then stitch a length of sew-on velcro to the top edge of the screen, and apply some sticky-back to the top of the doorway. You might also want to apply some on each side of the lower edge to get a better "seal". Do a test-piece first; but the velcro should come off the doorway if you heat it up with a hair dryer to soften the glue first.

If you can't apply the velcro, fold up the bottom edge of the screening and stitch it in place to make a "pocket" for the weights. (You can hand or machine sew.) Then with strong thread or string, make some loops at the top--one at each corner, and a few in between. Holding the screen up to the doorway, hammer the finishing nails (brads) into the top of the frame for the loops of thread. When you move, you can remove the nails, and fill the holes with a bit of waterproof putty or caulk--if you put them in the top, they won't show.

When you're at the hardware store, price the replacement screens for a sliding glass door. I have no idea how much framed screens are; if they're not much, you might just go that route, and set it in place. You could also ask someone who does remodelling if you might get one when they replace a slider.

Have you asked the landlord about it? If you had the work done, you might be able to deduct all or part of the cost ofhaving a real one put in place from your rent.

Good luck; no ventilation isn't fun!


More Answers
P.S. When I lived for a while in a dark apartment, I put up a LOT of small mirrors to reflect whatever light did come into the apartment!
They have all kinds of screens that mount with velcro at
http://www.instant-screen.com/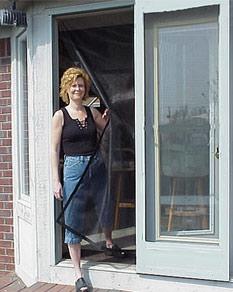 Hope this is not too late. I just received a catalog from a company called "Home Trends" and they have a lightweight mesh screen door which attaches with velcro (supplied) and is easy to install - no tools required. The item number is026021 - phone - l-800-810-2340 or www.shophometrends.com/ Price is $9.99 plus $4.70 shipping. Hope this helps.
In some parts of Europe, the windows open outward, so there are no screens on any windows or doors. The owners use rods, tension rods work well, and hang lace panels over their windows and doors. They allow the bottoms to flow freely on the doors, but I think that I'd put a rod there too. It would be easy to remove when you wanted to use the door, wouldn't damage the door jam any when you decided to move, and you could take it with you. Sure would be an easy fix.
Answer This Question
Add your voice to the conversation. Click here to answer this question.
Related Guides
Related Posts