Here's a recipe for Beeswax Deodorant.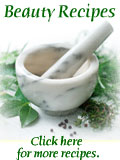 Ingredients:
2 Tbsp. shredded beeswax
1 T. coconut oil
1 tsp. cocoa butter
12 drops rosemary oil
Directions:
Melt beeswax. Stir in cocoa butter until melted. Add oils. Pour into any shape mold. When hardened, pop out of mold. Cover with clear wrap.
Ad
---
Post Feedback
Add your voice to the conversation. Click here to share feedback.