Christine Weber
0

found this helpful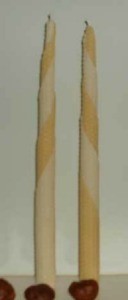 Tall, simple and elegant - these beeswax candles are lovely as a centerpiece for a Christmas tea or as a gift that is sure to be treasured.
Materials and Equipment:
two sheets of honeycomb textured beeswax, in different colors
several feet of candle wick
an exactoknife
a thick piece of cardboard or plywood to cut on
a ruler with a hard edge for cutting, two feet or longer
scissors
ribbon or raffia
Instructions:
1. These instructions make two candles. I chose complementary colors of cream and beige for the candles in the photo, but you can use whichever colors you like.
2. Before starting, clear the table and cover it with a thick piece of cardboard or plywood to protect it from cuts.
3. Cut each sheet of wax lengthwise on the diagonal. You should now have four triangles.
4. Take one triangle of each color and set the other two aside for later. Orient the wax so that the long edge is closest to you and the diagonal edge is away from you. Place the two triangles directly on top of each other. Then, stagger the top triangle by pushing it an inch forward, so that an inch of the bottom sheet is now visible.
5. Trim the top of each triangle by about an inch, so that you will have a flat even surface at the top of the candle. Trim the bottom of the triangles if you want shorter candles. The ones in the photo are about a foot long, and a few inches have been trimmed off the bottom to shorten them.
6. Cut a piece of wick that is just a touch longer than the length of the wax triangles. Press the wick onto the long edge of the wax triangle and roll the wax over the wick. Continue rolling the candle. You will be rolling the two triangles together, but they will be slightly out of sync because they are staggered. Press the wax tightly as you go.
7. Once the candle is as thick as a standard tapered candle (about an inch across the bottom), cut the unrolled part of the wax off with the X-acto knife and ruler. Press the ends of the wax flush against the candle. Keep the left over wax to melt down for other candles.
8. Repeat steps four through seven for the other two triangles. You will now have two tapered candles.
9. Wrap the candles together with ribbon or raffia and give as a gift.