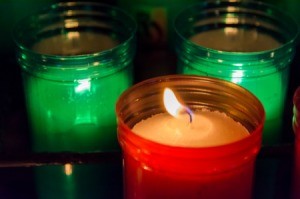 I'm a starving college student and I love crafts and want to start making candles, but I don't want to purchase molds. Does anyone have any suggestions as to what to use instead?
Also, how the heck do you insert the wick?
By Jennie from Tempe, AZ
Answers

August 25, 2010
0

found this helpful
Best Answer
First, you can use almost anything as a mold. Second, you insert the wick first, then pour your wax in. If you are using a can, a small hole in the bottom, your wick can go thru, take the rest of the wick, twist around a pencil or dowel & lay across the top; pour in wax. I suggest you get a book on making candles from a local craft store. Its easy & fun. You can also use the Glade glass candles, save them & clean them as they are reusable.

gem
Bronze Post Medal for All Time! 163 Posts
August 25, 2010
0

found this helpful
Best Answer
We use milk cartons, anything with the waxy inside will work. Half and half containers, fancy coffee creamer containers etc.
Good Luck,
Gem

August 28, 2010
0

found this helpful
Best Answer
You can get going real quick and save a lot of money by asking friends and relatives, neighbors, etc. etc. to save the stubs, bits and pieces from all the candles they are ready to toss out. [ save them in a small box for me please!].
When you have enough:
- cut them into bits, chunks whatever sizes work.
- prepare any molds your going to use by spraying inside gently with cooking oil spray. [don't make drippy]
- invest in a roll of wicking, if you cant get any through some nice person on "freecycle.com" and
- feed a bit of wicking through a flat button to weigh it down in the mold [old juice, tetra-packs, milk cartons etc. cut down etc
- wrap extra wicking around a pencil, tape it and lay it across the top of the mold to hold wick straight up through middle of mold
- load in the chunks of old candle bits
- ** you can add a pretty seashell, stone, or trinket as a gift also, indicate on a note that: this is a treasure candle
- melt down enough wax, [colour by adding a kids crayon or two] to fill the mold
- fill mold, let cool till you have to unwrap it. Don't rush this, let if get there on its own time.
And you're done.

August 31, 2010
0

found this helpful
Best Answer
I don't use molds. I collect pretty teacups, coffee mugs of different themes, gravy boats, etc. from garage sales. Usually no more than a quarter. I buy old damaged candles or even unused taper candles from garage sales also, free recycled wicks included. I sort by color. I melt the candles in a old crock pot (garage sale item ) that I line with a crock pot bag. Save the bags, they can be used over and over. I only change for different colors. Works great! Great gift and people love them.

August 25, 2010
1

found this helpful
We have used orange juice cartons or milk cartons, 1 quart, 2 quart, pints, and 1/2 pints. Once the candle has set simply peel or tear the carton away. We have also first filled the carton with ice and then poured the hot wax over the ice in the carton.
The wax hardens around the ice leaving interesting hollow areas in the candle.

Joan
Bronze Feedback Medal for All Time! 186 Feedbacks
August 25, 2010
0

found this helpful
When I made candles I used empty Pringles cans, after making sure they were wiped out. When the candle was set and the can peeled off, I melted a different colored wax and used a toothpick dipped in the wax, to make a design over the seams that were left from the Pringles can or tube, whatever you want to call it.

August 25, 2010
0

found this helpful
Great ideas! Now, how exactly do I insert the wick?

August 25, 2010
0

found this helpful
I was going to suggest the Pringles cans as well. To insert the wick just use the lid and tie the wick to the top and have it long enough to go to the bottom of the can.

August 25, 2010
0

found this helpful
Dollar Tree stores are now carrying silicone molds. Also you can look for molds at garage sales and/or thrifts stores. You can make them out of muffin tins and let your imagination fly.

August 31, 2010
0

found this helpful
I'd prefer round candles, also what do y'all use for the wax pourer because I really don't feel like spending money to buy the ones craft stores sell.

April 12, 2016
0

found this helpful
A very easy trick to use to get your wick to the bottom of a tall candle mold is this; Take a wick and cut it to the length you need + 2 inches. Place the wick tab (or a button) on one end of the wick and secure it. Then take the other end of the wick and insert it into a straw (you may need to cut the straw down if it is too long).
Put a small drop of glue from a glue gun (or a rolled up piece of tape) on the bottom of the tab (button) and then use the straw to pus the tab (button) and wick to the bottom of the mold. Then pull the straw off the wick and tie the loose end of the wick around the straw and rest it on the top of the mold to keep the wick straight

April 12, 2016
0

found this helpful
You can buy wax flakes or wax pellets on ebay very cheap. A good substitute for wax is Crisco. You still can use crayons for coloring and various essential oils for fragrance. The only draw back is that it needs to be in a container (glass jar, tea cup, can, etc).
You cannot use it as a free standing candle. It burns very nice and best of all it is only $5 for 4 pounds. I have made several of these and honestly cannot find any reason to not make more.

January 8, 2018
0

found this helpful
That's a container, not a mold. Those are 2 very different things in the candle making world
Answer

this Question