I like to recycle glass bottles, such as soy sauce, sweet and sour sauce, etc. into decorative glass bottles. Here is one I made using scented candles to drip onto the bottle.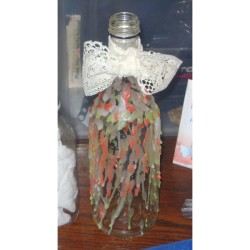 Do not use little tea candles, as the center can come out while still on fire. I have had this happen before. This bottle smells so good, and then I put things like flowers, pretty rocks, potpourri, etc. in them.
In order to make them, you light a candle that smells good, and then hold it over on its side until the flame makes the wax melt. I hold the bottle sideways and let the wax fall down the length of it. Sometimes I do dots and patterns. But is it supposed to look like an old, old, candlestick that has years of candle drippings on it.
I put some leftover lace around the top this time. They do not make suitable candle holders, since the wax would melt (obvious to some, but I tried it once :)
I like to look at them. I have made them all my life, they are kind of a fall tradition around here at our house.
Blessings.
Source: From Girl Scouts, a long, long time ago.
By Robyn Fed from Tri-Cities, TN
I am looking for new wax crafts ideas. I like making a glass full of a beverage, something that looks real.

Brenda
Answers
By Cheryl from Missouri (Guest Post)
January 24, 2005
0

found this helpful
Best Answer
Have you tried making "Swiss cheese" candles? You put crushed ice in a coffee can with the melted wax and when it cools it has holes like Swiss cheese.
If you use orange wax, it looks like cheese.
January 27, 2005
0

found this helpful
Best Answer
I saw a neat craft the other day. It was a wax bowl. The lady had blown up a balloon and put the soft wax over the balloon and let it harden. Deflated the balloon, flipped it over and she had a bowl. When the wax was still soft she had set it on the table in order to get a flat bottom. She then took dried flowers and attached them to the bowl with a little bit of melted wax and then covered them with another thin clear layer of melted wax. The bowl would have measured about 6 " high and about 6" in diameter across the top. Neat idea!
By Rosie (Guest Post)
March 14, 2008
0

found this helpful
Best Answer
Go to this website for a neat idea. www.greenerstyle.co.uk/newspaper-square-coasters-p-390.html
If you don't wish to look at the website, then here is my description: NEWSPAPER COASTERS AND PLACEMATS. Wax some newspaper pages and roll them up into long strips. Lay the strips on a flat surface and roll them around and flat like a 'Catherine Wheel Firework' or 'black liqurice swirls'. Fasten the end. Stitch them together with strong twine. Voila!
I would really appreciate some information on how to wax the paper before rolling it, so if anyone has an idea please post it here.
April 23, 2009
0

found this helpful
Best Answer
We used to take a picture and stick it on to a bar of soap, then melt our canning wax and dip the top of the soap into the wax to get a good coverage on the picture. Makes pretty guest soap, or soap to just decorate. Can also be used, and if careful, the picture will stay on nearly the life of the bar. Makes great gifts too.
Answer

this Question

...