Robyn Fed
Silver Post Medal for All Time! 398 Posts
I like to recycle glass bottles, such as soy sauce, sweet and sour sauce, etc. into decorative glass bottles. Here is one I made using scented candles to drip onto the bottle.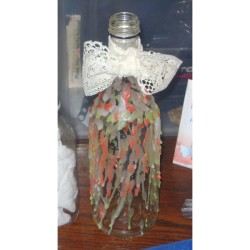 Do not use little tea candles, as the center can come out while still on fire. I have had this happen before. This bottle smells so good, and then I put things like flowers, pretty rocks, potpourri, etc. in them.
In order to make them, you light a candle that smells good, and then hold it over on its side until the flame makes the wax melt. I hold the bottle sideways and let the wax fall down the length of it. Sometimes I do dots and patterns. But is it supposed to look like an old, old, candlestick that has years of candle drippings on it.
I put some leftover lace around the top this time. They do not make suitable candle holders, since the wax would melt (obvious to some, but I tried it once :)
I like to look at them. I have made them all my life, they are kind of a fall tradition around here at our house.
Blessings.
Source: From Girl Scouts, a long, long time ago.
By Robyn Fed from Tri-Cities, TN

I am looking for new wax crafts ideas. I like making a glass full of a beverage, something that looks real.

Brenda

Answers
By Cheryl from Missouri (Guest Post)
January 24, 2005
0

found this helpful
Best Answer
Have you tried making "Swiss cheese" candles? You put crushed ice in a coffee can with the melted wax and when it cools it has holes like Swiss cheese. If you use orange wax, it looks like cheese.

January 27, 2005
0

found this helpful
Best Answer
I saw a neat craft the other day. It was a wax bowl. The lady had blown up a balloon and put the soft wax over the balloon and let it harden. Deflated the balloon, flipped it over and she had a bowl. When the wax was still soft she had set it on the table in order to get a flat bottom. She then took dried flowers and attached them to the bowl with a little bit of melted wax and then covered them with another thin clear layer of melted wax. The bowl would have measured about 6 " high and about 6" in diameter across the top. Neat idea!
By Rosie (Guest Post)
March 14, 2008
0

found this helpful
Best Answer
Go to this website for a neat idea. www.greenerstyle.co.uk/newspaper-square-coasters-p-390.html
If you don't wish to look at the website, then here is my description: NEWSPAPER COASTERS AND PLACEMATS. Wax some newspaper pages and roll them up into long strips. Lay the strips on a flat surface and roll them around and flat like a 'Catherine Wheel Firework' or 'black liqurice swirls'.
Fasten the end. Stitch them together with strong twine. Voila!
I would really appreciate some information on how to wax the paper before rolling it, so if anyone has an idea please post it here.

April 23, 2009
0

found this helpful
Best Answer
We used to take a picture and stick it on to a bar of soap, then melt our canning wax and dip the top of the soap into the wax to get a good coverage on the picture. Makes pretty guest soap, or soap to just decorate. Can also be used, and if careful, the picture will stay on nearly the life of the bar. Makes great gifts too.
Answer

this Question
I have a giant block of wax. I think it is used for candle making. I know very little about that. I believe it is paraffin wax. What are the uses for this around the house other than candle making. I bought it at a garage sale a while back.
Thanks, Jake.
Answers

March 27, 2004
0

found this helpful
Here's a reader's tip from our archive...
Cheap Fire Starters
During this cold period of the year, fire starters for your fireplace can be made by taking a paper egg carton (not the Styrofoam kind), your dryer lint and some paraffin wax. Put lint balls in the egg carton cup, pour melted paraffin wax over them. When wax has hardened, you can then cut each cup apart and use to start your fires. Works great for campfires also. This is a trick we learned from the Boy Scouts.
Melinda
March 29, 2004
0

found this helpful
Parafin wax can be melted and poured on top of jams to prevent mould from growing. Also add small amounts of parafin to melted chocolate to make it smooth and shiny for coating, dipping strawberries etc. But my best advice Jake, don't buy stuff at garage sales you have no use for!
By Kimmer (Guest Post)
April 11, 2004
0

found this helpful
I have used parafin wax for firestarters too. But my FAVORITE use is making "Buckeyes". They are a chocolate covered peanut butter candy that looks like a buckeye (from the tree). These are always a favorite with family and friends.

April 30, 2004
0

found this helpful
Hi,
Here is a link for some craft projects using Soap Scoops.
familycrafts.about.com/.../bllscooptrt.htm and
This is a link for reusing Soap Scoops for extra measuring cups when baking. Whenever you reuse scoops make sure you clean them well.
By Tawnda (Guest Post)
May 5, 2004
0

found this helpful
You can also use paraffin wax and rub it on your chest of drawer or kitchen and bathroom drawer sliders to help it slide better. Works well on wood and metal. Saves wear on your drawers.
Would probably even work on sliding closet doors as well.
By billie (Guest Post)
February 20, 2005
0

found this helpful
parrafin melts at a low heat, and is very good for your skin, melt it and dip your hands in it, let it dry, then peel it off. makes skin very soft and smooth
By Enter your name (Guest Post)
June 22, 2005
0

found this helpful
wax carvings?
By chan (Guest Post)
July 17, 2005
0

found this helpful
how do i put paraffin wax on the bottle labels to prevent the labels from being eaten away by acids?
By susie (Guest Post)
November 20, 2005
0

found this helpful
I melt 1 large bag of toll house chips and 1 1 bar of parafin to dip my chocolate, will it hurt you to eat that much parafin?

November 21, 2005
0

found this helpful
Usually much less paraffin than that is used in candy making. I'd use 1 Tbsp. (grated) at the most for 1 bag of chocolate chips. It helps the chcolate set and gives it a shine. I don't think eating a lot of paraffin is good for you.
After looking at several recipes, I've seen several that use that much paraffin, some of them just dip the candy in heated parafin to give it a coating.
Here's a link about paraffin as a coating with some warnings:
www.sugarcraft.com/.../choc-help.htm
Susan from ThriftyFun
By katie (Guest Post)
November 3, 2006
1

found this helpful
hi im a beauty student and we use paraffin wax for hand and facial treatment. just dip your hands in the melted wax and wrap your hands in plastic bags with towels around them to keep the heat in for 15 minutes and then peel off and you can re use when ever its good for circulation and keeps your hands soft
katie x
By Ali (Guest Post)
November 20, 2007
0

found this helpful
When you melt cooking chocolate, you use the paraffin to help it liquify better, and it gets a better texture and color. You can give something in chocolate to someone this christmas! :D
By Parafin wax is poison (Guest Post)
November 27, 2007
0

found this helpful
Do not use large amounts of paraffin in your chocolate.
Paraffin can cause intestinal blockage and this is known as Paraffin poisoning.
Intestinal blockage caused by eating too much paraffin can cause infection and death. Treatment may require surgery.
The less poison you put in your body the better.
Read More

Answers