I like to recycle glass bottles, such as soy sauce, sweet and sour sauce, etc. into decorative glass bottles. Here is one I made using scented candles to drip onto the bottle.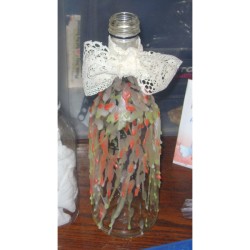 Do not use little tea candles, as the center can come out while still on fire. I have had this happen before. This bottle smells so good, and then I put things like flowers, pretty rocks, potpourri, etc. in them.
In order to make them, you light a candle that smells good, and then hold it over on its side until the flame makes the wax melt. I hold the bottle sideways and let the wax fall down the length of it. Sometimes I do dots and patterns. But is it supposed to look like an old, old, candlestick that has years of candle drippings on it.
I put some leftover lace around the top this time. They do not make suitable candle holders, since the wax would melt (obvious to some, but I tried it once :)
I like to look at them. I have made them all my life, they are kind of a fall tradition around here at our house.
Blessings.
Source: From Girl Scouts, a long, long time ago.
By Robyn Fed from Tri-Cities, TN