Candle wax was spilled on my wooden floor. It is dry now. How do I remove the wax?
By gayle from New Iberia, LA

Answers

June 11, 2005
0

found this helpful
Best Answer
Renters caused problems for us: How can I take spilled melted wax off hardwood-floors, it also splashed up on the walls and metal closet doors.
Thank you for your help
Mary in Pueblo, CO

November 27, 2013
0

found this helpful
Best Answer
all i did just put a paper towel on the floor and go over with a hot iron and put stem and the wax came right up. Did not damage the hardwood floor.

March 2, 2014
0

found this helpful
Best Answer
I have read the responses and I discovered something that will help remove candle wax from a prefinished hardwood floor. First use a plastic putty knife to remove the major build-up and dispose of the scraps. Next use the previous mentioned Goof Off on a soft cotton rag to remove the rest.
And it gets better - lastly use the edge of the plastic putty knife to remove that last bit in the cracks between the boards. Waa laa!

November 17, 2014
0

found this helpful
Best Answer
Husband just spilled candle wax all over the hardwood floor. Used a rubber spatula to scrape it after it dried. I then used the Goo bgone as suggested. The floor is like new! Thanks!
Answer

this Question
Candle wax spilled on my hardwood floors and walls. Please help me and tell me what can I use to clean this hard mess up.
By Gina
Answers

August 19, 2011
0

found this helpful
Best Answer
Hi Gina,
You can remove wax from your wood floors a couple different ways:
1. Apply ice to the wax to harden it, then gently scrape with a putty knife with a clean edge. (If it were me I would try this method on the walls too.)
2. Lay paper towels over the wax, iron the paper towels, and they should absorb most or all of the wax.
Good luck!
August 30, 2011
0

found this helpful
Best Answer
Having worked at a dry-cleaner for many years, I've learned that perchloroethyline dissolves not only candle wax, but also gum. The main product that contains this that I can think of is Carbona Spot Remover.
Answer

this Question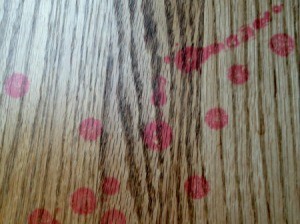 After removing the wax from the floor, there is a red stain left behind. I have tried numerous products that were recommended on this site, but none of them work.
By Rich L.
Answers

January 8, 2014
0

found this helpful
Best Answer
When candle wax is spilled on anything take a brown paper bag a hot iron and hold it on there fore a second or so and the candle will transfer onto the paper bag. Keep going changing bags if you have to but it works. Good Luck
February 25, 2016
0

found this helpful
Best Answer
even easier is to use gojo or fast orange hand cleaner. Rub it into your towel first before scrubbing. The de-limonene in the product loosens the paraffin, that's why it's so good a degreasing hand.
Helpful hint that these products also take oil stains and such off of couches, fabric, etc.
March 22, 2016
0

found this helpful
Best Answer
My kids like to draw and drew in red marker on a dresser. I used nail polish remover to get the red marker drawing off the dresser. I just applied nail remover onto a cotton ball and rubbed it on the marker drawing which took off all the drawing they drew on the dresser. It worked fast and did not harm the wood to my surprise. Some one told me about the nail polish remover being able to remove stains on walls markings scuffs and crayon. I tried it and it worked so well you can't see any left over marker. Before applying to your wood floor test a spot to make sure you won't harm the floor but like I had said it worked in the wood dresser and didn't leave any red marker it cleaned the wood making it look like it did before the two artist drew there pictures on the furniture.
Answer

this Question
How do I remove candle wax from hardwood floors?

By Alison Nicholas from Colorado Springs

Answers:
Candle Wax on Hardwood Floor
Take a credit card and a blow dryer to barely heat the wax up then scrape the wax with the credit card. It should curl up around the card. For counter tops and things that won't easily scratch, use a light switch plate to scrap the wax (any kind). I used a light switch plate to scrap wax from my countertops and you wouldn't believe how wonderfully it worked. You can use the light switch plate on your hardwood floors, too.
Just make sure to keep it totally flat and don't press too hard so it won't scratch the floor. If you have a screwdriver you can simply take a light switch plate off the wall then, when you're done, wipe the wax off with a paper towel and re-hang it. If you use a light switch plate, you won't need a blow dryer, just a tiny bit of "elbow grease".
* I save those fake credit cards they send you in the mail and also the extra cards given by stores to be in their "club" for cleaning up wax. I keep them with my cleaning stuff. But for less than fifty cents you can buy a simple light switch plate at any hardware store and they work even better! (12/30/2009)

By Cyinda
How do you remove candle wax from hardwood floors?

Donna E. from Trinity, NC

Answers:
Candle Wax on Hardwood Floor
(Sent in by email)
I just wanted to thank Peggy so much for your suggestion to use the blow dryer to melt the wax and then to use a paper towel to wipe it up. It works great. I used it on my hardwood floors, an antique bureau and also on a lace doily that the candle wax spilled over. Thanks for your ideas. (01/07/2008)
By ThriftyFun
Candle Wax on Hardwood Floor
My daughter spilled candle wax all over my hardwood floor, I read every single post in here. After reading about the Goo Gone, I discovered I had some stuff called Oops. I use it to removes adhesive from stickers and such. I put some on the floor and used a dry rag to wipe it off, took the wax right off, after I was done I got the rag wet and went over the area again. It didn't dull my hardwood or anything, worked great. Thanks for all your help!. (04/10/2008)

By Aric
Candle Wax on Hardwood Floor
Bug and Tar remover has also been found to be effective on removing candle wax spills from hardwood floors. (06/21/2008)

By Wags be gone
Candle Wax on Hardwood Floor
My fiance left a large candle on all night (the kind with 3 wicks) and it was all over the wall, molding, and hard wood floor. It had splattered all over the floor, which was really difficult to get off, at first. We were able to get the large pieces off by hand, but the iron just wouldn't get up all the splattered areas. We finally used a spatula, which got all of the wax up perfectly. There was a light residue left where the wax had been, so we used Goo Gone to get the rest up. Let the Goo Gone sit on the area for a few minutes, then wipe up. It didn't harm our hardwoods, and we didn't have to repaint the wall. (08/03/2008)

By Jamie
Candle Wax on Hardwood Floor
The warm iron and paper bag works great. I was even able to get the wax out of the grooves in the hardwood floor. Many thanks. (08/31/2008)

By Alice
Candle Wax on Hardwood Floor
Thanks. The medium heat iron and paper towels worked great on lifting the spilled candle wax from my hardwood floor. This method safely and completely removed the wax. (11/02/2008)

By
Candle Wax on Hardwood Floor
Great tips. I used the blow dryer and paper towel trick on a side table splashed with wax. Worked great. Took all of 10 minutes to get every speck of wax (there was a lot) out. (11/12/2008)

By Kitkat
Candle Wax on Hardwood Floor
We had a large amount of wax on our floor as one of our drunken New Years Eve party guests accidentally knocked a large burning candle off an end table. I took a multi step approach since there was so much volume. First I used a new wide plastic putty knife to get the major candle wax off our Brazilian cherry floor. I then used a small plastic pick about the size of a toothpick (which would also work) to remove the wax between the floorboards. I then used the iron/paper bag method described in detail on this thread. It still left a little surface wax which I removed with a vinegar/water solution (50/50) applied with a paper towel. I wiped small areas and quickly followed with a dry paper towel. I replaced the towels every few minutes. This got the last bit of it. (01/01/2009)

By MacQ
Candle Wax on Hardwood Floor
Used the warm iron and paper towel and it worked fine. First scraped thick amount off, the iron and paper towel took off the last thin layer of wax. Thanks so much. (02/23/2009)

By Hans en Donna
Read More

Comments