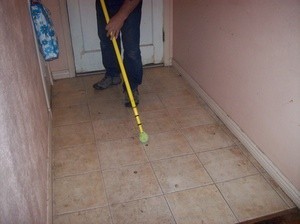 This is a simple tool that you can make to remove scuff marks from tile floors. We use these at the school I work at to remove the children's slide marks on a brand new floor. Our school maintenance guy has a hard time keeping the kids from sliding on his beautiful shiny floors so he made these erasers so that he did not have to get on his knees to clean them off and it also makes it easy for those "small offenders" to clean them off themselves.
Time to complete: 10 minutes
Materials
old broomstick or dowel or extension rod
one tennis ball
Instructions
Cut an "X" in the tennis ball and slide on the end of the broomstick.
To use: Rub the tennis ball over the black scuff marks and watch them disappear.
After I made this my grandson was playing with it and we found out that it also works great for cobwebs in corners of rooms. They stick right to the tennis ball and come right down.
Hope this saves on your back and your knees.
Read More Comments
I have black scuff marks on the hardwood floor. They look like scratches. How do I remove them from a hardwood floor? Please advise. Thank you.
By Jace
Answers
April 11, 2012
0

found this helpful
If they were made with shoes which have rubber soles, you can easily rub them away with just your fingers. If they are scuffs of the other kind you have a couple options.
Rub a walnut on the floor to see if that will remove them. If this doesn't then go to your local hardware store. They make pens specifically designed to cover up or fill in spots on any wooden surface.
Another idea which I've done before, is if the scuffs have indented the wood, find some crayons in colors which match your floor, melt them onto the spot using a candle. The wax will level itself, if it doesn't you can level it once it cools slightly.
Answer

this Question

...
I have wood floors and I have those felt pads on the legs of my chairs in the dining room, yet I have scuff marks on the floor from where the chair gets moved. They are not scratches in the wood, just scuffs. What do I do to get rid of them? I have tried everything and they are still there. Thanks.
By LitaMae from Lawrenceburg, TN
Answers
September 25, 2011
0

found this helpful
Have you tried a 'magic eraser' type product? That helps on my vinyl floors.
Best of luck to you!
September 26, 2011
0

found this helpful
Try cutting a hole in a tennis ball large enough to insert a broom handle. Rub the tennis ball on the marks. This is how it is done at the high school gym in our area. They do this to remove scuff marks left by shoes.
September 26, 2011
0

found this helpful
Check and see if something is caught in the felt that may be scuffing your floor. You may need to replace the felt chair leg protectors.
October 27, 2016
0

found this helpful
I have tried the magic eraser or my hardwood floor and would not recommend it, as it did slightly change the color of the wood to a lighter shade.
Answer

this Question

...
Can someone tell me how to remove scuff marks from my wood floor that was installed in 2010. I'm not talking about "black" scuff marks, just scuffs that show on the floor.
I clean it regularly w/Pledge wood floor cleaner I buy at Home Depot. It does a great job of cleaning and shining, but the scuffs remain. I suppose they come from tennis shoes, grandkids playing, etc. If the sun is shining, I want to keep the blinds closed, because they show up especially bad then. Please give me advice how to get rid of all the scuffs. It's driving me nuts! Thanks in advance.
By Kathleen from IN
Answers
April 29, 2011
0

found this helpful
Being in the cleaning business for 27 yrs., I have cleaned many hardwood floors. From what I have learned is to never use anything with a 'polish' (such as Pledge Hardwood Floor Cleaner), as this leaves a very thin coat of 'polish' on your wood floors. Chances are the scuff marks you refer to, is simply the thin layer of polish being 'scuffed' off. Only use a streak free/no residue cleaner, such as BONA (for hardwood floors that you can get almost anywhere), which cleans your floors instead of 'polishing' them. If you want a 'shinier' wood floor, then you will need to apply a coat of polyurethane. So many people make this mistake, so you are not alone. I hope this helps.
Answer

this Question

...
How do you remove dark shoe scuff marks from wood doors?

Ashley from Twinsburg, OH

Answers:
Scuff Marks on Wood Floors
Try the Mr. Clean Magic Eraser. I'm a realtor and use Magic Erasers for all kinds of touch-ups, scuff marks on floors, ink or crayon on walls, wood furniture, outdoor toys, even everyday cleaning. My little guy got a hold of a black sharpie and created a "mural" on my desk in my home office and viola, gone. There was no trace of it. It's worth a try. (01/03/2007)

By Crista
Scuff Marks on Wood Floors
Try using neutral shoe polish. This works on any number of marks on wood, tile, etc. I learned this in the Air Force. (01/04/2007)

By Robin
Scuff Marks on Wood Floors
A friend of mine was observing a janitor in an airport who had attached a tennis ball to a broom or mop handle. He went from scuff mark to scuff mark "erasing" as he went throughout the lounge area. (01/04/2007)

By Hope
Scuff Marks on Wood Floors
Do not use Mr. Clean Magic Eraser on wood floors with a polyurethane finish. I just had my floor refinished and tried to erase a white mark with Mr. Clean Magic Eraser. It took the polyurethane off.
Mr. Clean Magic Eraser is wonderful for ink, crayons, markers, stains on everything else, but not finished floors. Do not use it on "poly" coated floors. (02/18/2008)

By jh
Scuff Marks on Wood Floors
I make of paste of baking soda and water and rub it on. The scuff marks come right off. It's an eco-friendly solution, too. (03/13/2008)

By Leslie
Scuff Marks on Wood Floors
Try using olive oil. (03/30/2008)

By Lily
black Scuff Marks on Wood Floors
I didn't have a tennis ball so I just used my daughter's pink eraser. It worked. Seemed to be more effective if I wiped the wood floor spot (bamboo) with a damp sponge first, then the eraser. I vacuumed up the eraser shavings and the floor looks great. Thanks for the advice on the tennis ball, it led me to eraser. (04/04/2008)

By Jill
Scuff Marks on Wood Floors
We had black scuff marks on our hardwood floors, probably from sliding furniture. They were very difficult to remove. I tried many suggestions from this website: Simple Green, an eraser, the light scotch pad on a sponge, saddle soap, clear shoe polish, Tibet Almond Stick, baking soda, and baking soda with vinegar.

The baking soda with vinegar worked, but with a lot of elbow grease, scrubbing with a sponge. The thing that worked best for me was a product called "Furniture White Ring Remover" made be Jasco. I bought it at Lowe's. This is a cloth that is treated with some kind of oil. It removed the black scuff marks with some rubbing. By the way, it also removed the white ring marks on our dining room table that we originally purchased it for. (06/04/2009)

By Angelo
Read More Comments