About 3 months ago we lost one of our two cats to a run in with a vehicle. We replaced him with a female tortoiseshell kitten. We also have a 5 year old male cat that grew up with our lost cat. The kitten will not leave the cat alone. Every time the older cat appears the kitten wants to attack him.
I think it just wants to play but it is really bugging the other cat who just wants to be left alone. We have a water pistol that we use each time which scares her off, but not for long. She has a real obsession with the older cat. Any suggestions would be appreciated.
By Loki from Wellington, New Zealand
Ad
---
By Lisa 2 131 04/14/20090 people found this helpful
They'll work it out. Unless they are hurting each other I'd leave them alone and see what develops. The kitten is looking for a playmate and obviously the male kitty is less than willing!

It might help if you play with her for the time being so she has a healthier way to expend all that kitten energy. My kitties' favorite toy is a long piece of wire (sort of like coat hanger wire) with rolled up pieces of cardboard attached at one end. When the wire is moved with the cardboard in the air, it looks sort of like a bug floating around. The love to swat at it and usually wear out quickly!
By Nathalie 58 04/15/20090 people found this helpful
Agreed. Actually, it's necessary for the kitten to have the other cat teach him manners when it's the right time. This is how they learn to behave with each other and, more importantly, with humans.

When you play with him, by the way, use the same lessons that an older cat would give (if he were quite tired of it yet) if the kitten bites you too hard. Hiss at him. He'll learn "Oh here's the line, I need to not cross it".

Agreed with lots of toys. Cats - the more money you spend on toys, the more they'll love things that are cheap and free. Agreed with cardboard. I've found that crumpled paper (newspaper is awesome and non-toxic), emptied and crumbled toilet paper tubes, etc, make great toys. Just be sure if you have blinds in the house to kitten proof them like you would for a baby.
By Debbie Maggs 7 04/15/20090 people found this helpful
I have 14 cats and it seems there is always a younger cat in the house. I just let then alone because the adults will let the kitten know when they have had enough. They will teach her "cat manners". The kitten needs to play and get some of that energy out or she will be running around the house like crazy.

I have a small branch I drag across the floor and the cats just love it. They have tons of toys but would rather play with everything else (paper bags, plastic rings, anything that rolls or moves). I have found an empty cardboard box with a hole cut in it does wonders. It also helps when they want to sharpen their claws. The cardboard can always be replaced and it saves the furniture.

For kitty litter boxes I got those plastic sweater boxes that go under the bed. They are bigger than a regular litter box and give the cats more room and last a long time. I put plastic trays in front of the boxes with newspapers because if they miss the litter box they will hit the paper which protects the carpet. I put doormats in front of the boxes which also helps to keep them from tracking litter all over. They seem to like to use the mats for claw sharpening.

I hang a cat scratcher and string on the door knobs and tie feathers to the end or some other toy. This seems to keep them from scratching other things. I also have a cat tree because they just love to climb. There are kitty beds everywhere on top of things. Cats really love to be high up so I just put 2 sided tape on the bottom to keep it from falling off. There is even one on top of the tv.

I could go on and on but I won't bore you with details. Good luck with your infant child.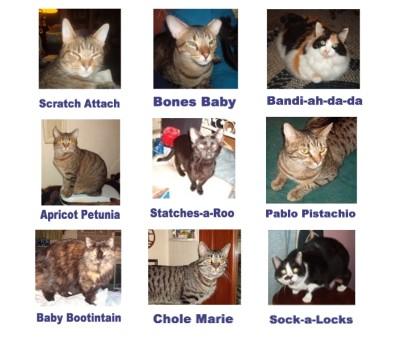 04/16/20090 people found this helpful
Ditto with the three posts here already ;-)

I will add that I've had up to five indoor rescues at a time and it never ceases to amaze me that the ones who didn't seem to like each other in front of me were the ones I would catch cuddling in a corner during the middle of the night ;-)

Your babies will work it out just like we humans with different personalities, likes and dislikes do ;-)
By Dena Roberts 35 491 04/16/20090 people found this helpful
This is part of the bonding process, if you squirt the kitten every time it goes near the other cat, the kitten will associate the other cat with the squirting and they will never bond, so STOP! Leave them alone.
By Vi Johnson 286 801 04/17/20090 people found this helpful
Go get another kitten about the same age from a rescue place. Then both can play and the older cat will have
some down time.LOL GG Vi
By NEWFIEGIRL 8 426 01/21/20130 people found this helpful
Think of this situation as having a young energetic child that wants to play with a Senior Citizen. Get the baby a same age playmate. Good luck.