Shoe Rack For Storing Fabric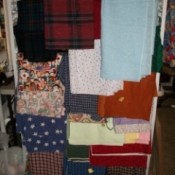 I found a shoe rack when I was browsing the local "as is" store. It was $1.00 so I scarfed it up and have all my larger pieces on it. Smaller ones I put in zip lock or clear veggie bags so I can see what I need. Clear plastic tubs can be so very handy, and I get mine secondhand to save money.
I hope this helps. Staying organized means never having to say "where is that"!
By Sandi from Salem, OR
Feedback
Post Feedback
Add your voice to the conversation.
Related Guides
Related Posts