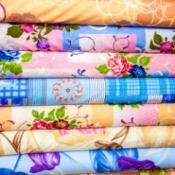 Most of the fabric I purchase is on bolts that are 54 inches long and difficult to store. I found a cardboard blueprint storage box at Staples and now all my bolts are stored on end. They stay neat, don't fall all over the place and I can easily view the fabrics.
By Gon2oahu from Victoria, B.C.
Read More

Comments
I am looking for ideas to store large, heavy quantities of fabric. I read some posts and saw some really cool ideas, yet my problem is a lot larger. I have approximately 35 bins of wools and denim given to me and I would love to find a better way of storing them. The woolen are about 5 yards each.
Your help would be great!
Answers
February 16, 2007
0

found this helpful
It sounds like you have alot of fabric there. I don't have anything close to that, but i do store all my fabric in trunk, i got it at a clearance store. I know they sell them at walmart. If thats not big enough you may want to try a plastic storage cabinet meant for outside. many of them can be disguised as furniture. good luck
February 16, 2007
0

found this helpful
Is this fabric on bolts? If so, why not get a clean plastic garbage can and stand them up inside it. Maybe one with a lid would work to keep them clean.
February 16, 2007
0

found this helpful
Another thought.....if your fabric is just flat pieces perhaps you could put onto bolts. Wal-Marts craft dept usually has some empty bolts in the trash can or ask if they have any....they might even save for you as they use up fabric. They are just cardboard type things but your fabric could be wrapped around them and then those could be stacked on shelves or in a closet ....or stood up inside some sort of a barrel type container.
Hope that helps,
Debbie52
February 17, 2007
0

found this helpful
I use apple boxes and clear plastic tubs with lids. I am so jealous of your fabric! What a wonderful windfall!
By mary (Guest Post)
February 17, 2007
0

found this helpful
Place the fabric in hefty bags, use a vacuum to remove ALL of the air - these re home-made shrinking bags. You can find exact instructions on how to do this with a Thriftyfun search.
Read More

Answers
Some people have yards of fabric. I have a room full. All colors, all types, all different yardages, tons and tons. I hate keeping them in large storage containers. I even tried putting a swatch outside the storage container to see what is inside. It still doesn't work. Any ideas?
By Marie
Read More

Answers