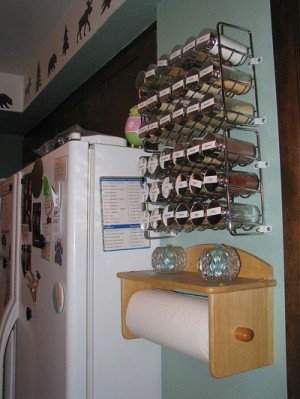 I do a lot of cooking and have always had problems with where to store my spices. The counter top racks take up too much space. When I stored them in the pantry or cabinet, I constantly had problems with spices falling off the shelf if I tried to dig for the right spice without removing every single one of them. My solution? Mount the spice rack on the wall.
I purchased a counter top spice rack with a flat back, then after discussing what I wanted to do with the store staff, they gave me some mounting brackets that they use to mount displays on the wall for free. I used those to mount the spice rack on the wall next to my refrigerator and used a labeler to label each of the spice bottles.
Now I can have easy access to my spices (without head injury) and they aren't taking up cabinet or counter space. I also save money by purchasing spices in bulk and refilling these reusable jars. I have a small funnel that makes this simple to do.
I have since found these mounting brackets at Home Depot. They are a lot less noticeable than they appear in the photo, and I could always paint them to match the wall color if I wished.
Source: My grandfather had constructed a wall mounted spice rack for my mother using old meter sticks and small apothecary bottles. This is the "modern" version.
By Stephanie from Hillsboro, OR
Read More Comments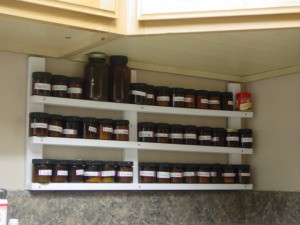 There are lots of good ideas for organizing a small kitchen space at "Suzy' Simple and Perfectly Organized Kitchen." I took the vinyl molding spice rack instructions there and adapted it to fit my space. I used the space just between the counter top and the cabinets.
The spice rack was really simple to make, with just vinyl molding (wood could also be used) and brads. My version doesn't involve quite the drop that Suzy's would, should you ever miss and send a bottle flying, since mine is over a counter top. It works for me!
Source: This spice rack is adapted from Suzy's Simple and Perfectly Organized Kitchen.
By Kirsten from Logan, UT
Read More Comments