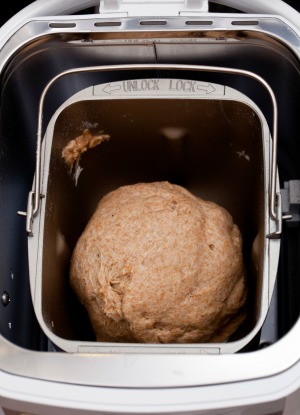 You can successfully substitute all purpose flour for bread flour in you bread machine. This is a guide about recipes using all purpose flour in bread machine.
Ad
---
Questions
Here are questions related to Recipes Using All Purpose Flour in Bread Machine.
I was wondering if anybody has ever successfully used all purpose flour instead of bread flour to make their bread in the bread machine? Bread flour is extremely expensive here in Malta, to the extent that baking your own bread is not cost effective.
But plain (called all purpose flour in the U.S.) is very cheap to buy here. If so, could you please share some recipes or direct me to a site which has some good ones? Thank you so much.
By cettina from Mallta, Europe
Ad
---
---
Most Recent Answer

By Thomas R S.03/04/2014
AP BM Recipe

I use all purpose flour and in addition replaced non fat dry milk with non dairy dry creamer. My machine is a Breadman 2700. This is the recipe I use for 1 1/2 lb loaf. Made 5 loves before I got it right. Good luck..

1 cup water + 2 tbs [room temp]
2 tbs veg oil [your choice olive, corn, etc]
2 tbs sugar
1 1/2 tsp salt
3 cups all purpose flour
1 1/2 tbs non dairy dry creamer
1 tbs vital wheat gluten
2 tsp instant dry yeast [bread yeast]

This is the order I use to add ingredients. You may want to follow a difference order according to your bread machine. I use the medium crust setting which is 3 hrs and 5 min. on my machine. I use 1/2 tsp salt and 1 tsp vital gluter per cup of flour. You may have to adjust the amount of water or yeast depending on the flour used

Notes.... Best deals I found is 2 lb pkg instant yeast and 3 1/2 lb can of vital wheat gluten at Amazon. Non dary dry creamer I get at Dollar stores or supermarket house brand.
I received a bread machine and all the recipes call for bread flour. Can you substitute all purpose flour for bread flour? I was about to try it out until I found out I didn't have the right flour.
By Jill
Ad
---
---
Most Recent Answer

By Rita [2]01/13/2012
I have never bothered with "bread flour." Instead, I purchase a little bag of a product called vital wheat gluten and add a heaping tablespoon per loaf (double that if I'm making rye or whole wheat, which I usually am). This has worked well for me for years. Mine is a 1-1/2 pound machine. Love, love, love it!

I get my gluten at Whole Foods, but your grocery store might have it. Bob's Red Mill and King Arthur have it online - and Amazon, of course.
Solutions: Recipes Using All Purpose Flour in Bread Machine
Do you have knowledge about this guide topic? Feel free to share a solution!