We have a dear uncle who is turning 96 years old in a few weeks. He still lives on his own, is healthy and spry and sharp as a tack! I need suggestions for a birthday gift, if you all would be so kind. Thank you.

Skookie from Bowling Green, KY
Ad
---
Recent Answers
Here are the recent answer to this question.

By Kristen [2]08/07/2008
How about a Funny Yard Card rental!
This is when a Large announcement sign is delivered to their yard telling everyone about their birthday! they can even fit in small yards!
This will create a memory they'll never forget!
check out * Funny Yard card rental .com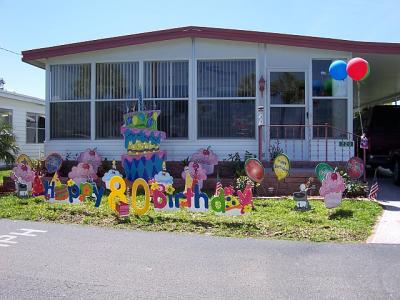 By Pam Collins (Guest Post)03/13/2006
I live in a retirement town and I feel that he would enjoy a coupon from you for a free trip: into town or to see friends or relatives. Or maybe just a gift certificate from a local grocery or Wal-Mart. How nice of you to care!!

By Mugs (Guest Post)03/12/2006
Have spent many moments with others older than myself and the one thing that they seem to appreciate is time.

Listening. Sharing a meal.

I sure have enjoyed being with them too.



By Baylee (Guest Post)03/12/2006
I sure like the idea of the video taped interview.
This would last through the generations of those who still remember or want to know who this person was in their life. I am going to do that for my grandchildren.

By cindy (Guest Post)03/12/2006
what about a scrapbook of photos of family and friends. Even if you don't scrapbook, kits are sold in the stores and it could be kept simple. You could also ask others not only for pictures but maybe to write something to be included, like a special memory etc...

By Ruth Counter [2]03/11/2006
Take him out to dinner. Then go to his house and video tape an "interview" with him. Ask about his life and his memories to preserve his story. He will love it and you and your family will have a priceless piece of heritage and history.

By jojo (Guest Post)03/10/2006
If his minds alert (& you say he's sharp as a tack), how about making up some kind of gift bag/parcel to include crossword & puzzle books to occupy him and also some snacks to munch on while he's doing the puzzles?

By (Guest Post)03/10/2006
I did this for my father in law and he loved it - I went to the grocery store and picked out individual size servings of things I thought he would like - puddings, fruit cups, he loved canned rice pudding, individual bags of cookies, crackers, granola bars, soups - he loved oyster stew - individual dinners in the microwavable cup - he would try them all and call to let me know what he thought about each one - some he would buy again, some not, but it provided variety for him instead of his normal routine diet, it was all healthy stuff and he was happy with the whole idea. We did it for birthdays and Christmas. I also gave him individual size servings of angel food cake, donuts, cookies, etc. that he could keep in his freezer when he wanted a snack. Don't forget small amounts of different fresh fruits and vegetables. It might be something new to him, but when they reach that age, they're accustomed to not wasting anything, so he'll probably try something new and different and enjoy it. Very useful and interesting!!

By JILL [5]03/10/2006
How about gift certificates for a free dinner, or a homemade pie, a free house cleaning, yard work.
Use your imagination and think of something if you did that person would not have to do.

By christi (Guest Post)03/10/2006
My grandfather in 90 and he still mows his own yard. He is the hardest guy in the world to buy for. My grandmother always says well he likes undershirts and Brute, but gee really how much of this stuff can a guy use when you buy him gifts twice a year. What I do now is make him homemade foods that he likes. I used to make him homemade candies but my grandmother put him on a diet, so now I make him spiced nuts and stuff like that. Its his favorite gifts and they are always long gone before we leave.

By Cheryl from Missouri (Guest Post)03/10/2006
How about hiring a kid to mow his yard this summer? Or a handyman for those odd jobs he might need done around the house? A maid to clean his house? A gift certificate for a hobby - golf or book club?

By Leila Reinersman (Guest Post)03/10/2006
May I suggest that you get him something he has alwys wanted to have or take him to a place he has always wanted to go but never"got around to It"? I do this for all my family and friends such as concert tickets,games, etc.and it really pleases them. i am sure there is a dream in the back of his mind he is always thinking about but never mentions. Get him to talk and get some clues!

By Carol (Guest Post)03/10/2006
Large print book or magazine subscription... Or a gift certificate to his favorite store... or a store near his home... Take him out for dinner at lunch time... smile.

By edieparks (Guest Post)03/10/2006
How about envelopes with adhesive flaps, stamps and a nice smooth writing marker or gel pen for bills. - edie

By Deen03/10/2006
How about a magazine subscription (Time, Nat'l Geographic, etc.)

Eyesight not so good? Maybe some books on tape (or cd) would keep him entertained.
Answer This Question
Add your voice to the conversation. Click here to answer this question.