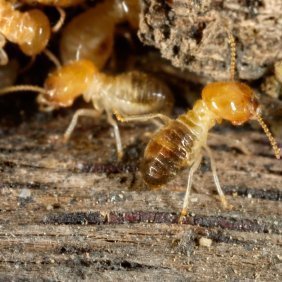 Termites can cause a lot of damage to your home. Exterminators are quite expensive, so before you call for an appointment it might be worth trying some homemade remedies first. This page contains homemade remedies for termites.
Ad
---
Solutions: Homemade Remedies for Termites
Read and rate the best solutions below by giving them a "thumbs up".
There is no way you can treat termite infestation with home remedies. I know from personal experience. When we lived in the south we had termites. We saw them swarming in a bathroom. My husband "treated" them and we were sure they were all dead.
About two years later, we saw them again and had to call in a professional. Unless you have seen the damage termites can do, you can't believe it. They had destroyed an entire outer wall. The 2 x 4's crumbled like tissue paper. It ended up costing us way more than it would have if we had called a professional in the first place.
By Joan from Chesterfield, MI
This is for small localized areas when finding termites. Cayenne pepper has worked for us. Expose the hidden areas taking care not to damage the surroundings, sprinkle the pepper liberally (also carefully) in as many spots possible. You can wear a face mask so you don't inhale it.
You can also make a water or light vegetable oil paste to apply to vertical spots. Recover the area with a temporary material to check on progress.
When you are sure the termites are no longer there, put up the permanent covering. This advice was given to us by a carpenter who also doesn't like poisons. Good luck!
By Lin from Atasacadero, CA
Give a "thumbs up" to the solution that worked the best! Do you have a better solution? Click here to share it!
Questions
Here are questions related to Homemade Remedies for Termites.
I need to get rid of termites. Does anyone know of any household products that will work? I'm looking for a way to get rid of them without buying the termite treatment in stores.
By Donna
AnswerWas this interesting? Yes No
Ad
---
---
Most Recent Answer
By Elizabeth 08/12/20110 people found this helpful
Get a professional! There is no way you can be sure of treating all the affected areas. The professional will know how. Depending on the infestation it might take a few trips followed with annual checks.
---
Does anyone have a homemade remedy for getting rid of termites?
AnswerWas this interesting? Yes No
Ad
---
---
Most Recent Answer
12/04/20110 people found this helpful
Spray diesel fuel on it. My put it in a hand sprayer and sprayed directly on infected areas and around the house creating a barrier. It does work. In some places it is illegal to spray diesel on the ground so be sure and check in your area with EPA.
---
How do I get rid of termites naturally?

By Tonia M.
AnswerWas this interesting? Yes No
---
Most Recent Answer
By weinerdog41 [34] 04/27/20140 people found this helpful
I don't think there is a way to rid of them naturally. Think it requires chemicals.
Will Tide detergent work? I know they use it on killer bees.
By Paul H.