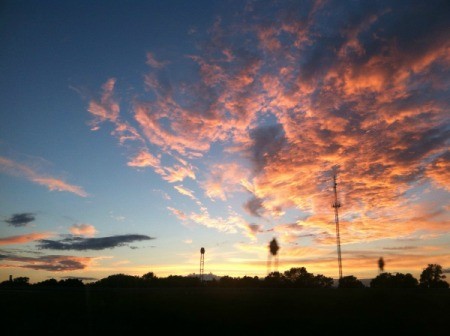 Photo Description
"Life is not about surviving the storm; it's about learning to dance in the rain".
That quote came to my mind when I took this photograph. Last summer we went out of town to a very special event. Although it was wonderful, we were caught out in a crowd of thousands afterwards, trying to get back to our vehicles. It was a very scary experience, the day turned to the black of night in an instant, complete with lightning and hailstones. When we finally reached our car, as we were cautiously making our way home through the severely flooded streets, I couldn't help but be extremely grateful that we were all safe.
I took this picture out of my window as we were driving down the highway. Not to worry, my husband was behind the wheel.:) After such a destructive and unforgiving storm, I couldn't help but be awed by the stunning calm and beauty of the sky. It made me think how despite the sadnesses we may face, something beautiful is always left.
Photo Location
Near Detroit, Michigan, USA