Craft: Crocheted Granny Hat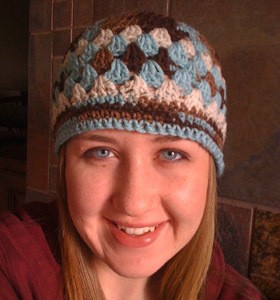 Here is a the crocheted hat I made from a pattern found at:
I like her patterns as they are simple to use and follow as well as a wide range of ideas. This picture is my daughter who loves the hats I make.
Have a great week.
By Lori from Ephrata, WA
By FirstCobber
Feedback
Read feedback for this post below. Click here to post feedback.

By
05/04/2009
Hi - instruction and diagram on this page:
http://www.geocities.com/Heartland/ ... 3606/stitches3.html#Reverse%20single

If that is too long, try this Tiny URL: http://tinyurl.com/c3qppk Di (in UK)



By
03/12/2009
Pretty hat. Pretty daughter. Looks beautiful on her. Did you use varigated yarn? Or did you switch colors?

By
03/11/2009
That hat is so cute (and the darling model) that I'm seriously considering pulling out my crochet hooks and seeing if I can still remember how to crochet.

By
03/10/2009
This is a really nice hat, in the instructions it has a reverse single crochet stitch, I have crocheted nearly all my life but have not come across that stitch, can you explain the stitch? Thank you for your help.
Post Feedback
Add your voice to the conversation.
Related Guides
Related Posts