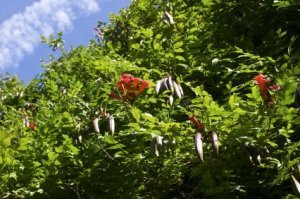 Your trumpet vine is growing and leafing out quite nicely, but there are no blooms. This is a guide about a trumpet vine not flowering.
Ad
---
Questions
Here are questions related to Trumpet Vine Not Flowering.
I have had a trumpet vine for about 3 years, but no flowers. Why?

Hardiness Zone: 7a

Millie from Roanoke, VA
AnswerWas this interesting? Yes No
Ad
---
---
Most Recent Answer
By rookie (Guest Post) 07/10/20080 people found this helpful
I have had my trumpet vines for 2 years they are planted around a telephone pole in my yard the one facing the sun is growing nicely but has no blooms the one behind the pole doesn't get very big but it is still trying. At the end of season do I cut theese back before a frost or should I wait until the spring to cut it back. I would like it to eventually bloom and cover the pole I live in the PA area. Any suggestions would be helpful
---
I planted a trumpet vine approximately five years ago at the base of an oak tree. It has grown up the tree at least forty feet, but never blooms. It is in a sunny location. It is amazing that it flourishes, but does not bloom. Why?
By Linda M
Solutions: Trumpet Vine Not Flowering
Do you have knowledge about this guide topic? Feel free to share a solution!
Archives
Thrifty Fun has been around so long that many of our pages have been reset several times. Archives are older versions of the page and the comments that were provided then.
Q: I have two rather large trumpet vines. One of them has an abundance of flowers while the other one has never had even one flower on it. The one without "trumpets" on it is also a lot larger. The vine that has the trumpets (flowers) is also the only one that ever has seedpods on it. Is it possible that one is a male plant and the other one is female?
Sue
A: Sue,
Trumpet Vines are hermaphrodites (contain both male and female parts) so that isn't the problem. You don't mention whether or not your trumpet vines are planted next to each other so I'm going to assume that they are growing in different spots in your yard. First make sure its basic needs are being met, and if not, move it to a new location. These are beautiful vines that prefer lots of sun and a sheltered (somewhat windless) spot to grow in. They are quite drought tolerant and actually do better in "lean" soil with little or no fertilizer. Many people grow them for years without seeing flowers (they need to be at least 3 years old before they bloom) and eventually lose patience and give up. At times, it seems like some plants need a little "scare" or "kick-in-the-pants" to get going. Consider trying the "hack it, starve it, ignore it" method. Pinching back long stems will encourage flowering because blooms set on new growth. In the spring, cut it well back before new leaves emerge, don't fertilize it and threaten to get the shovel if it doesn't start producing. Now ignore it and see what happens.
About The Author: Ellen Brown is our Green Living and Gardening Expert. Click here to ask Ellen a question! Ellen Brown is an environmental writer and photographer and the owner of Sustainable Media, an environmental media company that specializes in helping businesses and organizations promote eco-friendly products and services. Contact her on the web at http://www.sustainable-media.com
This is the fourth summer for my trumpet vine and it still has not flowered. Why?
John
---
RE: Trumpet Vines Not Flowering
They won't bloom until they are 7 years old. (07/03/2007)
By Sandy
RE: Trumpet Vines Not Flowering
I'm not sure if you cut it back in the Fall, but that is what I do with mine, and I've even had to cut it back some while it's growing (before it sets flowers). Good luck.
P.S. I bought mine through a catalog and I did have to get it replaced because the first one never made it. (07/05/2007)
By Maryeileen