Diapering a baby can get expensive. So why not try cloth? Cloth Diapers can get really expensive and all the choices out there can overwhelm you. So why not save money since that is one of the reasons you decided to cloth diaper anyway, and make your own with what you have around the house. Using old clothes or sheets and towels will not only save you money but it makes the cutest diapers.
Supplies Needed:
sewing machine
old t-shirt and/or flannel shirt or sheets
shower curtain or plastic pants
elastic (bathing suit kind is best)
1" or 1 1/2" Sew on Hook and Loop tape or diaper pins
diaper pattern
Instructions:
First you will need to find or create a diaper pattern. There are many great free cloth diaper patterns available on the web. Just do a search for "free cloth diaper pattern" or "free diaper pattern" and find the one that you like the best. I recommend the one by Ottobre (http://www.ottobredesign.com/en/print/pdf/vaippa_en.pdf).
Once you have the diaper pattern then you need to decide if you want to make a waterproof (this is called an All-In-One, AIO) or if you want to use plastic pants over your cloth diaper. An AIO has a water proof barrier in the middle (the shower curtain in this case) that makes it work like a regular diaper. Make sure that all of your materials have been washed and dried and are ready to use.
Lay out your shirt or sheets and pin your pattern to the fabric. You will need three layers, an outer layer, and inner layer, and if you are making an AIO a water proof barrier layer.
Next cut your inner soakers out of your towel. Cut two to six 5" by 10" rectangles. The number of layers you need depends on the thickness of the towel. You don't want it to be bulky.
Sew the soaker layers together with a simple straight stitch around the outside edges and one seam right down the middle. Then pin the soaker to the wrong side of the lining fabric. Sew it to the middle of the diaper. Make sure that you are about 3" from the front edge of the fabric. If you get to close you will make it to bulky and hard to sew your hook and loop closure to the fabric.
Next you will want to go ahead and sew your hook and loop closures to the outer and inner pieces of fabric. Take the outer fabric pattern piece and cut a piece of "loop" (the soft stuff) about 6". You can make it longer or shorter depending on what you want. Pin this to the right side of the outer fabric about 2" from the front top of the fabric and sew using your favorite stitch. Then cut two 1' squares of Hook (the rough stuff) and pin these to the right side of the inner layer on the tabs. You will want to pin them as close to the seam allowance as possible. Again use your favorite stitch to attach the "hook".
Now place all the layers together in with right side together. Make sure that the inner and outer layers are right side together and then the water proof layer is on the outside. This way when you turn the diaper after sewing it will be in the middle. Sew around the diaper making sure to leave a 3" or 4" opening on the front of the diaper for turning. Don't use the back seam to turn you will not be able to attach your elastic.
Now it is time to sew the elastic into place. For the back of you diaper cut an 8" piece of elastic. Start sewing your back elastic about 1" from the end of the tab to the back seam. Now cut two leg pieces of elastic. You will want these to be about 7" or 8" each. Sew the leg elastic to the side seams starting the elastic close to the front top and end it at the back curve. This will give you the best fit and helps keep messes in. Make sure you use an elastic stitch and that you are pulling the elastic tight from both ends the whole time you are sewing it on.
Now it is time to turn your diaper right side out. You may want to trim and notch the edges to make turning easier. After you have turned your diaper and checked to make sure that all edges are sewn together you will need to top stitch the front. You can to stitch the whole diaper if you like. This will give it a professional look and make it lay a little better. However you do not need to this to the whole diaper.
Now your diaper is ready to use. When you wash your diapers do a rinse cycle and then wash and rinse again using the hottest water setting possible. Do not wash your diapers with your regular laundry and never ever use fabric softener. This makes them lose their absorbency. You can either hang them up to dry or through them in the drier. AIO will do better air drying.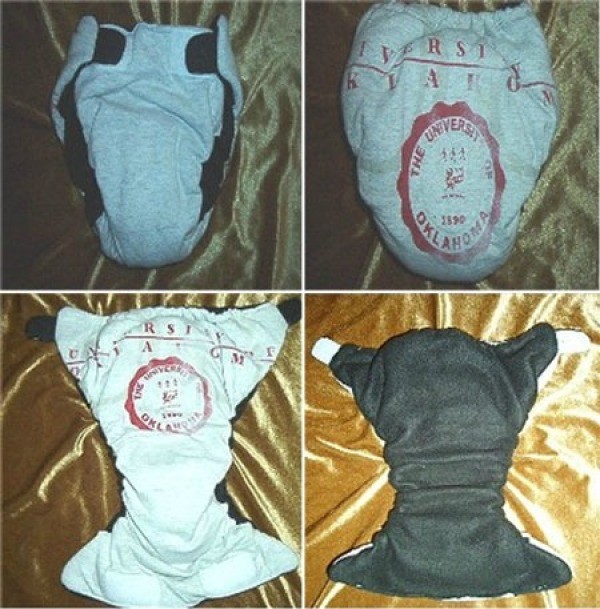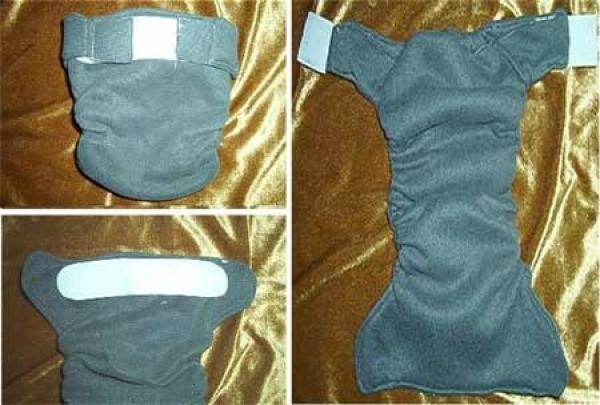 August 10, 2009
0

found this helpful
I just wanted to comment really quick, your idea while incredibly frugal and fabulous needs to be revised a bit. Please please do not make diapers out of table cloths or shower cutains, that kind of *plastic* isn't approved for children's products and it cannot stand up to the heat of the washing and drying routines of cloth diapering. Cloth diapers are the equivalent to underwear you wear only for a baby....would you wear shower curtain underwear?
not to mention, shower curtain does NOT hold in urine and feces, only decent grade PUL does which can be purchased online at many fabric stores.
Read More Comments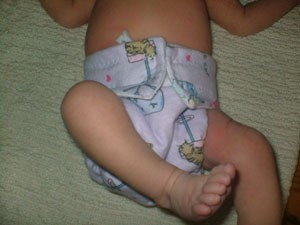 I made all my daughters nappies from old t-shirts, towels, or off cuts of flannel fabric. They all close with Velcro. As she's is now potty trained, I'm making training pants from fleece fabric. I'm sorry I have no pictures to post. I just drew out the pattern and I'm now selling them to friends and by word of mouth. As a single parent of 2, this was my best money saving thing I have done.
By Ruth from UK
Editor's Note: Ruth posted this a while back but has just sent us a photo so we thought we would update the post.
October 30, 2008
0

found this helpful
Hi Ruth and girls,I just wanted our thriftyfun family to know I received my pkg.with several different size patters and the cute nappie you made.Your girls are too cute.Thanks for a new friendship....
Keeper
Read More Comments
May 2, 2008
0

found this helpful
Make Your Own Cloth Diapers (From Recycled Clothes)
I don't even have kids but if I did I would definitely try this. You are so clever AND thrifty. Thanks for sharing!
Pat (03/28/2006)

By Pat
Make Your Own Cloth Diapers (From Recycled Clothes)
Making cloth diapers is a great idea. Unfortunately, I didn't have that option when my kids were born (1963, 1964, and 1969). I bought clothe diapers for the first child, thinking that would be enough. 11 months later the second one came. More purchasing of diapers. They were handed down to the 3rd. child. Finally they all were through with them and then it was MY time to really enjoy them. Oh my - what grand cleaning cloths I had. And they lasted for so many years, they certainly paid for themselves! (03/28/2006)

By MamaJude
Make Your Own Cloth Diapers (From Recycled Clothes)
Great way to recycle! Thanks for sharing this...thank goodness my kids are teens!
(03/28/2006)

By Michele
Make Your Own Cloth Diapers (From Recycled Clothes)
I never made my kids cloth diapers but if I was doing the baby thing all over again today, I would definitely purchase bulk flannelette from the fabric store and make my own cloth diapers. I just used store bought flat fold cotton diapers, rubber pants, and diaper pins. (04/05/2006)

By Lorraine
Make Your Own Cloth Diapers (From Recycled Clothes)
Wow! You are quite the entrepreneur! You should consider going into business for yourself and market your "homemade diapers"! I have nine grandkids, all under 6 yrs of age and the babies go through the Pampers like crazy! Great idea! (04/18/2006)

By Kathy
Great Idea!
Great idea to use old t-shirts! I can't wait to surprise my husband with one made with his favorite sports team logo! love it. (02/18/2007)

By Bethany
Sew your own diapers
You can find high quality waterproof material

Today's Cloth Diapers are amazingly easy to use now. If you haven't checked them out in the past couple of years, just do a search on google for cloth diapers, you'll pull up thousands of sites!

NO pins, no dunking, no leaks, no rash, no bulk, no toxic chemicals, and no waste for the landfills.

And best of all no $2500 price tag! And that's if you don't change the disposables very often and let baby sit in their own waste, ewww! Cost more if your baby goes past 2 till potty training, about another $1000 every year.

If you sew you can get enough cloth diapers to last for 2 years for $70. Even if you don't sew, the cost for 2-3 yrs worth of high quality easy to use cloth diapers goes to between $100-300. Just to get enough to start out using cloth is as low as $30-50.

Compared to $2500 or more for disposables, and your baby will be healthier, happier and your wallet fatter, there is just no comparison!

email me for more info! hi_eagle AT hotmail.com
(03/05/2007)

By pollywog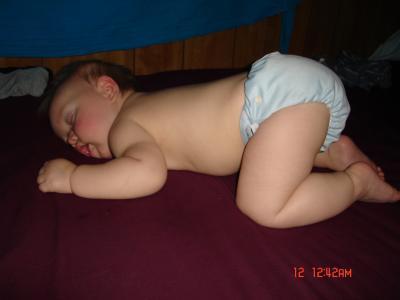 Make Your Own Cloth Diapers (From Recycled Clothes)
This is the best idea ever. Thank you. (07/01/2007)

By Mama Bobi
Make Your Own Cloth Diapers (From Recycled Clothes)
Great idea! When I have kids, I will defiantly use this! way to cute! (12/24/2007)

By naturesgurl