Making paper beads is an easy, fun, and timeless craft activity. You can use the beads for jewelry, decoration, or anything else you usually use beads for. This is a great way to recycle paper, especially all that useless junk mail that piles up. It's also fun for kids to learn, and easy enough that most catch on to the technique quickly.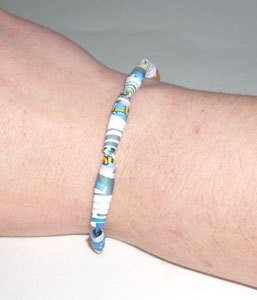 Approximate Time: 3 minutes to 3 hours!
Supplies:
paper
scissors
glue
needle (or other thin long object to make the bead hole)
Instructions:
First you need any kind of scrap paper. If the paper is thick, use just a single sheet. If the paper is very thin, like cheap coupons, then think about using two sheets of paper per bead. However, using two pieces of paper makes the bead much prettier than just one piece.
Most beads can be created from a simple triangle. Just cut a small, thin triangle out of the paper. Starting at the fat base, place a needle at the bottom, and begin to roll the paper around it. The needle, or thick stem/stick/wire, helps keep the bead hole open, so that you can thread the beads together with string.
Keep rolling the paper until you're almost done, or about 2/3 done. Smear a little glue on the inside of the last 1/3 of the paper, then keep rolling until at the end. The glue should keep the bead together. Let the bead dry.
Remember that the bottom of your triangle will determine how big the bead is. A thick bottom will mean a big bead, and a thin bottom will mean a small one. The longer and thinner the triangle, the more "round" the bead will appear. The shorter and fatter the triangle, the more rectangle and shapeless the bead will appear.
In the "Wrong/Right" picture there are two sets of beads. The "wrong" beads were made from triangles that were too thick and short. The beads came out flat and shapeless. The "right" picture had triangles that were thin and long. The beads came out round and well shaped.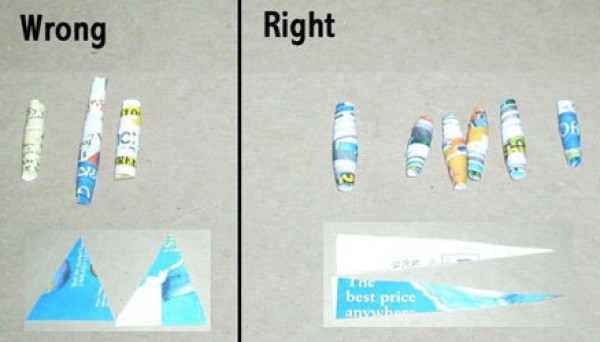 The "wrong" picture also shows beads made from a single piece of paper. The bead design doesn't come out very pretty. The "right" picture shows beads made from two, different colored, pieces of paper (or junk mail). This gives the cool "spiral" effect. You just line the pieces of paper up and carefully roll them into a bead, just like you would with a single piece of paper. But make sure to put glue on *both* pieces of paper when gluing the bead at the end.
Having paper with photos, or many different colors also makes a prettier bead. A piece of white paper with black writing will make for a rather boring looking bead. Of course, pairing that white paper with a piece of red construction paper will give a great spiral effect.