Making Paper Beads
Solutions
Share on ThriftyFunThis guide contains the following solutions. Have something to add? Please share your solution!
Making paper beads is an easy, fun, and timeless craft activity. You can use the beads for jewelry, decoration, or anything else you usually use beads for. This is a great way to recycle paper, especially all that useless junk mail that piles up. It's also fun for kids to learn, and easy enough that most catch on to the technique quickly.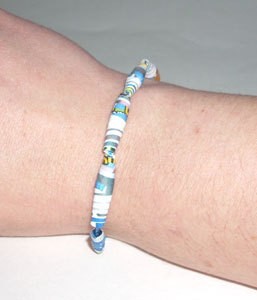 Approximate Time: 3 minutes to 3 hours!
Supplies:
paper
scissors
glue
needle (or other thin long object to make the bead hole)
Instructions:
First you need any kind of scrap paper. If the paper is thick, use just a single sheet. If the paper is very thin, like cheap coupons, then think about using two sheets of paper per bead. However, using two pieces of paper makes the bead much prettier than just one piece.
Most beads can be created from a simple triangle. Just cut a small, thin triangle out of the paper. Starting at the fat base, place a needle at the bottom, and begin to roll the paper around it. The needle, or thick stem/stick/wire, helps keep the bead hole open, so that you can thread the beads together with string.
Keep rolling the paper until you're almost done, or about 2/3 done. Smear a little glue on the inside of the last 1/3 of the paper, then keep rolling until at the end. The glue should keep the bead together. Let the bead dry.
Remember that the bottom of your triangle will determine how big the bead is. A thick bottom will mean a big bead, and a thin bottom will mean a small one. The longer and thinner the triangle, the more "round" the bead will appear. The shorter and fatter the triangle, the more rectangle and shapeless the bead will appear.
In the "Wrong/Right" picture there are two sets of beads. The "wrong" beads were made from triangles that were too thick and short. The beads came out flat and shapeless. The "right" picture had triangles that were thin and long. The beads came out round and well shaped.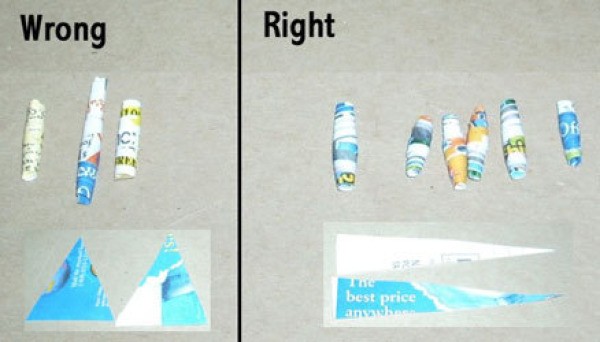 The "wrong" picture also shows beads made from a single piece of paper. The bead design doesn't come out very pretty. The "right" picture shows beads made from two, different colored, pieces of paper (or junk mail). This gives the cool "spiral" effect. You just line the pieces of paper up and carefully roll them into a bead, just like you would with a single piece of paper. But make sure to put glue on *both* pieces of paper when gluing the bead at the end.
Having paper with photos, or many different colors also makes a prettier bead. A piece of white paper with black writing will make for a rather boring looking bead. Of course, pairing that white paper with a piece of red construction paper will give a great spiral effect.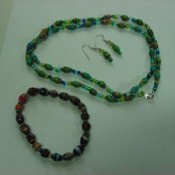 Craft lovely jewelry from beads you hand make using paper or fabric!
Approximate Time: 30 minutes to 1 hour
Supplies:
paper
glue
scissors or rotary cutter
ruler
bead roller tool or toothpick
cording/thread or elastic to string beads
clearcoat
Instructions:
Select the paper you want to use for your beads. Almost any paper will work; newspaper, magazines, road maps, sales flyers, brochures, scrapbook paper etc. (Strips of fabric may be used in place of the paper if preferred.)
Using scissors or your rotary cutter/mat cut paper strips into long triangle shapes. Vary the width and length of the strips to see what size strip produces the size and shape beads that you like (or simply make a variety of sizes and shapes).
Once the paper strip has been cut, place a bit of glue down the length on the WRONG side (the side you do not want to see on the outside of your bead) of the strip being sure to leave the wider end of the paper strip glue free for the first inch or so.
Then begin rolling the paper strip (from the wide end to the narrow). I use a bead roller tool purchased online. The tool makes rolling the bead very easy and a bit faster. A toothpick or plastic coffee stirrer can also be used.
Roll the paper strip up being careful to adjust the paper as you roll to get the shape bead you prefer.
Once the bead has been rolled, gently remove the paper bead from the bead roller tool or toothpick. Just slide it right off.
The bead can then be coated with varnish, clear nail polish, mod-podge or even a glue/water mixture to provide a shiny, protective coating.
After applying the clearcoat, I usually insert a toothpick into one end of the bead and stick the toothpick/bead into a styrofoam block while the bead drys.
Allow the beads to dry fully before stringing onto heavy thread, elastic or wire to make a variety of necklaces, bracelets and earrings!
These beads are so pretty it is hard to believe they are recycled from free paper sources.
Try it. Soon you will have jewelry to match every outfit. The beaded jewelry makes great Christmas gifts as well.
By Pam from McMinnville, TN
January 31, 2007
3

found this helpful
I make beads out of junk mail and make friendship bracelets with them and they are easy to do! Use only the shinny paper that comes in the mail and cut or tear it in strips approximately 1/4 to 1/2 inch by 2-3 inches. You will also need a toothpick and glue.
Read More...
Questions
Ask a QuestionHere are the questions asked by community members. Read on to see the answers provided by the ThriftyFun community or ask a new question.
I want to make my own paper (or whatever you might suggest that doesn't cost a ton and use $75 worth of product) beads to incorporate into crocheted jewelry, but I don't know how to start and what to use. Please help. Thanks.
By LINDA CHAMPLIN from Stony Creek, NY
Answers
September 7, 2011
0

found this helpful
Newspaper beads are great for painting when dry. Pages from magazines can be rolled and cut into whatever length of beads you want. Sometimes they are so colorful you only need to spray them with acrylic sealer. You can use any paper product, even toilet paper can be gotten wet and molded like clay for beads. Look on the internet and you can fine numerous ideas about making paper beads.
September 8, 2011
0

found this helpful
You might try making your own polymer clay beads. You can usually get the clay (Fimo, Sculpey, Premo, etc.) for about $1 each in many bright colors and there are numerous web sites to tell you how to use it. Just google polymer clay instructions.
Answer

this Question

...
I'm new at this, and I'd like to know how to make the round paper beads. I can make the others, but not the round ones. Are there square ones too?
By Patricia
Answers
December 25, 2016
0

found this helpful
The best advice I can give you is to experiment. I'm sorry I don't have the link but someone posted a photo or two of the same paper cut all the same length for each width of bead they rolled, stacking strips so the first bead was one paper, the second had two...and so on. The thinner the base the easier it was to get the round shape (fewer strips).
I discovered that scrapbook paper weight cut into triangle tips gave me a round bead, but the same 1/4 inch base tapered to a 1/8 inch tip gives a "square" looking bead. The length of the strip is 12" and using a toothpick to wrap around. Larger dowels will change the shape.
Try stacking your bead strips (just glue the bases together until you finish winding or you'll have a bumpy bead) and see if you can get a round bead with a thicker base...
Answer

this Question

...
Related Content