By Artlady (Guest Post)
July 3, 2008
0

found this helpful
Thanks so much for posting this! We made these when my daughter and I did Girl Scouting together. The girls got really good at it. I had forgotten about these. I am in need of some beads to pair with "potato" beads someone else posted on this site. I loved making these beads. I could sit and make these forever and never tire of it. They are so much fun. We always used toothpicks to wrap ours around and finished them off with a clear water-based sealer. Thanks so much!
July 6, 2008
0

found this helpful
Wow, very neat and creative and I will make some out of the next circular I get my hands on. Thanks
July 7, 2008
0

found this helpful
I use the pages from National Geographic magazine as they are thick and colorful. I also found that if you put a little glue all around the bead and let it dry the bead stays together better.
July 8, 2008
0

found this helpful
I just got back from a weekend at my granddaughter's. She and her mommy went to visit some of mommy's cousins and her daddy had to work so i was dog sitting. She was telling me about the necklace she made in vacation bible school. It was paper beads but they had rolled the paper on soda straws and left the straw in place.
It was cut to the size of the bead. I don't know if they cut the straw before or after rolling the Sunday funnies around it. They strung them on the strips of plastic used in so many kid crafts. She's 5 so her project would not be as elaborate as yours but it is something a young child could do.
By Barbara (Guest Post)
July 9, 2008
0

found this helpful
Hi, I'm new to this site, but just had to respond to this beads post. About a week ago I began making paper beads & am completely hooked. I've been using magazine pages, as I subscribe to several, & cut very slender triangles from top to bottom of each page. I've been using a straightened metal coat hanger to roll them on. You can pick similarly colored magazine pages, but most have several colors, so one long triangle will suffice. After gluing the bead with Elmer's glue, I coat it using a kids paint brush & a product I found at Walmart called "ModPodge".
It was in the craft section. I give each bead 2 coats, drying in between. Makes them shiny & hard. I've also read that you can use clear nail polish, or spray on acrylic. I've been stringing them on cotton cord also gotten at Walmart. It gets addictive. I've made 2 long necklaces that I wear by looping so there are 2 loops. That way you don't need to use fasteners.
By Pam (Guest Post)
August 28, 2008
0

found this helpful
I made these as a teenager! Just yesterday, I found some of these in some craft items that I had kept. I just may start making them again!
By lavendergal (Guest Post)
August 29, 2008
0

found this helpful
I love these beads and have put them on my to-do list. When Barbara mentioned using a straighten coat hanger, reminded me about painting some candle tapers a few years ago. In the directions it mentioned to lay them on pencils so they could be turned while painting circles around them.
It made it easy to control the painting. I thought that might make the beads easy to paint with ModPodge and let dry without fingers smears.
By Kirstie MacLean (Guest Post)
October 28, 2008
0

found this helpful
Mzuirbeads have been individually hand rolling paper beads to make unique pieces of jewelry from the village of Ndejje in Uganda for over two years. I would everyone to take a look at our site, where you can locate a boutique, or visit our online shop to view our range of paper beads and paper bead jewelry.
www.mzuribeads.com
Thank you, Kirstie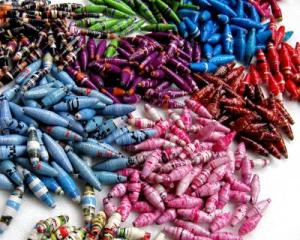 By carla (Guest Post)
October 28, 2008
0

found this helpful
The Mzuribeads are beautiful and an inspiration to all of us. Thanks for sharing this site and story.
October 12, 2009
0

found this helpful
I love making these. I made over 40 bracelets for my family to give to them during our fourth of July get together. They all loved them. They look really good mixed with regular little round beads. My fav look is made from brown paper bags and then mix in with brown or amber colored beads. I also like using comics to make straight beads, no taper. Or Old sheet music. The type of paper is endless. I use elastic to string my beads on for the bracelets. That way you don't need a fastner and one size more or less, fits all.
February 21, 2012
0

found this helpful
You can make a rolling tool by taping two flat toothpicks back to back. Leave about 3/4 inch of the toothpicks free of tape at one end to slide the wide part of the paper triangle. I insert this part into a cocktail (or pouch drink) straw to get a handle.