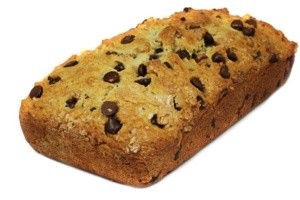 Everyone loves quick bread for the holidays right? Well here are some quick and easy quick breads that can be given as gifts this year. These breads are different from the usual pumpkin, zucchini and banana bread. Hope you enjoy making them. Remember, quick breads are great to make and freeze. It can solve your last minute gift problems. Just wrap in tin foil and put a bow and tag on it.
To store quick breads, place in a plastic bag, seal, and store at room temperature for up to 3 days. To freeze quick bread loaves, wrap them tightly in heavy aluminum foil and then place them in plastic freezer bags, and freeze for up to 3 months. To thaw, remove loaf from plastic bag (leave in foil) and let thaw at room temperature. To re-heat, leave loaf wrapped in foil. Re-heat in a preheated 350 degrees F (180 degrees C) oven for 15 to 20 minutes or until hot.
Quick Tips
Important: When working with baking powder or baking soda, do not beat the batter; stir only enough to just moisten the dry ingredients. There may still be lumps remaining in the dough, but this is okay. the more you mix a quick-bread batter, the more you develop the flour's gluten, and the tougher the resulting bread.
Bake all quick breads as soon as the ingredients are assembled. since high temperatures are often called for, it is best to bake them in the center of the oven, as the heat in the top third of the oven will be too intense. If you oven tends to overheat, reduce the oven temperature by 25 degrees and increase the cooking time by 5 minutes.
Because glass bake ware retains heat better than metal bake ware, reduce the temperature of your oven by 25 degrees when using glass pans.
If you find that your bread is beginning to brown too fast, cover it with a tent of aluminum foil.
Cool quick breads in the loaf pan for 10 minutes; then remove from pan and allow to cool completely before slicing.
Now, on to the recipes!
Holiday Gingerbread
1/2 cup butter
1/2 cup brown sugar
1 cup light molasses
2 1/2 cup Flour
2 tsp. cinnamon
1 tsp. ginger
1 Tbsp. soda dissolved in 1 cup boiling water
2 well beaten eggs
Cream the butter with brown sugar, add molasses. Sift the spices with the flour. Add flour mixture to the creamed mixture mix well. Add soda in boiling water then add the eggs last. Place in a buttered 9 by 13 pan bake for 35 to 40 minutes in a 350 degree F oven.
Apple Bread
2 cups sifted flour
4 tsp. baking powder
3/4 tsp. salt
3/4 tsp. cinnamon
1/4 tsp. nutmeg
1/4 cup sugar 1 beaten egg
1 cup milk
1/3 cup oil
3/4 cup chopped apples
Combine fist 6 ingredients and mix well. Add remaining ingredients in order stir well after each addition. Pour into greased loaf pan. Bake for 40 to 60 minutes in 400 degree F oven.
Bible Bread
3/4 cup boiling water
1 cup dates or figs
1 3/4 cups flour
1/4 tsp. salt
1 tsp. soda
1/2 cup sugar
1 well beaten egg
1 cup grated american cheese
3/4 cup chopped nuts ( Your choice)
Pour boiling water over the dried fruit of your choice, let stand 5 minutes. Sift flour with salt, soda and sugar. Combine the dried fruit mixture, egg, and cheese and nuts and then combine with the flour mixture. Mix well. Bake in greased 5x9 inch pan. Bake at 350 degrees F for 45-50 minutes.
Blueberry Nut Bread
2 cups flour
3 tsp. baking powder
1/4 tsp. salt
1 cup sugar
1/2 cup nuts
2 eggs slightly beaten
1 cup milk
3 tsp. melted shortening
1 cup blueberries fresh or frozen
Mix flour baking powder, salt, sugar and nuts. Add eggs and milk and shortening, mixing well. Stir in blueberries. Pour into a 9x5 inch loaf pan and let stand 30 minutes. Bake in 350 degree F oven for 1 hour.
Carrot Bread
3/4 cup salad oil
1 cup sugar
1 1/2 cups flour
1 tsp. soda
1 tsp. baking powder
1 tsp. cinnamon
1/2 salt
2 eggs
1 cup grated raw carrots
1/2 cup chopped pecans
Combine all ingredients except the carrots and pecans in mixer, mix thoroughly, Fold in carrots and pecans. Place in greased and floured 8x4 loaf pan. Bake for 45 mins at 325 degrees F.
Cheery Cherry Christmas Bread
2 1/2 cups sifted flour
1 cup sugar
3 tsp. baking powder
1/2 tsp salt
1 egg
1 cup milk
1 cup chopped walnuts
1/2 small jar of red maraschino cherries chopped
1/2 jar of green maraschino cherries chopped
Sift first four ingredients together in a bowl. Add egg and milk, mixing only until moistened. Stir in walnuts and cherries. Place batter in a greased and floured bread pan. Bake at 350 degrees F for 1 hour and 30 minutes.
Sweet Potato Bread
2 cups flour
2 tsp. baking powder
1/4 tsp. baking soda
1/2 tsp. salt
1 tsp. cinnamon
1/2 cup chopped pecans, lightly toasted
1/2 cup butter, softened
2/3 cup sugar
1 egg
1/2 cup milk
1 cup cooked and mashed sweet potatoes
Preheat oven to 350 degrees. Grease a 9-inch loaf pan. Combine first set of ingredients in large bowl with wire whisk. Set aside. In a medium bowl cream the butter until smooth. Add sugar gradually and beat until light and fluffy. Add egg and combine. Add milk and sweet potatoes. Combine completely. Gradually add dry mixture. Stir until just combined. Pour into prepared pan. Bake for 45-50 minutes. Cool for 10 minutes in pan on rack. Remove and finish cooling.
Chocolate Chip Quick Bread
4 cups all-purpose flour
1 cup granulated sugar
1 tsp. baking powder
1 Tbsp. baking soda
1 tsp. salt
2 large eggs
1 3/4 cups milk
2/3 cup vegetable oil
1 1/2 cups semi-sweet chocolate chips
1 1/2 cups chopped walnuts or pecans (optional)
Preheat oven to 350 degrees F/180 degrees C. Grease two 9x5 inch loaf pans. Combine flour, sugar, baking powder, baking soda and salt in large bowl. Combine eggs, milk and vegetable oil in medium bowl. Add to flour mixture; mix just until moistened. Stir in 1 1/2 cups chocolate chips and chopped nuts. Spoon into prepared loaf pans. Bake for 55 to 60 minutes or until wooden pick inserted in center comes out clean. Cool in pans for 10 minutes; remove from pans. Cool on wire racks.
In The Pantry Quick Bread
1/2 cup of Grape nuts cereal
1 cup sour milk
1 tsp. soda dissolved in 2 tsp warm water
1 egg beaten
1/2 cup sugar
1 1/2 cups flour
Pinch of salt
2 tsp. baking powder
1 Tbsp. melted butter
Soak grape nuts in the sour milk for 30 minutes. Add soda water. Add egg and sugar. Sift the dry ingredients together. Add the flour mixture and the butter to the wet ingredients Pour into loaf pan and bake 50 t0 60 minutes.
Orange Bread
Rind of 2 oranges, cut fine
1/2 cup of water
1 cup sugar
2 cup flour
2 tsp baking powder
1 egg beaten
1/2 cup milk
3/4 cup of nuts of your choice
Pinch of salt
Combine orange rind, water and sugar boil down until 1/3 of bulk. Sift flour, baking powder and remaining sugar together, add to the rind mixture. Add egg to milk, combine with dry ingredients. Add nuts and salt. Place in loaf pan and make 45 minutes at 350 degrees F.
Pineapple Quick Bread
2 1/4 cups flour
3/4 cup sugar
1/2 tsp baking soda
3 tsp baking powder
1 cup all bran cereal
3/4 cup walnuts
1 1/2 cups crushed pineapple
1 egg well beaten
3 Tbsp shortening, melted
Sift flour, sugar, baking soda and baking powder together. Stir in the cereal and walnuts. Add pineapple, egg and shortening. Beat until well mixed. Place in greased and floured loaf pan and bake for 1 hour and 15 minutes at 350 degrees F.
About The Author: Debra Frick is a mother of 5 and a grandmother to 8 grandsons and one granddaughter. She is a published author and poetress. Recycling and saving money are her passions. She also loves crocheting and cooking. She is also a pet rescue volunteer and has many pets of her own.
Ad
---
By Elaine 173 890 11/24/20090 people found this helpful
When you add berries to your bread (as in the blueberry quick bread), save a bit of the flour called for in your recipe and coat the berries with it. This keeps them from sinking to the bottom.
By Lisa 75 107 11/24/20090 people found this helpful
I was looking at the GingerBread and realized that no flour is listed. Seems to have been forgotten. Can you please post the amount of flour needed for this recipe? Thanks!

<b>Editor's Note: </b>We're looking into it. Thanks
By Debra from Colorado 108 3 12/02/20090 people found this helpful
Sorry about the error Folks, On the soft gingerbread recipe it is 2 1/2 cups flour. Again I apologize for the error hope you all have fun making the quick breads.
By J'Marinde 12 40 12/05/20140 people found this helpful
Debra;
Thank you SO MUCH for these most delightful recipes! They are simple, quick and just what I have been looking for. If I want, I can elaborate and make them even more elegant, or I can just use the basic and treat myself and my guests to the most elegant basic bread of my choice! Thank you! What a great offering and holiday gift to those of us here! Best of the Holidays to you and yours!
By Phyllis L. 2 12/05/20140 people found this helpful
These recipes are perfect. I make fudge and cookies for the family at Christmas time. I will make mini loaf of these and add them to the yearly baskets.
Archives
Thrifty Fun has been around so long that many of our pages have been reset several times. Archives are older versions of the page and the comments that were provided then.
By Rachel Paxton
Quick breads are a quick, easy accompaniment to any holiday meal.
For the best-tasting holiday quick breads, here are some helpful hints:
- Only grease the bottoms of the loaf pans or the sides of the bread will pull away from the sides of the baking pan.
- Bake in the center of the center rack of the oven.
- When adding liquids to the dry ingredients, stir only until dry ingredients are moistened. Batter will be lumpy.
- Quick breads can be made ahead and frozen from 1 to 2 months.
Cranberry Pumpkin Bread
Preheat oven to 350 degrees. Combine eggs, sugar, vegetable oil, and pumpkin, mixing well. Combine flour, pumpkin pie spice, baking soda, and salt in a large bowl. Make a well in the center of the batter and add the pumpkin. Stir in cranberries. Spoon batter into 2 greased and floured loaf pans. Bake for 1 hour.
Cranberry Bread
Preheat oven to 350 degrees. Add water to orange juice to make 3/4 cup liquid. Mix all ingredients together and pour into a greased loaf pan. Bake for 30 minutes.
Pumpkin Bread
Preheat oven to 350 degrees. In a large bowl, mix together vegetable oil, sugar, and eggs. In another bowl, mix together flour and baking soda. Add flour and pumpkin alternately to the egg mixture. Add nuts. Pour into 2 greased loaf pans. Bake for 1 hour.
Apple Bread
Preheat oven to 300 degrees. In a large bowl, mix together all ingredients until well blended. Pour batter into 2 greased loaf pans. Bake for about 1 hour.
About The Author:

Rachel Paxton is a freelance writer and mom who is the author of
What's for Dinner?, an e-cookbook containing more than 250 quick
easy dinner ideas. For more holiday recipes, organizing tips, home
decorating, crafts, holiday hints, and more, visit Creative
Homemaking at http://www.creativehomemaking.com.