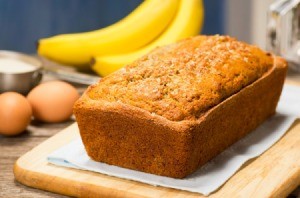 When I make banana bread, how do I keep the top from splitting? It happens every time.
By judy from Hamilton, Ontario, Canada

Answers

Joan
Bronze Feedback Medal for All Time! 186 Feedbacks
April 18, 2010
0

found this helpful
Best Answer
I have known many really good cooks and bakers in my 70 years and have never seen any banana bread that wasn't split on the top, so I figured that was the way it was supposed to be.

Julia
Bronze Post Medal for All Time! 146 Posts
April 19, 2010
0

found this helpful
Best Answer
I agree 100% with Redhatterb and if any of my "tea" breads (some call them quick breads) didn't split while baking, I would be upset. They are always so pretty, so appetizing, and I've never had any complaints about their flavor either.
An old saying goes like this, "The proof of the pudding is in the eating" and as long as your bread has a good flavor and is being eaten, don't worry about its splitting down the middle. As far as I'm concerned, they are supposed to split if you're doing everything right.
Sounds to me like you are doing it just right. Julia in Boca Raton, FL

April 19, 2010
1

found this helpful
Best Answer
In my experience, banana bread will always split to some extent. The secret between a split that is basically a difference in color when the top layer expands toward the end of baking and a deep split is baking at lower temperature for a longer period. Being used to making yeast breads and baking at higher temperatures, I didn't like to wait longer to make banana bread.
When I started setting the oven at 325F and giving the bread 1 hour and 20 minutes to bake, there was no longer a deep split and the bread was more moist and flavorful. Wrap it up with food film while it's still warm to keep the moisture in.

April 21, 2010
1

found this helpful
Best Answer
First of all, I agree that the split is fine, but I double this recipe and bake them in 2 9x13 glass pans and have very little splittage (word ? lol).
1 cup banana, mashed
1 1/2 cup sugar (have used less and still great)
1/2 cup applesauce
1/4 cup vegetable oil
1 Tbs. lemon juice
1 cup milk
2 eggs, beaten (I use egg beaters or egg whites only)
1 cup ground oats (I grind them in my blender)
2 1/2 cups flour
2 tsp. baking soda
1/2 tsp. salt
1 1/2 tsp. vanilla
Directions:
1. Add lemon juice to the milk and set aside.
2. Blend all of the dry ingredients in a medium bowl and set aside.
3. Mash the banana and use an electric mixer to blend it with the sugar. Add the applesauce, vegetable oil and vanilla, blend.
4. Add milk mixture and eggs, blend.
5. Add dry ingredients to the wet batter, one cup at a time, mix until well blended.
6. Pour batter into greased pans.
7. I bake at 350* for 45 - 50 min. (usually 45 min. is fine for me.)
The original directions are as follows: 2 loaves or 4 mini loaves
For the full size pans, bake at 375* (350* for dark or coated pans) for approximately one hour until the bread is browning on top and a toothpick in the center comes out clean. If you are using mini pans, bake at 350* (325* for dark or coated pans) for approximately 40 minutes until bread is browning and toothpick comes out clean.
8. Cool for about 10 minutes, then remove from loaf pan.
I get 6 loafs that I wrap in foil and put in a ziplock bag in the freezer. It is a tweeked recipe from a website I googled once.
Answer

this Question

Why does my banana bread rise in the middle?

Answers

Judy
Gold Post Medal for All Time! 677 Posts
January 29, 2019
0

found this helpful
It should rise in the middle. That is the baking soda or powder working.

Hello
Bronze Post Medal for All Time! 107 Posts
January 29, 2019
0

found this helpful
I make banana bread with a tablespoon baking powder but no baking soda, and it still rises
every time I bake it rises in the middle
i think that the reason it rises in the middle but not the edges is that the edge of the pan traps the growing dough due to the proximity of the metal or glass but in the middle it is free to rise

Iceskater
Silver Answer Medal for All Time! 320 Answers
January 29, 2019
0

found this helpful
You might try leaving it sit for 3-5 minutes before putting it in the oven. Wait too long and you risk a sunken middle, but waiting just a bit will allow the leavening to stop.

Pghgirl40
Bronze Feedback Medal for All Time! 196 Feedbacks
January 30, 2019
0

found this helpful
I like that look...but I know a lot of people prefer the flat look of bread tops.
My friend who is successful at getting perfect bread tops (banana, zucchini, spice, raisin etc.) has 3 tips--make sure the batter is even throughout the baking pan, drop the baking temperature 10-20 degrees and add 5 to 10 minutes to the bake time--watching it VERY carefully toward the end. She uses a toothpick to test (I just use a knife, but she says toothpicks cause less damage).
Too me that is too labor intensive...I just want to bake and eat...but she is all about the look!
Answer

this Question