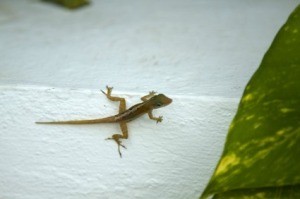 Lizards are harmless creatures, but can be unsettling in your home or garden. This guide contains natural repellents for lizards.
Questions
Here are questions related to Natural Repellents for Lizards.
How do I keep lizards out of my garden? I believe they are the ones eating my tomatoes.
By Ken from Phelan, CA
How do we get rid of lizards in our house?
By gagandeep
Does anyone know of any natural lizard repellents? Please suggest.
By Sill from Charlotte, NC
---
Most Recent Answer

By Gloria Guth06/28/2011
My problem is those darn little geckos have decided to use my kitchen window as their private latrine - and they poo a lot! I've tried spraying the window sill with WD40 because I read they don't like the smell and it works but not long enough so this time I am trying another hopeful suggestion. I mixed Tabasco sauce with a little water and sprayed generously all around the window sill. Before I leave for the summer I plan to stretch packing tape (extra sticky) across the window sill sticky side up and sprinkle with red pepper flakes. Any other suggestions out there?

Come on, Gordon, you have the whole outdoors! Why is my nonprivate window sill your favorite site?
We have too many lizards that somehow get in the lanai through crevices we have yet to find. Is there anything natural that will repel them? I am sick of cleaning up after pets I never wanted, it's gross.
By Tibeka from Englewood, FL
---
Most Recent Answer

By Tanya [1]10/06/2009
Finally an answer! I'll try the moth balls and post back to let you know how it works! Thank you so much!
Solutions: Natural Repellents for Lizards
Do you have knowledge about this guide topic? Feel free to share a solution!
Archives
Thrifty Fun has been around so long that many of our pages have been reset several times. Archives are older versions of the page and the feedback that was provided then.
How do you get rid of lizards?
Cynthia from Dallas, TX
---
RE: Lizard Repellents
Don't get rid of them they are good bug catchers and they won't hurt you. I have them in my house. Sometimes I see them, but most of the time I don't know they are there. They are considered to bring luck on Guam if they are in the home. I have a little dog and she doesn't bother them, but she chases the bugs. She doesn't like bugs. (09/11/2006)
By Margaret from TX
RE: Lizard Repellents
I've been told that plain cold water in a squirt gun will incapacitate geckos that are usually too fast to catch. Then they can be taken outside or moved to another location. Make sure you wash your hands, lizards have salmonella. They will also not want to walk over bleached areas, because it will hurt their feet.
RE: Lizard Repellents I use Cutter Bug Spray twice a year and it drives away the insects. Although mosquitoes are still a problem, it drives down the insect population to the point that there are no lizards in the area. Used to have geckos the size of big cats and small dogs, but all are history. (11/07/2007)

By Sandeep Dalal S. Sherman Oaks, CA
RE: Lizard Repellents
Try keeping egg shells around the places where lizards move. (03/06/2008)

By swetha
RE: Lizard Repellents
I had a lizard in my home and what I did was get those stick traps that you use for mice and put them in areas where they like to hide. When they walk over them they stick to the trap and then you can through them away. Just recently I have another one and he got smart and flipped the tray over. So I'm hoping that he hasn't gotten that intelligent or I'm going to have to start charging rent. (04/12/2008)

By P-Diddy
RE: Lizard Repellents
Try the squirt gun with water and a lemon base oil, you may like the smell but the creatures don't. Spray area every three to four weeks, if you have to. (05/21/2008)

By Bearwolf
Do you know of a good lizard repellent?
By racine45 from Sanford, FL
---
RE: Lizard Repellents
I use mothballs. I put 2 or 3 in each pot. For in ground plants I use as many as necessary to make them about a foot or so apart. (08/24/2009)
By mjm22charco