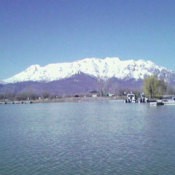 I just wanted to share this picture that I snapped at Utah Lake in February, I loved how it turned out! I love lake scenes!
By Stacey from Eagle Mountain, UT
By Stacey Silva
Ad
---
By Kerry Browning 2 165 05/28/2008 Flag
So timely. My son will be going to Neumont University. We have never been to this area. It is beautiful.
By Janice C. 18 710 05/29/2008 Flag
Thank you so much. It's getting gloomier here by the minute, with heavy rain forecast for tonight and tomorrow, and I needed something sunny and beautiful to cheer me up. Thank you for your beautiful photo.