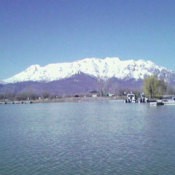 I just wanted to share this picture that I snapped at Utah Lake in February, I loved how it turned out! I love lake scenes!
By Stacey from Eagle Mountain, UT
By Stacey Silva
Ad
---
Feedback Forum
Feedback about this article is posted here. Want to contribute? Click above to post feedback.

By Janice C. [18]05/29/2008
Thank you so much. It's getting gloomier here by the minute, with heavy rain forecast for tonight and tomorrow, and I needed something sunny and beautiful to cheer me up. Thank you for your beautiful photo.

By Kerry Browning [2]05/28/2008
So timely. My son will be going to Neumont University. We have never been to this area. It is beautiful.
Post Feedback
Add your voice to the conversation. Click here to share feedback.