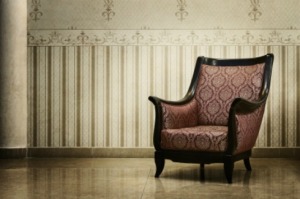 Besides adding more lighting, there are creative ways to lighten a dark room. This guide is about brightening a dark room.
Ad
---
Solutions: Brightening a Dark Room
Read and rate the best solutions below by giving them a "thumbs up".
Our new apartment is nice - but dark - so I have been collecting mirrors of different kinds to arrange on the walls. I have 5 little ones grouped together in a narrow space and others of different sizes around the room to reflect the light, along with a large one on one wall. I also positioned light-colored pictures with glass to bounce back as much light as possible. I've gotten most of them in thrift shops, so it hasn't been too costly and it really makes a difference.

By Pam from L.A., CA
Give a "thumbs up" to the solution that worked the best! Do you have a better solution? Click here to share it!
Questions
Here are questions related to Brightening a Dark Room.
I am decorating on a budget and need some help. Can you help? I just moved, and my bedroom is so dark I don't really like for it to be that dark. The walls are paneling and the floor is hard wood.
I don't like wallpaper and I have painted panel walls before, but it just didn't look right. I have plenty of windows. Other than that, there are 5 light bulbs and a lamp that I have in my room.
How can I brighten my room, so it isn't so dark and gloomy? Any suggestions would help, thanks. Ideas that wouldn't cost a whole lot of money would be appreciated. The only thing I can think of is to sew some pretty curtains.
By Mary
Ad
---
---
Most Recent Answer

By Anna07/08/2010
Paneling is so 70's! Cover it up! I would suggest a padded textured wallpaper that covers the grooves of the paneling. You paint over it after it goes up. Pick a light breezy color of paint. Add mirrors. I hate living in a dark dungeon!
I am looking for ideas for how to lighten the room up. We are renting for the next 3 years. The house is really nice, but the living room has dark paneling which we can not paint over.
The wall that would have had windows was boarded-up and paneled over to build a studio apt next to it. Half of the room gets natural light from the dining room, kitchen, and bedroom doorways. The other end is so dark that we have to keep lights on all the time. Please help.
Also the house was built in 1920s and has very high ceilings, dark brown and orange carpet, which we might be able to change. Thank-you, any help would be appreciated.

By Terry
Ad
---
---
Most Recent Answer

By Patt [3]05/29/2011
If there is a way to put up a long curtain rod or hook and eye at each end of the wall then string wire across then find bright cheery material and make a hem at each end. Then put the "curtain" on the wire which will lighten up that wall.
Large mirrors will reflect any light you may have but that could be expensive.
I painted my walls a royal blue color that I love, but my stuff is dark. How can I brighten it up a bit? I really like the color.
By Chris
---
Most Recent Answer

By Mindy02/08/2013
A really great-looking light colored rug in the center of the room should help lighten it up. I love some of the amazing cream or white-colored rugs with a thick pile, and i think they look amazing in darker rooms.
We are moving into an apartment that is very dungeon looking. What is a good way to brighten up the space? I don't want a white living room because I am doing my kitchen in bright white. Any suggestions on painting, lighting, or decor would be greatly appreciated.
By Miracle from Delpi, IN
---
Most Recent Answer

By Myrna [15]04/05/2011
Besides the mirrors, use lighter colored fabric on curtains and area rug, etc. to help brighten the room or white lace drapery. Sparkly crystal, highly polished chrome, gold, silver or brass finishes on vases and planters would help to brighten the room too. Add some white or light pastel throw pillows on the sofa if the furniture is dark.
Archives
Thrifty Fun has been around so long that many of our pages have been reset several times. Archives are older versions of the page and the feedback that was provided then.
Next week I am starting college. I still live at home, but my bedroom is my space, sort of like a much needed apartment. The room is quite small, but I can make it work, however, the walls are a dark red and the ceiling a dark blue. I like the ceiling, as it reminds me of a night sky, and the walls are great, but I want to liven it up a little more. I intend to add picture frames and bookshelves and stuff to the walls, but I was wondering what colors would possibly brighten up the room without making it look like a terrible rainbow has exploded.
Thanks for any help.
Andrea from Michigan
---
RE: Brightening Up a Dark Room
Dark walls in a small room make it seem smaller. Try using neutral colors like beige. Don't use anything bright. You've got enough brightness in there. Use muted colors like yellow. Repainting the walls a neutral color would be my best suggestion. Feels like more space, and decorate using the dark red color for accessories if you wish. (09/02/2005)
By Joan in CT
RE: Brightening Up a Dark Room
Think of Shabby chic. Repaint furniture white, as it reflects the light. Also, put mirrors close to the window to catch more light from outside. For your bed spread, well, again use white or creme. To add oriental flair add a Japanese paper rice folding screen. The idea is to reflect light and still fit with the existing colors (09/05/2005)
By Ginette
RE: Brightening Up a Dark Room
When I was younger and living at home I got to paint my very small bedroom Emerald green! It really turned out great. We painted the ceiling white and the door and all the trim was white also. It brightened the room just enough so I still felt like I had my own little cubby hole to live in! Go to the paint store and compare colors you like up against the red paint strip color you have to work with! I think white and a little black, with those stick on stars for the ceiling! Good luck! (09/05/2005)
By Kay Neugebauer