Homemade Tile and Grout Cleaner Recipes
Solutions: Homemade Tile and Grout Cleaner Recipes
Read and rate the best solutions below by giving them a "thumbs up".
To clean icky grout, pour hydrogen peroxide on grout, and watch it bubble. After about ten minutes all the gunk will be loosened and will wipe away. And you don't have to be exposed to fumes or irritating and highly toxic chemicals. You can also use vinegar and baking soda, but this is easier.

By Linda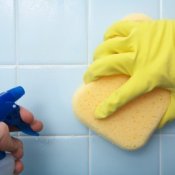 Tile is a very attractive and durable surface for floors, counters and shower enclosures. The grout can be difficult to clean. This is a guide about making homemade tile and grout cleaners.
Here are two cleaners that you can make yourself and use to clean your tiles and grout.
Caution: Make sure to clean the spray bottle you use for these solutions thoroughly before mixing these recipes. And try to create as much ventilation when using bleach as possible.
Tile Cleaner
Ingredients:
1 part chlorine bleach
1 part water
1 quart spray bottle
rubber gloves
Directions:
Add equal parts of chlorine bleach and water to your spray bottle. Using rubber gloves, spray this solution on your tiles and wipe it off with a sponge. If there is a lot of built up you may need to let the solution sit for about 10 minutes before wiping it off.
Tile Grout Cleaner
Ingredients:
3/4 cup chlorine bleach
3 cups water
1 quart spray bottle
rubber gloves
tooth brush
Directions:
Mix the the chlorine bleach and water in the spray bottle. Then spray it on the grout and wipe off with a sponge. If the grout is especially dirty you may need to spray liberally and let it sit for about 10 minutes and you may even need to break out an old tooth brush if it still doesn't come off easily.
Tip: If you clean your tiles regularly with the Tile Cleaner solution you won't have to use the Tile Grout Cleaner solution very often.
Share Your Feedback:
Once you try any of the above solutions, be sure to come back and give a "thumbs up" to the solution that worked the best for you. Do you have a better solution? Click "Share a Solution" above!
Questions
Here are questions related to
Homemade Tile and Grout Cleaner Recipes
.
Using Bleach On Tile Grout
Two years ago we installed a fiber glass tub/shower combo with 12x12 tiles surrounding the tub. A small amount of mold is beginning to form where the tub meets the tile grout. Can I use a small amount of bleach on the tile grout to get rid of the mold? Will the bleach hurt the tube in any manner?

Michael
---
Most Recent Answer

By (Guest Post)
10/16/2008
I use a clorx bleach pen on grout. As long as the grout isn't one of the special "colored" ones, it's fine. However, do you really have grout meeting the edge of the tub? There should be calking around around the tub, not grout. Calk is more resistant to mold/mildue and all around a better choice for a transition between the tub and tile.
Cleaning Ceramic Tile in the Shower
What should I be using to clean the ceramic tile in my shower? I have tried store bought cleaners, but they leave a white film. I know that certain cleaners are not good for the grout between the tiles.
Thank you!
By Dee
---
Most Recent Answer

By louel53
11/17/2011
Borax is natural and organic, perhaps, but not harmless. Read the directions and warnings on the box before you choose to use it. I use it for laundry, but you must be aware that it is not a food substance like vinegar.

There is very little that will harm tile - that is the beauty of it. I wipe down the walls after every shower (or after the last person showers in the morning), and I seldom need to clean. That white film sounds like it is a hard water film, in which case, straight vinegar will remove it.
Related Guides
Related Posts