Apple Kitty Cat, as named by our 2 year old son, is approximately 3 months old. He's a little 'ol Country Kitty. About 3 months ago we received the little bundle of cuddles from someone who needed to find loving homes for a whole litter of kitties.

Apple Kitty Cat's favorite thing to do for fun is to splash his paws in the water when my husband cleans his fish tanks. He has no fear! Apple Kitty Cat is best friend to our 2 year old son.
By Lisa from Halifax, Nova Scotia
July 27, 2007
0

found this helpful
Enjoy Apple Cat. They do take over your heart.
I lost my 12 year old F.Blossom yesterday. Miss him so.
He was born the runt of the litter to a wild cat and when the campground emptied for the winter he was left behind by all but us. He was trying to eek a living from an empty dumpster.
We took him to the vet and he was full of worms and scared of everything. He graduated to being my shadow. A tiny black shadow.
I may never have a good nights sleep again without him laying on my side.
He never grew to a large size but he has left a humongus hole.
July 27, 2007
0

found this helpful
Awesome!! What a sweet looking kitty - isn't it funny where they'll curl up and sleep? My kitty does that too. Apple Kitty Cat is DARLING!!
Add your voice! Click below to comment. ThriftyFun is powered by your wisdom!
Apple is 9 months old. I call him a country kitty. He was given to us in May 2007.
He is a very playful and active guy. He hunts pretty much everything that moves and that doesn't move! He is BFF to my son Marshall! He can chew through a string or ribbon in milliseconds. He's a tricky little fellow.
By Lisa from Halifax, NS
Editor's Note: Here is a previous entry about Apple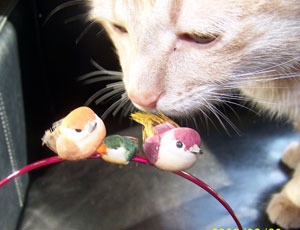 March 11, 2008
0

found this helpful
Well, "Apple" is just the cutest furbaby. I have a bit of advice. PLEASE do not let him chew on ribbons & string. I have worked for a veterinarian for many years and we have seen kitties come in and the string/ribbon is stuck in their throat. If this happens to you, please DO NOT pull on it, get to a hospital fast.
March 13, 2008
0

found this helpful
I can see how inquisitive he is in his face. He's gorgeous!
March 15, 2008
0

found this helpful
oh how precious! love the little sweet nose.
I had a cat and she loved ribbons.
For the 11 years she was with me I gave bagged gifts
or gift boxes with no ribbons or bows. She would snatch
the ribbons and bows and take off! I was told they were
dangerous too. One of my friends had to take a dog to
the vet for shredding and eating too many plastic grocery
bags.