Ceiling Fan Facelift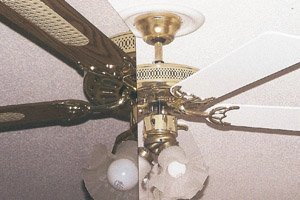 My family is currently working on a house to get it ready for sale. We have gone room to room cleaning and doing updates as we go. We had a ceiling fan in one room that was totally out of place. We decided, rather than going to the expense of buying another fan, to take the fan blades off and give them several coats of paint.
We sanded the blades well on both sides and painted both with white paint. We also added a ceiling medallion to add more white with the brass fan. As you can see with the "before and after" shots that it made a huge difference. It doesn't even look like the same fan at all. (Sorry that one half of the fan is larger than the other side. It really is the same fan). I plan to do the same thing with fans in my house as well.
I'm trying to make changes and be FRUGAL at the same time. My Mother would be so proud of all of us being so frugal.
By southeastgeorgiapeach from Jesup, GA
Feedback
Read feedback for this post below. Click here to post feedback.

By
03/23/2012
I have the same ceiling fan in my kitchen and it had built up a lot of cooking oil grime so I took the blades off and washed them. As I cleaned them I noticed that the faux wood grain paint started to come off and revealed the blades were actually made from a lovely wood.

I stripped the rest of the paint and then varnished the wood blades. They came out far nicer that the original faux wood look. And they're easier to keep clean. The original paint must have been of poor quality and absorbed the cooking oils where the varnish doesn't anymore. You can also reverse the blades so the cane weaving is on top if you prefer just the plain wood look.

Also I had grown tired of the tulip shaped glass shades. I found beautiful new glass shades at a local recycle store for $1 each! I now have bell shaped milk swirl glass shades that look so much nicer and are a lot easier to clean. Glass shades are also available at home improvement stores such as Home Depot if you are ready to update your look.

By
03/23/2012
Very nice, I also gave my fan blades a new look a few years ago. I had contact paper that looked like marble. I took down the blades and wrapped contact paper around.the blades. Looks good.

By
03/23/2012
That looks great! What one can do with a can of spray paint! I had a chandelier that I painted and it looks great too!

By
03/22/2012
Wow great idea! Was just looking at mine the other day thinking how much I hate the way it looks but you know some paint just might do the trick! Thanks for the idea!

By
03/30/2009
At my request, my husband removed our kitchen fan blades and then I painted them. I used "crackle" paint over the base paint. I looked for new updated glass shades but they were too expensive then I found some at Wal Mart for $1 each. I had the paint on hand so the project cost me $4 to update the fan.
Post Feedback
Add your voice to the conversation.
Related Guides
Related Posts