The house I moved into has a bedroom fan, the sort with 3 glass tulip sconces sticking out at 45-angles. I really dislike that feature; also, I've replaced the original bulbs with CFLs, meaning that the tulips wouldn't cover the bulbs anyway.

Anyone have any suggestions on how I could make/buy covers for these bulbs that can be held by the existing fittings? They could, but needn't be glass. I thought of creating string-around-balloon globes that are posted elsewhere on the 'net, and I still may try that, but I haven't a lot of confidence this would fit together correctly.

Any and all ideas are appreciated!
By Nica from Big Bend, WV
Answers
June 22, 2010
0

found this helpful
I have the same exact fan style in my bedroom, in a fakey wood grain, very dated! I took off the tulip shades and put globe style frosted bulbs, like you might see in a bathroom. It isn't great, but it is better than those tulips!
I use incandescent in the bedroom because I have a dimmer switch (so I can read at night). I have been using up my globe lights from my bathroom, which now has CFL globes. As I'm not in my bedroom all that much and have a lot of natural light, they are only on for a couple of hours a day.
Good luck and be sure to post what you come up with. I think those were standard issue for a lot of the homes built in the early 80's.
June 22, 2010
0

found this helpful
You can't close the CFL off, states that on the package but you can buy the small sized ones that do fit with any glass replacement cover. I have this in my living room, dining room, den. Buy the daylight CFL bulbs, they are tiny yet fit in the same bulb.
June 24, 2010
1

found this helpful
Phillips makes a CFL lightbulb that is enclosed to look like an incandescent bulb. I buy them at Wal-Mart.
There are many different styles of shades available at Lowes, Home Depot etc. Maybe you can find the right one to replace your tulip bulbs.
Answer

this Question

...
My family is currently working on a house to get it ready for sale. We have gone room to room cleaning and doing updates as we go. We had a ceiling fan in one room that was totally out of place. We decided, rather than going to the expense of buying another fan, to take the fan blades off and give them several coats of paint.
We sanded the blades well on both sides and painted both with white paint. We also added a ceiling medallion to add more white with the brass fan. As you can see with the "before and after" shots that it made a huge difference. It doesn't even look like the same fan at all. (Sorry that one half of the fan is larger than the other side. It really is the same fan). I plan to do the same thing with fans in my house as well.
I'm trying to make changes and be FRUGAL at the same time. My Mother would be so proud of all of us being so frugal.
By southeastgeorgiapeach from Jesup, GA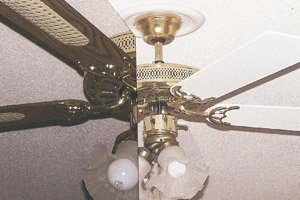 April 25, 2018
0

found this helpful
This is a page about painting a ceiling fan. An older ceiling fan can be dressed up with a paint job. You may want to simply paint the blades.
But even if you paint the entire fan, proper preparation and paint choice will determine the outcome.