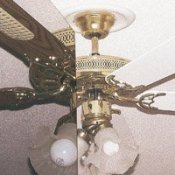 The house I moved into has a bedroom fan, the sort with 3 glass tulip sconces sticking out at 45-angles. I really dislike that feature; also, I've replaced the original bulbs with CFLs, meaning that the tulips wouldn't cover the bulbs anyway.
Anyone have any suggestions on how I could make/buy covers for these bulbs that can be held by the existing fittings? They could, but needn't be glass. I thought of creating string-around-balloon globes that are posted elsewhere on the 'net, and I still may try that, but I haven't a lot of confidence this would fit together correctly.
Any and all ideas are appreciated!
By Nica from Big Bend, WV
Answers
June 22, 2010
0

found this helpful
I have the same exact fan style in my bedroom, in a fakey wood grain, very dated! I took off the tulip shades and put globe style frosted bulbs, like you might see in a bathroom. It isn't great, but it is better than those tulips!
I use incandescent in the bedroom because I have a dimmer switch (so I can read at night). I have been using up my globe lights from my bathroom, which now has CFL globes. As I'm not in my bedroom all that much and have a lot of natural light, they are only on for a couple of hours a day.
Good luck and be sure to post what you come up with. I think those were standard issue for a lot of the homes built in the early 80's.
June 22, 2010
0

found this helpful
You can't close the CFL off, states that on the package but you can buy the small sized ones that do fit with any glass replacement cover. I have this in my living room, dining room, den. Buy the daylight CFL bulbs, they are tiny yet fit in the same bulb.
June 24, 2010
1

found this helpful
Phillips makes a CFL lightbulb that is enclosed to look like an incandescent bulb. I buy them at Wal-Mart.
There are many different styles of shades available at Lowes, Home Depot etc. Maybe you can find the right one to replace your tulip bulbs.
Answer

this Question