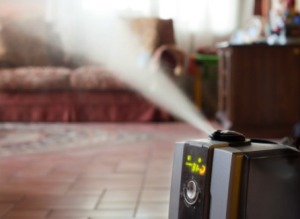 My humidifier uses wick filters and I'm replacing the filter every 2-3 weeks. I've tried various water treatment solutions, but they're expensive too. Can anyone please recommend solutions which don't involve spending a lot or which use common household ingredients and not a number of questionable chemicals? Our water is reasonably hard and fluoridated. Thanks kindly.
Rose Anne from Calgary, Alberta
Answers
By Sherry (Guest Post)
February 24, 2009
0

found this helpful
I would like to know the answer to this too. I bought a brand new humidifier and after 2 weeks, the filter is hard and will not put out any mist. We have hard well water also. I have bought so many filters that I am not willing to do it anymore

Judi
Bronze Feedback Medal for All Time! 239 Feedbacks
February 24, 2009
3

found this helpful
Don't know cause I haven't dealt with this but couldn't you put a water filter on your sink faucet and use that water in your humidifier?

December 21, 2009
0

found this helpful
First, see if you cant' make a filter out of the same thing the furnace uses. I used to make my own vacuum cleaner filters that way, but I'm not sure it it would work with moisture.
Most of the time I've found that cleaning the filters in a mild beach or vinegar water will clean them. I've elongated the life of my filters three-fold by doing this.

November 21, 2013
0

found this helpful
I use bleach and water to soak the filters about once every ten days. Make sure you use gloves, and don't squeeze the filters, just rinse them afterwards. It will have a slight bleach smell for a day, but it will give the filter about six months of lifespan. I've also heard citric acid is good for removing minerals, but have not tried it.
February 11, 2016
1

found this helpful
Home Depot makes tablets to treat the water in humidifiers and it's less than $2.

July 29, 2016
1

found this helpful
ONLY use distilled or R/O filtered water which TDS tests to zero. And you'd be bette off if you would switch to an ultrasonic-type humidifier then you could clean weekly with bleach or vinegar.
With ultrasonic type they require no filters.

December 27, 2016
1

found this helpful
It is the water scale that hardens the wick (filter) and inhibits water absorption and evaporation. Wick type evaporative humidifiers need two additives to the water: one to inhibit water scale buildup on the filter (wick), and a another to stop mold and bacteria buildup (Bacteriostat). Amazingly, both are rarely sold where they sell humidifiers. All carry Bacteriostat products in either liquid of pellet form. It's the water scale buildup liquid that is hard to find. There are several 2-in-1 products that do both. I'm using Vista Solutions Golden Solution II Combination available on Amazon. Also there is Holmes® SOL2014C-U 2 in 1 Water Solution. Sunbeam S1706 is a water scale treatment, but it's getting hard to find. I've been running two portable 1.5 Gal humidifiers in my home in the winter for 3 years now. 1 32oz bottle lasts me for 2 years or so.

January 21, 2017
1

found this helpful
NEVER COMBINE BLEACH AND VINEGAR! Toxic fumes can develop. It is hazardous to your health to inhale chlorine bleach.

January 23, 2017
0

found this helpful
Soften your water a little...use liquid calgon in it. It's a water softener.

November 19, 2017
0

found this helpful
I too live with hard well water (which I wouldn't trade for anything) and I've been looking for an additive that I could toss in each time I refill my ultrasonic humidifier. thank you for the info. You can also use just a mixture of white vinegar, salt and water but you have to let it stand ... in my case about every 2 weeks. ITs not a big deal and its cheap but depending on the scale in your water (which is usually just limestone) it will need to sit at least 8 hours. I try to do it when I'm going to be out of my living area anyway and that way its not so inconvenient.
Then you just use a toothbrush to help release any still stuck scale, rinse and refill and you're away. I think humidifiers with fiber filters should be outlawed. They're a menace to your health. I suspect there is some behind the scenes manipulation of the market availability of the products you are recommending and that the pressure is from the manufacturers and distributers of the typical humidifier products. An ultrasonic is a one time purchase .. . the others keep you coming back as a customer every time you turn around because of the filters.
Read More

Answers

A bottle of Holmes Humidifier Water Treatment was left in the house I just bought. I do not have a humidifier. Are there any other uses for this product?
Thank you,
Rose Mary from Jackson, MI
Answers
By Guest (Guest Post)
September 22, 2007
0

found this helpful
I don't know but why not donate it to Goodwill or a similar charity so someone who can use it, will!
By (Guest Post)
September 23, 2007
0

found this helpful
This product is designed to prevent mineral build-up in the humidifier.
So it might be useful for removing mineral deposits from shower heads, around sink and lavatory faucets, etc.
I'm not sure how strong it it - it might not work, but what have you got to lose?
Answer

this Question

I have an older room humidifer with the removable 2 gallon plastic tanks that I refill when empty. I need to know how to maintain the humidifer, keep it clean and get rid of lime build-up. I used to buy cleaner that I put directly into the tanks, but it was expensive and hard to find. I've heard vinegar, but I can't stand the smell! Thanks!
Alica from Missouri
Answers

November 18, 2004
1

found this helpful
Nothing beats straight white vinegar for cleaning a humidifier tank. Fill with vinegar, soak overnight (don't run it), empty, then rinse. If you have a heavy buildup, you will have to wipe out the deposits after soaking.
You only have to bear the smell occasionally, and it really works well.
By Lynn Cedarville, Oh (Guest Post)
January 11, 2009
0

found this helpful
White Vinegar is the only product I have found to clean out my humidifier of the lime in it. I do it once a week with success at an economical price ($1.47 gallon). The vinegar is less potient than the vinegar used when I cook pickles in the summer.
Answer

this Question