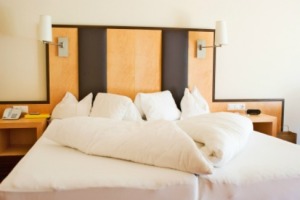 For my queen size bed I found that the corners of the sheets were always coming loose during the night. So I go some of these elastic things that have the clips on either end that you clip on the sheet at the corners. Well this didn't really do the trick either.
So I took and cut the clips off leaving just about 2 inches of the elastic still attached to each one. I ended up with 8 clips. Then I sewed the clip to the bottom side of the mattress, going in about 4 inches or so with each one. I put them at about the same spots where they were before I cut the clips (either side of each corner).
Now when I put the fitted sheet on I clip it to each clip. It holds the sheet in place nicely till I'm ready to wash and change sheets. No more bunched up bottom sheets!
By Cricket from Parkton, NC
Read More

Comments
The elastic on my bottom sheets is not keeping the corners tight and in place. I wake up in the morning and the bedding is undone. Any suggestions to keep the corners tightly held?
Derryl from Ontario, Canada
Answers
July 15, 2008
0

found this helpful
I always sew a strip of elastic diagonally across the corners of my sheets. If you don't sew or if you sew but don't have a sewing machine these can be held in place by small safety pins. It keeps them in place. I have noticed the new pillow top mattresses don't do well with my old fitted sheets. They are still good so I used elastic to hold them in place rather than toss them.
July 15, 2008
0

found this helpful
You can also try old suspenders. Just clip them on each corner. It does take large suspenders to do this, but works great. Look for them at yard sales or thrift stores.
July 15, 2008
0

found this helpful
You can get those stretch elastic strips that have clips on the ends of them in a package of 4 at the dollar stores and at walmart. They're used exactly for this purpose, to hold sheets, mattress pads, etc. on the corners underneath the mattress.
I use them on all 3 of my new beds because the depth of the mattress is too deep for the older sheets that I have. I sure can't afford to buy all new sheets and those little sheet clips work like a charm.
July 15, 2008
0

found this helpful
I have the same problem. I use garter clips. they are made especially to keep sheets in place.
July 15, 2008
0

found this helpful
I already posted my hint but I'll copy it here. To keep your bedding from falling on the floor, and making the bed in the morning a snap, just use sock tape (clear, heavy plasic tape used by hockey players to keep their hockey socks up) on the two bottom corners of the covers. Start the tape on the top and wrap it straight down, lift the corner of the mattress and bring it up the other side to the top. I tape the mattress cover on all 4 corners to keep it snug and then tape the bottom corners of the cover sheet and quilt. In the morning all you have to do is pull your covers up. I have a king size bed so this doesn't interfere with my leg room. On wash day, just peel the old tape and re-tape the clean sheets and blankets. In the past I have saved the waistband off of my boy's underwear if it was in good shape and re-used it for the corners of of my bedding. I'd put the sheets on the bed, pin the stretched elasic to hug the corners tight and take it to the sewing machine for the final stiching. That works okay but I prefer using the sock tape. There is a picture with my original post as well.
July 19, 2008
0

found this helpful
How frustrating. Try the clips, they work. Some mattresses need deeper sheets.
By CT (Guest Post)
October 19, 2008
0

found this helpful
I've used those little clip things that come with tensor bandages. They work pretty well
September 8, 2013
0

found this helpful
It is my opinion that the whole sheet thing went in the wrong direction from the beginning. While the sheet industry opted for elastic, which only holds the sheet in place for about five minutes, ironing board covers started out using drawstrings. Ironing board covers need to be stable or the ironing does not take place and elastic does not cut it. With sheets I guess the standard was much lower since people were using flat sheets and even the small improvement allowing the avoidance of "hospital corners" was greatly appreciated. Drawstrings would have been a much larger jump in performance for bed sheets. It has been long coming that the obvious use of drawstrings over elastic should have taken place long ago as people all over the internet are posting questions like "How can I get my sheets to stay on?"
The only drawstring sheets available are Comfy Snug drawstring sheets.
Read More

Answers
What can I get or use to keep the fitted sheet on a hospital bed?
By Twyla from Muskogee, OK

Answers
May 30, 2011
0

found this helpful
Purchased at family dollar, I got a package of four elastic straps with clips (like to hold up stockings) on each end one strap for each corner to pull the sheet tighter. The package was about $2.
June 1, 2011
0

found this helpful
I have found it easier just to take a full flat sheet and tie the ends under the mattress on the bottom and the top, this makes it tight and smooth. I have learned a few tricks over the years as a cna. Hope this help!
June 1, 2011
0

found this helpful
The straps that rmagee29 isn't talking about work great. the sheets won't go anywhere with those on. You can also find them at Wal-Mart.
June 5, 2011
1

found this helpful
To help it keep from shifting have you tried large pieces of the rubbery waffle type non-slip stuff they carry in dollar stores, Wal-Mart, etc? They are used for various things such as shelf liner in RVs to keep things from shifting in transit. If you cut the squares so they don't interfere with the body (in the corners) it helps the sheets from shifting from normal use.
I use small pieces under items to keep them from slipping back when touched like under a radio, lamp, phone etc. It helps my mother a lot as she reaches for the item next to her chair or when she is in bed. You aren't playing "catch" all of the time
September 8, 2013
0

found this helpful
Drawstring sheets work really great on hospital beds since the drawstring can be tightened until there is no movement at all. The fit is unmatched since the drawstring can be tightened until it seems vacuum packed on the mattress. The bed can be adjusted up and down an unlimited amount of times with no movement. It is great for an immobile person who may not be able to straighten the sheet on their own. Also getting in and out of the bed is worry free since the sheet will not move.
Answer

this Question
I have a memory foam mattress, and I cannot keep the sheets and bedclothes from sliding to the left. Every morning, I have to totally remake the bed, because the sheets and everything else wind up near or on the floor.
I have tried pinning them down, and making an elastic band to fit around the top and bottom, and still I keep having this problem. Does anyone else have this problem with a memory foam mattress, and know what I can do about it? It has just about ruined the looks of my mattress. (I can't take the mattress cover off and wash it. )
Answers
December 21, 2012
0

found this helpful
This may work , you can give it a try anyway - do you know the kind of kitchen shelf liner -it"s kind of rubbery-soft feeling or what you can put under an area rug to keep it from sliding?
Think you can also get this in "big box" tool-type stores, to put under power tools to keep them from sliding around (may be called a router mat). I have this between box spring & mattress to keep it from moving. Hope it helps ! :-)
December 24, 2012
0

found this helpful
I purchased a huge (8'x10') rug pad from my local discount store. Wal-Mart may also sell them. Then I draped it over the mattress cover. Then I put the bottom sheet on the bed, using those elastic strips that have clips at each end. The clips look like those used for old-fashioned thigh-high stockings. The bottom sheet will stay in place. In fact, maybe you just need the sheet clips. If the thread count of your sheets is ultra-high or you use satin sheets, you definitely need the clips, and tuck the "foot" end of the top sheet under the elastic when you first make the bed.
Answer

this Question