linda
Bronze Post Medal for All Time! 203 Posts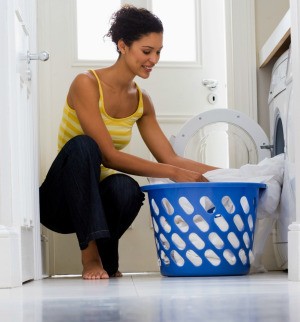 Don't forget to clean your bed linen at least once a month. Everyone sweats, whether it's through their head which will release oils, or their feet or any where else and this will leave odors. Your body also has dead hair and skin that falls anywhere including your bed. So maybe cleaning the linen once a month might not be often enough for some, I guess it depends on how active you are.
By LRP from Lowell, MA
Read More

Comments

My husband leaves a yellow stain on the sheets, the full length of his body. It takes awhile to show up on new sheets but after awhile it is definitely there. It also shows up on the pillowcases and seeps into the pillow. Other women have told me they have the same problem.
It isn't an oil stain since he doesn't have oily skin. Does anyone know what it is or how to remove the stain? I have tried pure Javex and Borax, but that doesn't remove any of the stain. We would really appreciate knowing what the stains are and how to remove them. Thank you in advance.
By Emma Thebeau from Moncton, NB
Answers

May 13, 2010
2

found this helpful
Is it possible this is a nicotine stain? Does he smoke or chew tobacco? I have never heard of this.
Read More

Answers

Maryeileen
Bronze Request Medal for All Time! 59 Requests
How often do you change or wash your bed sheets and mattress pads?
By Maryeileen from Brooklyn, OH

Answers

Judi
Bronze Feedback Medal for All Time! 239 Feedbacks
May 3, 2010
0

found this helpful
I've always changed my sheets weekly, no matter what. I change the mattress pad about every 3 months except in the summer when I do it about every other month.

May 3, 2010
0

found this helpful
Wash sheets weekly or biweekly. Keep your sheets and mattress pad clean by washing them often. Once a week or every other week should be enough for regular cleaning but stains should be treated immediately.
The mattress pad should be washed often as well. Good luck.
Read More

Answers

Does anyone know how to get body oils out of sheets and towels? My husband has very oily skin and the oils seems to set in our white sheets and towels. I have tried soaking and bleach to no avail. They still have a noticeable yellow cast to them. I don't want to change sheets twice a week or buy dark towels. His latex pillow is also a nightmare! I would appreciate any help, thanks!
Nancy from Michigan
Answers
By suzin (Guest Post)
July 14, 2008
0

found this helpful
Not sure about body oil, but when we have oil stains on our clothes I use regular Dawn dishwashing soap on them, and they come out. I wet the garment area, use a toothbrush to apply full strength Dawn on the area, scrub it some, and put it in the washer.
By kerry (Guest Post)
July 14, 2008
0

found this helpful
Try washing with inexpensive (Suave or VO5) shampoo for oily hair. Add a cup of vinegar to the rinse water.

July 14, 2008
0

found this helpful
My husband has oily skin also. The only thing that has helped (and it certainly isn't much) is to convince him to clean his neck each night with cotton balls soaked in astringent. It's sold for teenage acne. That has saved his new pillow but not much help with yellow-cast sheets. Will follow your posting for solution(s).

July 14, 2008
0

found this helpful
My soon to be X was like that due to medications. Sometimes in middle of night I would have to get up and change sheets as they were soaked. I would wash with reg laundry soap and add 1 cup white vinegar and 1/2 cup to 1 cup of baking soda.
I learned to wrap a large white bath towel around his pillow and use 2 to 3 pillow cases and place 2 oversize white bath towels directly under his side under the fitted bed sheets. Good luck.
By Linda (Guest Post)
July 15, 2008
0

found this helpful
I have used a cup of ammonia added to the normal amount of detergent when my husband had been working with motor oil and wiped his hands on his jeans. Ammonia is a grease cutter and deodorizer. The jeans would come out completely clean and freshened. Vinegar is a grease cutter also, but not quite heavy duty enough to handle motor oil. If adding vinegar doesn't do the trick, you might be happy trying the cup of ammonia.

Beth
Silver Feedback Medal for All Time! 407 Feedbacks
July 18, 2008
0

found this helpful
Bleach is not a grease cutter, ammonia is. Just don't ever mix them!
By Tina (Guest Post)
July 21, 2008
0

found this helpful
Arm & Hammer in the yellow box. Add it to your detergent, filll the washer with warm water for a medium sized load and allow to agitate a couple minutes to mix, add the clothes and turn off washer for about an hour. After soaking set level to high and continue filling with warm water and allow it to complete the cycle.
Answer

this Question

I have a small closet where I keep bed linens. The closet smells okay, but the linens smell musty or moldy after just a few days, and I must wash them (again) before use.
Any ideas, please?
Linda, FL
Answers

SL Edens
Bronze Feedback Medal for All Time! 139 Feedbacks
August 24, 2005
0

found this helpful
Hi Linda! I'm certainly no expert on this..heehee...but are you sure your linens are absolutely dry when you fold them and put them away? Also those little sachet packets are excellent.
You could also try placing dryer sheets (new or used) in between your linen. Just a few thoughts. Hope you find a solution :)
By Claudia (Guest Post)
August 24, 2005
0

found this helpful
I agree, you need to be sure everything is bone dry before you stack it up and put away. However if you live in Lousiana or some other humid place, that might not fix the problem. I also use dryer sheets in my drawers and closets, but I think that will not 'cure' your mold/mildew problem but will just mask the smell. Sorry I can't offer anything else.

August 24, 2005
0

found this helpful
There are dehumidifying agents out there, some reusable (you bake it when it gets moist), some not--like Damp Rid. (It turns into liquid, then you dump it out.) Clay cat litter absorbs moisture, and it's cheap. Baking soda absorbs odors. If you don't already have cat litter, you could try getting some that has baking soda already in it.
You could put it in an open box, bowl, or cloth bag (like a pillow case, knotted) in the closet while it's empty overnight to absorb moisture, then put the linens in the next day. (Hmm, sounds like it'd work.) If you use a box or bowl, it should be wide, so it has more litter exposed to the air. The cloth bag would be best, I think.
By Carol (Guest Post)
August 24, 2005
0

found this helpful
I use Charcoal brickets to get rid of the humidity in my closets. Then To rid the musty smell you might figure out a way to safely set an open cup (it doesn't take much vinegar)of vinegar, it will rid your closet of the musty smell.
By Shanna (Guest Post)
August 31, 2005
0

found this helpful
It may not help the humidity, but as a general deoderizer, baking soda works great. Dry it into a mold and hang it, or put it in a small container that is open, or has openings in the lid. The baking soda actually absorbs odors, so it will need to be chages periodically. Use this trick anywhere you have an odor problem, litter box, bathroom, refridgerator etc.
Read More

Answers

Any suggestions on how to get massage oil out of sheets?
By Candace Kowal from Scottsdale, AZ

Answers

May 13, 2009
0

found this helpful
Try washing them in hot water, with ammonia added to your regular detergent.
Ammonia is a great grease dissolver.

May 21, 2009
1

found this helpful
You need something to dissolve the grease. Try spraying them down with Mean Green (it's approved as a laundry pre-treatment) and let them sit, then wash in warm water with a strong detergent.
Answer

this Question