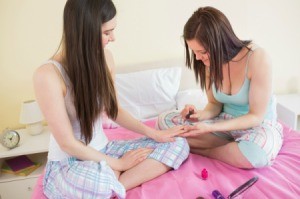 How do I remove dried nail polish from a comforter? It is 100% cotton.
By Shirley

Answers

January 31, 2012
0

found this helpful
Best Answer
Scrape as much of the dried polish as you can off using your fingernail or the edge of a credit card.
Then use non-acetate fingernail polish remover to get the colour (if any, not all nail polish stains when colouring your nails or anything else) out of the fabric. Non-acetate remover won't eat the cotton fibers.
If you do have some colour staining from the polish after you've used the remover, about the only thing left to do is either leave the mark as a memory (for example if a child or grandchild was playing dress up for the first time), or cover it with either embroidery or a patch of fabric applied as an applique.
Answer

this Question

This is an old stain. I have tried everything; I think. The shell is 100% cotton and the filling is polyester. The nail polish is dried. We tried hairspray, alcohol, Dawn, nail polish remover, baking soda and hydrogen peroxide, and just bleach, rinsing out after each attempt.
Is there anything else I can try?
Answers

January 23, 2017
0

found this helpful
Try nail polish remover again or scroll down for directions for using OFF to remove polish. But first, try this AGAIN:
Fingernail Polish Removal From Cotton Fabric
Place the stained fabric facedown on a few paper towels. The part of the fabric that is stained should be against the paper towels. Use this method whether the nail polish is wet or dry.This method works effectively on cotton, linen, silk, denim, and most other fabrics.(Proceed with caution if the item in question contains acetate or triacetate since the nail polish remover melts fabrics containing these chemicals.)
Blot the stained area with acetone. Use a cotton ball or paper towel saturated with acetone (available in drugstores in the nail polish remover section) to blot the backside of the fabric. This action transfers the stain to the paper towel. Do not pour the acetone onto the stained fabric since it's harder to control where it flows if you don't use an applicator like a cotton swab or the corner of a paper towel.
Rinse and repeat. Take the item to the sink and rinse out the stained area, then place it face down on a clean set of paper towels. Repeat the blotting action to finish transferring the stain to the paper towels. Continue rinsing the fabric and applying more acetone until the paper towels no longer turn the color of the nail polish after blotting; this indicates the stain has been removed.Check the stained area one final time for traces of nail polish. If you see a little color left, dip a cotton ball in acetone and gently remove it.
Launder the item. Use a stain remover product on the previously stained area, and then launder the item according to the washing instructions on the tag. The stain should be completely gone and the item ready use.Use a clean cloth to blot the polish. Blot it over the stained area carefully, and then use a clean section of the towel to blot it again. Apply more acetone and continue blotting until the stain has been removed.
OR
Use Off bug spray. Some say that Off bug repellent, the type you spray on your body and clothes to keep mosquitoes and other bugs away, works like a charm to remove nail polish stains. Spray it on and scrub with an old toothbrush in a circular motion to gently scrub away the stain.
Rinse and wash. No matter what method you use, be sure to rinse the previously stained area well to get rid of the traces of the substance you used to remove the nail polish.

Hello
Bronze Post Medal for All Time! 107 Posts
January 23, 2017
0

found this helpful
Goo Gone has been shown effective in removing dried nail polish from various fabrics. It can leave a stain on some fabrics, so test a hidden area first. it is a product I have used to remove really really stubborn labels and stickers.
Other tips I've seen for this sort of issue is ice: "As a first step, try holding an ice pack on the patch of polish. The cold should make the lacquer harden to a point of brittleness and contract a little so it's easier to break up and scrape off. You can also try picking the bits off with a pair of tweezers or brushing them gently off with an old toothbrush (if it's in tiny flecks). After you've gotten off as much as you think is possible, use the acetone Q-Tip or rag-dabbing technique up top." intothegloss.com/.../

Judy
Gold Post Medal for All Time! 677 Posts
January 24, 2017
0

found this helpful
Try cellulose thinner.

January 24, 2017
0

found this helpful
Try toothpaste mixed with baking soda and a lil bit of water. And if not then acetone but I dunno how well it'll work on something as delicate as your sheet but acetone gets out spray paint so it'll definitely work it just might be too powerful and damage your sheet

January 29, 2017
0

found this helpful
i found this on the web...... Spray a small amount of Off bug spray on a hidden area of the fabric to ensure that it is colorfast. Spray the bug spray onto the nail polish.
After the spray has started to be absorbed by the stain, scrub the area gently with an old toothbrush.

January 29, 2017
0

found this helpful
get a NEW box of baking soda and with put the box or a smaller amount in a container open in the purse and close thep purse.... i found this idea on web. and it also stated to put it directly in purse but to sure i would want to do that..... you can also hand it out on the line in the freeing weahter with no forcast of rain or snow :)... in tiime it will work

April 3, 2017
0

found this helpful
I spilt nail varnish on my duvet while my parents were out!! I used a cotton ball with nail varnish on it and it slowly came out. Parents still haven't noticed!!! It is still there but who cares!!!

April 28, 2017
0

found this helpful
My 7 yr. old granddaughter got bright red polish on a new jacket that feels like thin velvet but isn't. All I used was an aerosol hair spray. I have used it on so many things that have had nail polish spilt on them and it has always worked. This jacket as I said felt like very thin velvet but is a new man mad almost soft plastic. I was afraid the hairspray might melt the plastic but there was so much polish on the jacket it was ruined anyway so I gave it a try. I spray the fabric quite liberally and waited for it to soak in and then I sprayed it again and then I began scrubbing with an old toothbrush. I alternated back and forth spraying and then scrubbing in a circular and back and forth and from side to side. I did this many many times and it took a fair amount of time but the jacket looks like new and my granddaughter is so happy it was all worth it. Once I had the jacket free of the polish I had washed it vigorously in a bucket with some Dawn detergent and a mild fabric softener to get the hairspray to release and come free of the fabric as there was several ares with polish on and the hairspray had dried leaving a heavy film. I then tussed the jacket in to the washer and put it thro a regular wash with some towels, laundry detergent and a little Oxi stain remover. Came out great just as proud of myself as my granddaughter is.. I've used this method on sheets that have polish on them many times. I hope you have good luck getting the polish out even if you don't use this method. I have found that it has to be aerosol hairspray for it to really work well. When doing sheets use an ice cube day before to get excess polish to lift off so that you don't smudge a larger area, and spray the hairspray from the dack thru to the front a couple times to start to get the polish to start lifting off of your material. Again good luck
Answer

this Question

My 3 year old daughter got into a purple bottle of nail polish. I would like to know what is the best way to remove it from my bed comforter.
By catina from Johnson City, NY
Answers

(Guest)
Gold Post Medal for All Time! 846 Posts
March 12, 2010
0

found this helpful
Another person just asked a similar question but her fabric is white. Here's what I suggested to her but you might want to do a test on an inconspicuous portion of the comforter before trying unless your comforter also happens to be white:
"Have you tried soaking the portion that is stained in nail polish remover and then briskly rub the fabric together? I would try non-acetone polish remover first and be sure to wash the pillowcase afterward. ;-) Let us know if this works or not, okay?"
Answer

this Question