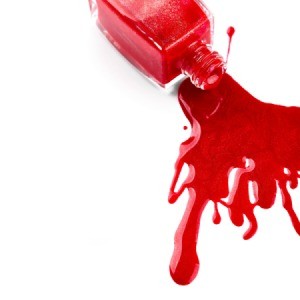 How do I get nail varnish out of a nylon tee shirt?

Julie


Answers:
Removing Nail Polish From Nylon
Do you mean "nail polish"? If so, the only thing that will remove nail polish is nail polish remover. There are basically 2 formulas sold, the regular old fashioned type which is made from acetone and the newer formula that's made for artificial nails.
The type made for the artificial nails is milder so it won't melt the artificial nails so this is the type I'd recommend you try on the inside hem of the fabric (where you can't see it). The old fashioned type that's made from acetone will melt acetate (a type of slinky and shiny fabric).

If your fabric was cotton or another "natural" fiber, then I'd recommend the acetone type of nail polish remover as it's stronger. You had better check that label again for fabric content and be sure the shirt is really made from nylon and not acetate which can look similar.

There is one more option. Most fabric stores have a small rack of "Wonderful" stain removers. This brand has 5 or 6 different formulas. Each formula is made to remove a different type of stain. You may want to call several fabric stores and ask them if they carry an assortment of stain removers and if so do they have one that will remove nail varnish.

If all else fails, you can always do some embroidery over the stain or glue on some fancy rhinestones and beads. (07/22/2008)

By Cyinda